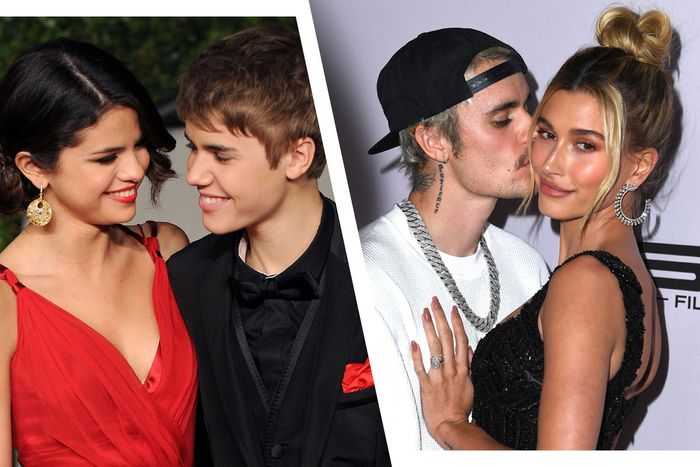 Jelena and Jailey's red carpet debuts.
Photo-Illustration: Vulture. Photos: Getty Images
I'm on the floor at the stadium formerly known as the Staples Center, eyes alight with awe. Onstage, a sagging pair of pants moonwalks over to a chair, looks into the crowd, drowning in purple lights, and points at me to join him and be his "One Less Lonely Girl." But unlike the countless other formerly lonely girls pulled onstage, this time is different. He kisses me, security whisks me to his tour bus, and we begin our love story … in my 14-year-old dreams. In 2011, being a Belieber meant that, whether you were reading the fanfic or not, you'd fantasized about what it would be like to be with Canadian pop star Justin Drew Bieber, how you could wrap your life around his without the immediate disqualification of being first and foremost, a fan. Dreams like mine were only slightly crushed when he started dating Disney Channel actress and pop star in the making Selena Gomez in 2011; Jelena did so much for the power-couple phenomenon, especially for Gen Z and younger millennials. "Your name" became her name. And then he was free game. And then Jelena was on again. Back when Bieber Fever was spreading at an alarming rate, Hailey Baldwin, an OG Belieber, was, yes, the daughter of an actor and the niece of an even more famous one, but really she was a meet-and-greet-tier Twitter stan and mutuals with some of the most well-known fan accounts at the time. With her connections, she had a head start in achieving a life one read about only in fan fiction — becoming Mrs. Justin Bieber. But as Nicki Minaj warned in 2012, "Gotta keep an eye out for Selener."
Bored and at home after his Justice World Tour was canceled and fed by the nth iteration of a feud between Hailey and Selena, the internet's stans are obsessed with reexamining how Mrs. Bieber went from subtweets to "till death do us part" in the same eight years Jelena was publicly on and off. "She did that," Dana Rose, another OG Belieber, says in a 2020 video, referring to Hailey. "And I need to know how." Selena and Hailey's alleged rivalry over Justin goes way further back than the recent eyebrow drama. Below, I break down how we got here and debunk the rumors — resurfaced interview clips, the "g" tattoo, the Jenner sisters, the stalker allegations, and Hillsong Church's involvement — surrounding the least interesting thing Hailey and Selena have in common: the swoopy-haired man who bounced between them.
2009: Hailey Baldwin meets Justin Bieber backstage at the Today show, accompanied by her dad, Stephen Baldwin. "I'm pretty sure she didn't want to be there," Justin will recall on The Ellen DeGeneres Show in 2020. "Looking back now, I'm like, It was definitely an arranged marriage. Like, they set this whole thing up. Since she was raised Christian, it was like, 'Oh, I want to introduce you to Justin and his mom. They have similar values and believe the same things. We think you guys would be good friends.'"
February 2, 2011: Hailey and her dad meet Justin Bieber on the red carpet for Never Say Never. "I was never a superfan of him or of anyone," she will tell Vogue in 2019. "It was never that crazed, screaming thing. I didn't think about it in any kind of way except for the fact that he was cute. Everybody had a crush on him. But for the first few years, we had a weird age gap."
February 11, 2011: God said, "Let there be Jelena." After three years of a "big sister" relationship, 17-year-old Justin Bieber and 19-year-old Selena Gomez make their red-carpet debut at the Vanity Fair Oscars party.
Throughout this year and into the next, Hailey tweets that she's "100% #TeamJelena" and remarks upon how "hot" Selena is. "I don't care what anyone says but Justin Bieber and Selena Gomez together is the definition of a teenage dream! #word," Hailey writes in a May 2011 tweet that she later deletes. A few months later, she doubles down on her stance, tweeting, "I'm for sure 100% team #Jelena."
February 2012: Hailey uploads a "Call Me Maybe" lip sync with her friends inspired by Justin's lip sync with Selena and other Disney Channel stars.
March 2012: Hailey DMs her fellow NYC Belieber Dana Rose asking which hotel Justin is staying in, Dana alleges in a 2020 YouTube video titled "Hailey Bieber stalked Justin Bieber in NYC (w reciepts)." She also scrolls through all the times Hailey quote-tweeted her account, which have since been deleted.
November 2012: Justin and Selena break up for the first time. "She broke up with him about a week ago," a source tells People at the time. "With them being apart so much it got complicated. She had some trust issues. It's not easy, but the relationship needed to end."
May 19, 2013: Taylor Swift sticks her tongue out as her BFF Selena leans in to give Justin a kiss on the cheek at the Billboard Music Awards.
April 2014: Selena attends Coachella with Kylie and Kendall Jenner, "looking like a girl group," per MTV News. They've been making themselves seen with one other for about a month, while Selena is notably not seeing her ex. But after he plays day two of the festival, Selena is seen wearing his bandana.
April 29, 2014: Reports surface claiming Selena unfollowed all of the Kardashian-Jenners as well as her ex in response to "shocking" text messages between Justin and Kylie that she allegedly found during Coachella. "Kylie sent sexy pics of herself to Justin and that's what started the fight," a source tells the Hollywood Life in a since-deleted post. "Selena saw the pictures on Justin's phone and she freaked out and left immediately." Around this time, sources emphasize that Selena, who spent two weeks in a rehab in January, is "going to church and more so to avoid going to rehab."
June 8, 2014: Justin is baptized by Hillsong pastor Carl Lentz.
June 12, 2014: I don't know what to tell you, but Jelena is back together. "Our love is Unconditional," Justin captions a dramatic black-and-white photo of Selena holding his head.
September 12, 2014: Justin confirms he and Selena are back together in a deposition related to a battery lawsuit. How romantic!
September 30, 2014: But the couple is visibly upset leaving a St. Maarten vacation for Paris Fashion Week. When they land, Justin takes Kendall to a private dinner.
October 4, 2014: Amid rumors of Selena and Justin's breakup, his mom tweets, "I know you love him. I know you need love. But… #DontBeAHomeWrecker," apparently in reference to Kendall. Even though Justin posts and deletes a photo from his vacation with Selena the next day, the relationship is considered over this month.
November 6, 2014: Selena supplies the first public confirmation of their breakup. "I support him," she tells Ryan Seacrest. "I think I always will. I'm upset when he's upset. I'm happy when he's happy."
November 7, 2014: The first time Hailey and Justin are seen one on one, they're leaving a birthday party for Lentz. He's 20 and she's 17, but not for long.
November 10, 2014: Hailey attends Hillsong with Kendall and — oh, oh my God, look who's here.
November 22, 2014: Justin is at Hailey's 18th birthday party. Guessing she didn't have to pay his booking fee. At the time (circa Kylie's turquoise underdye), he is speculated to be dating one of the Jenner sisters, which is craftily denied.
November 23, 2014: Selena cries while performing "The Heart Wants What It Wants" at the AMAs.
December 1, 2014: Jailey — oof, that's gotta sting — has their first "hangout" at an arcade with sources saying it was just fun. "We love that Justin kept it casual with Hailey too, as he's had many of ups and downs with Selena," Hollywood Life remarks.
December 13, 2014: Selena reportedly shouts, "No one understands me! My boyfriend doesn't even understand me," crying at Swift's 25th birthday party. Aw, and on a national holiday?
December 15, 2014: After two weeks of Target trips, courtside seats, and denying a relationship, Justin clarifies things. "People are crazy," he captions a photo of Hailey on Instagram. "I'm super single and this is my good friend u would know otherwise."
December 27, 2014: Justin and Hailey grab dinner and a movie in New York City, head back to his place, and the next morning are seen getting breakfast in New Jersey. "Glad I got such a good night sleep last night, at MY own home, alone," Hailey tweets that day.
January 2015: Selena starts dating Zedd, giving us "I Want You to Know" and presumably giving Justin stomachaches.
February 13, 2015: Justin and Hailey canoodle in front of paparazzi. They sneak out of Up&Down at five in the morning on Valentine's Day, but later that night she's notably alone.
March 1, 2015: The morning of Justin's 21st birthday, Hailey posts a seemingly shirtless photo with him, a would-be-obvious signal if they hadn't been denying a relationship for months. She's at his birthday-party kickback later that night, but so is another one of his on-again, off-again flings, Yovanna Ventura. And Yovanna wore gray leggings, y'all.
April 11, 2015: By April, Selena and Zedd are over, and if you ask Hollywood Life, it's because she's still in love with Justin. Hailey must be hearing the same thing. She accidentally (or accidentally on purpose) retweets two stans, saying, "i feel like hailey and justin are secretly dating" and "can hailey and kendall fight selena please." It's anti-fan behavior.
May 5, 2015: As Selena's breakup is confirmed, Justin shoots his shot out of a car window while leaving the Met Gala, yelling, "Selena looks gorgeous."
June 4, 2015: Selena is first seen with a cursive "g" tattoo behind her ear.
June 16, 2015: Hailey gets the same tattoo. Maybe not exactly the same, but the similarities are well documented on TikTok. Turns out Ashley Benson and Justin himself also have the tattoo as a tribute to the founder and minister of Zoe Church Chad Veach's daughter Georgia, who has the rare brain disorder lissencephaly. Surprisingly not NXIVM coded at all.
June 29–July 3, 2015: The tabloids are starting to notice his back and forth between the two women. Justin and Hailey attend Hillsong's conference in Australia together after a month of dating like old times.
July 11, 2015: And when he comes back, Justin and Selena are photographed kissing and cuddling by a pool in Los Angeles. "The devil really is working extra hard today," Hailey tweets.
August 30, 2015: Justin breaks down in tears after performing two songs about Selena, "Where Are Ü Now?" and "What Do You Mean," at the MTV VMAs. No one talks about it because we are too busy wondering, Miley, what's good? 
September 17, 2015: "This past year [Justin] has made a lot of big changes in his life," Hailey says, according to "Page Six," doing his PR for him. "He's really a good person and I don't think everybody knows that side of him. I think he's trying to get everybody to know that's who he really is."
October 1–11, 2015: He's butt naked in Bora Bora with a model. 
October 12, 2015: Selena tells Refinery29 that her "g" tattoo is for Gracie, her little sister, separating herself from Zoe Church and whatever Justin has going on.
November 21, 2015: Justin takes the mic at a hotel bar in NYC to serenade Selena with piano renditions of "Sorry" (okay, literal) and "My Girl." According to our records, Hailey did not get a similar apology.
November 22, 2015: In fact, for her 19th birthday the next day, Hailey's seen waiting for someone after the AMAs and visibly upset in a car. Meanwhile, Justin personally takes Selena to his after-party.
November 23, 2015: Kendall sends Hailey "birthday" cupcakes that say "FUCK HIM." Guessing that's not fuck-him "fuck him."
December 2015: Justin starts posting throwback Jelena photos and, when that doesn't get Selena's attention, pivots to models, then Kourtney Kardashian. He's also been seen with Corey Gamble, Kris Jenner's man and the tour manager for his upcoming Purpose World Tour.
December 25, 2015–January 1, 2016: Justin goes on vacation with his family and brings his own bae. He and Hailey share a New Year's Eve kiss right out of a fanfiction's third act, which she posts and deletes. Two days later, he'll post another photo of them kissing, and that one is still up to this day. 
January 8, 2016: Hailey's there when Justin is removed from the site of a Mayan ruin for climbing and pulling his pants down to "moon" his friends.
January 13, 2016: Back from vacation, sources have figured out what narrative they're going with. "[Hailey] demanded he stop stringing her along," one tells Us. "She said he would lose her if he didn't man up and show he was serious about her." Selena repeatedly tells the press she's done talking about Justin.
February 11, 2016: Hailey's in the backdrop for Justin's two-day interview with GQ. "She is doing nothing — no TV, no book, no phone, no computer, no music, no oil paints, nothing," Caity Weaver writes. On the subject of whether they're dating, Justin appears "confused." "I know that in the past I've hurt people and said things that I didn't mean to make them happy in the moment," he says. "So now I'm just more so looking at the future, making sure I'm not damaging them. What if Hailey ends up being the girl I'm gonna marry, right? If I rush into anything, if I damage her, then it's always gonna be damaged."
March 16, 2016: After months of not talking and telling the media they're not talking, Justin posts an old photo of Jelena, one of the first to confirm they were more than friends. "Feels," he writes in the caption. Selena comments, "Perfect."
March 20, 2016: Quick, guess: Who's backstage wearing merch on the first night of Justin's Purpose tour in Los Angeles? Hailey.
March 23, 2016: Two days later, for Justin's final L.A. show, Selena's in the crowd along with Kendall, Kourtney, Kim Kardashian, and Kanye West. "Selena Gomez Attends a Justin Bieber Concert About Her," Elle jokes in a headline.
March 28, 2016: A romantic date for two in the center of the Staples Center is canceled. An employee says Justin tried to rent out the stadium for a screening of Titanic with Selena, but the night ends up a wreck.
April 3, 2016: Selena and Justin separately attend the iHeartRadio Music Awards while trying to dodge dating rumors. This helps: "Justin tried to secretly bring Hailey as his date to the iHeartRadio Music Awards," a source tells Hollywood Life. "He's decided to give things another go with her, and hid her backstage away from prying eyes because he didn't want Selena to know." Classy stuff.
(Sometime after this, Selena starts to date Charlie Puth, whose claim to fame is that she loved Justin while dating him.)
May 2, 2016: The vibes are so off Justin cancels his plans to go to the Met Gala, where Selena will be. Instead, he goes to an after-party with Kendall and Hailey, and Selena stays in.
May 20, 2016: Hailey says there's "never any truth" to rumors about a feud between her and Selena. "She's a lovely girl," she says to Us Weekly. "She's very kind. Her and I have a lot of mutual friends and it's all cool between everybody. We run in the same circles." She and Justin cool off for a few months after this, while he dates Brooklyn Beckham's now-wife, Nicola Peltz, a bunch of models, and Sofia Richie.
August 14, 2016: Justin spams IG with photos of him and a 17-year-old Sofia to the point where his own fans find it a bit much. When he lashes back at them, Selena comments, using some of his own words. "Funny how the ones that cheated multiple times are pointing the finger at the ones that were forgiving and supportive, no wonder fans are mad," she drops. "Sad. All love." He responds, "I cheated.. oh I forgot about You and Zayn?" He deletes his Instagram the next day.
August 30, 2016: Selena cancels the remaining five months of her Revival World tour for her second rehab stay, this time focusing on anxiety, depression, and panic attacks, which she tells fans are "side-effects of lupus, which can present their own challenges."
September 20, 2016: The day after his breakup with Sofia, Justin takes Hailey on a date in Paris.
December 1, 2016: Selena is back from rehab! What has Justin been doing? Chastising fans during his tour and punching one who tries to reach into his car.
December 18, 2016: Just over two weeks after he comes home from tour, he and Hailey are out partying again in L.A.
January 11, 2017: While Justin is single AF, generating headlines with Kourtney (no time to get into her relationship timeline), Selena begins a relationship with the Weeknd, who also has his share of famous-ex baggage.
January 17, 2017: Sources for Biebs tell TMZ he thinks the Seeknd is a PR stunt … then, two days later, sources say Kourtney has "called off" their fling. Right, because this is all normal.
January 18, 2017: Hailey logs on to Twitter to seemingly defend Bella Hadid from her ex moving on.  "Wait sorry, WHO could possibly be cuter than Bella Hadid…." she tweets. "Literally nobody." Surely there's no ulterior motive.
May 1, 2017: Justin tours, as his ex's Weeknd fling becomes a regular thing. Selena and Abel Tesfaye attend the Met Gala together with Kendall, Kylie, Hailey, and Hailey's rumored boo, Cameron Dallas, all somewhere in the museum too.
June 2017: Selena undergoes a kidney-transplant surgery.
July 23, 2017: After months of touring, partying, and hanging out with his pastor, Justin cancels the remaining three months of his Purpose tour.
September 14, 2017: "I'm very aware some of my fans had noticed I was laying low for part of the summer and questioning why I wasn't promoting my new music, which I was extremely proud of," Selena tells fans on Instagram of her surgery. "So I found out I needed to get a kidney transplant due to my lupus and was recovering."
October 15, 2017: The Weeknd is apparently fine with Justin hanging out at Selena's L.A. home.
October 29, 2017: What about getting breakfast together, going to church together, stopping by a swap meet to where drugs are allegedly sold together, and going to his place?
October 30, 2017: Justin is seen leaving Selena's house "in the early hours," a.k.a. in the dead of night wearing the same sweatshirt as yesterday. Despite seemingly going strong, Selena and the Weeknd break up.
November 1, 2017: Jelena gets back together with church as a focal point for their reunion amid Selena's recovery. "I'm 25. I'm not 18, or 19, or 20," she tells Billboard. "I cherish people who have really impacted my life. So maybe before, it could have been forcing something that wasn't right. But that doesn't mean caring for someone ever goes away."
November 16, 2017: Their first public appearance is a sporting event — tonsil hockey at his local ice rink.
December 21, 2017: Justin reportedly reaches out to Hailey over text for closure, as her relationship with Shawn Mendes goes official. Hillsong Church sources tell TMZ Jelena is in couples therapy as part of Justin's renewed faith and attempts to make amends.
March 8, 2018: Shortly after not attending his birthday party, Selena is seen leaving church — gasp — separately from Justin.
Meanwhile, Hailey is "definitely single."
May 7, 2018: Hailey and Shawn attend the Met Gala as a couple. While Selena's there, Justin is decidedly not, posting a Notes-app screenshot saying, "THAT GLAMOROUS LIFESTYLE YOU SEE PORTRAYED BY FAMOUS PEOPLE ON INSTAGRAM DONT BE FOOLED THINKING THEIR LIFE IS BETTER THAN YOURS."
May 9, 2018: Selena confirms she and Justin are over over.
May 10, 2018: Shawn says he and Hailey are "really good friends."
May 27, 2018: And she concurs, telling W magazine she's also "friends" with Justin. "We just work much better as friends," she says.
June 8, 2018: Friends who go to Miami together, of course. "Justin Bieber and Hailey Baldwin Are Hooking Up Again," Us Weekly reports in an "EXCLUSIVE" alongside a photo of them on a balcony with Hailey handing a wet, shirtless Justin a towel.
June 18, 2018: If you're looking for a more obvious place to get caught flirting, why not try a New York City public park?
July 1, 2018: Jelena isn't dead in the ground for three months and Justin is engaged to Hailey.
July 9, 2018: "Was gonna wait a while to say anything but word travels fast, listen plain and simple Hailey I am soooo in love with everything about you!" Justin posts on Instagram. "So committed to spending my life getting to know every single part of you loving you patiently and kindLY. I promise to lead our family with honor and integrity letting Jesus through his Holy Spirit guide us in everything we do and every decision we make. My heart is COMPLETELY and FULLY YOURS and I will ALWAYS put you first! You are the love of my life Hailey Baldwin and I wouldn't want to spend it with anybody else. You make me so much better and we compliment eachother so well!! Can't wait for the best season of life yet!. It's funny because now with you everything seems to make sense! The thing I am most excited for is that my little brother and sister get to see another healthy stable marriage and look for the same!!! Gods timing really is literally perfect, we got engaged on the seventh day of the seventh month, the number seven is the number of spiritual perfection, it's true GOOGLE IT! Isn't that nuts? By the way I didn't plan that, anyways My goodness does feel good to have our future secured! WERE GONNA BE BETTER AT 70 BABY HERE WE GO! 'He who finds a wife finds a good thing and obtains FAVOR from the Lord!' This is the year of favor!!!!"
September 13, 2018: It's the start of "another healthy stable marriage." The newlywed couple is on the March 2019 cover of Vogue, but the interview isn't exactly a portrait of a loving relationship. "It's been difficult for me even to trust Hailey," Justin says of his bride. "We've been working through stuff."
"Negative things happened that we still need to talk about and work through," Hailey explains. "Fizzled would not be the right word — it was more like a very dramatic excommunication. There was a period where if I walked into a room, he would walk out." So why get married? Justin admits his yearlong celibacy was a factor.
October 10, 2018: Selena reenters rehab, and Justin takes it hard (while Hailey watches).
February 22, 2019: Selena incorporates Rare Beauty, LLC, but doesn't announce its first collection until the following year.
April 25, 2019: Justin gets super-defensive about being caught with "selena gomez coachella outfit" in his Google-search history.
September 30, 2019: The Biebers have their official wedding ceremony after having to postpone three times. In their honor, a medley of fights and arguments that occurred in the lead-up:
October 23, 2019: Selena drops "Lose You to Love Me" with the lyric "In two months, you replaced us / Like it was easy." Minutes after the midnight release, Hailey posts Summer Walker's "I'll Kill You" to Instagram, harkening back to her old Twitter days.
"Please stop with this nonsense… there is no 'response,'" Hailey commented on an Instagram post. "This is complete BS."
February 2, 2021: Hailey trademarks "Rhode Skin," giving up on her previous trademark attempts: "Bieber Beauty," "Rhode Beauty," "HB Beauty by Hailey Bieber," "HRBeauty," "Dew Beauty," and "Dewy Beauty."
September 2022: Hailey goes on the podcast Call Her Daddy to end the narrative that she stole Justin from Selena. "I was never with him when he was in a relationship with anybody," she says. "That's the end of it. That was a situation where I know for a fact that it was the right thing for them to close that door."
October 16, 2022: Selena and Hailey pose together while attending the Academy Museum Gala in L.A. Sources say it's a clear message that there's no beef. Later, Selena doubles down on it to Vulture. "Yeah, it's not a big deal," she says. "It's not even a thing."
January 7, 2023: A TikToker wonders whether Hailey's use of the viral sound bite "God's timing is always right" is a response to reports of Selena's weight gain from lupus medication. "I never comment on this type of thing but we were just having a girls night and did a random tik tok sound for fun. It's not directed at anyone ✨🤍" Hailey comments.
February 23, 2023: Selena posts a TikTok saying she wishes she was as "pretty as Bella Hadid" and asking fans if they think her eyebrows were laminated "too much." Fans immediately assume Kylie Jenner's next post — a FaceTime screenshot of Hailey's brow — is shade. Kylie calls it a reach.
But fans had already pulled up a video of Hailey appearing to gag at the mention of Swift, so Selena defends her in the comments: "So sorry, my best friend is and continues to be one of the best in the game."
Later that day, Selena tries to get away from it all, leaving TikTok. "I'm 30. I'm too old for this, so. But I love you guys so much! And I will see you guys sooner than later. I just … I'm just gonna just take a break from everything," she says on a livestream.
March 1, 2023: On Justin's birthday, he posts a slideshow of loved ones, and commenters point out that the only photo of Hailey shows Justin looking less than enthused. Selena fans continue to piece together "evidence" of Hailey being out for Selena, really only turning up examples of how similar the two are and why they might have fallen in (and out and back in) love with the same guy. Case in point: A theory goes viral attributing the lyrics of Swift's "Question… ?" from Midnights to Jelena's final breakup, alleging not only that the song's kiss in a crowded room was a reference to the 2013 Billboard Awards cheek kiss but also that Justin might "wish he put up more of a fight" and "wish he could still touch her." Swift did say she writes songs for her friends … and that harmony sounds familiar … plus Selena has a song called "Crowded Room." Or it's about Harry Styles or Karlie Kloss or whoever your imagination can muster.
March 12, 2023: Justin basically tells fans to pipe down when he posts a photo of Hailey and himself with the caption "LUV U BABY."
March 23, 2023: "Hailey Bieber reached out to me and let me know that she has been receiving death threats and such hateful negativity," Selena writes on Instagram. "This isn't what I stand for. No one should have to experience hate or bullying. I've always advocated for kindness and really want this all to stop." Hailey thanks Selena for "speaking out" and says they've "been discussing the last few weeks how to move past this ongoing narrative."
That same day, a TikToker claims Selena and Zayn Malik, Gigi Hadid's ex, whom she shares a child with, were all over each other at an NYC restaurant, holding hands and making out. "Zayn has known Selena for years and he's definitely into her," an insider tells Us Weekly of the 30-year-olds. "He's always admired her and thinks she's an incredible person, inside and out."
The author has NO relation, thank you very much.