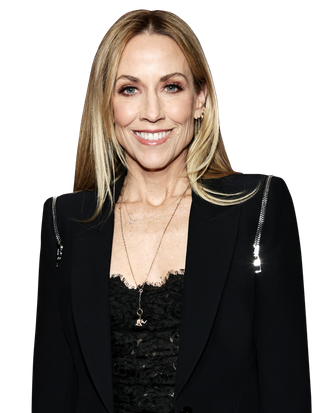 Photo: Jamie McCarthy/Getty Images
Pardon the easy pun, but here's something that's going to make Sheryl Crow happy for the rest of her life: She is among the seven inductees in the Rock & Roll Hall of Fame's 2023 class, joining the formidable group of Kate Bush, Missy Elliott, George Michael, Willie Nelson, Rage Against the Machine, and the Spinners. "I'm going to be honest," Crow says. "I'm still a little bit in shock. I'm processing it." The honor coincides with the upcoming 30th anniversary of her debut album, Tuesday Night Music Club, which cemented her status as a priestess of soulful rock who, outside of album titles, subverted the boys' club with her gorgeous tapestry of a discography. Not that everybody in her family realizes it. "My dog is snorting, I'm sorry," she says with a laugh midway through our chat. "This is what keeps being in the Rock Hall real. Your dog is having a hemorrhage and doesn't care."
How does it feel to triumph over your fellow "Kidney Now!" star Cyndi Lauper to get into the induction class this year?
Cyndi deserves to be in. It's always a little bit bittersweet. There are so many people that I love — Peter Frampton was my first concert. He's not in yet. That's not only why I'm a little shocked I'm in on my first round, but it's insane to digest how long I've been doing this. When they nominated me, it felt like I was being nominated for an Oscar for a movie I haven't finished writing yet.
What's the logline of this movie?
I will say, I got to sing with Willie Nelson the other night at his 90th-birthday party. I hope I'm still doing it like Willie is. I feel like I've got a lot more years ahead of me, more songs to write, and more tours to go out on. It's a very cool thing to be in the Rock Hall with Willie but even in the same sentence with so many people I've loved.
I'm already dreaming of what your super-jam will be like.
God, yeah. That's all I can say. I can't even think about it, I'm so excited.
How did you learn the news, and what was your reaction?
My manager called me a couple of days ago and said, "You can't tell anyone." When he called me the first time months ago to tell me I had been nominated, I said, "There's no way I'll get in. There's just no way." I was in shock. I'm so happy that Willie and the Spinners are in. And Kate Bush. I was that nerdy kid who got so into Kate Bush. It's freakin' awesome.
Was a Rock Hall induction something you were longing for?
It wasn't really in the back of my mind. I'm sure it's a defense mechanism, but I don't think about awards. When the Grammys roll around, I don't think to myself, I hope I get nominated. I always feel that I'm such a long shot. I thought the Rock Hall was years away for me. I'm a little speechless about it. I'm so humbled and surprised, but what a cool honor. I wouldn't be here if it weren't for so many people who are already in the Rock Hall. It's a huge honor for me. This is end-of-career kind of stuff.
What makes you say you're such a long shot?
I'm a person that's always had the mind-set of what's ahead of me. I'm always writing. In fact, right now I'm doing a ton of writing and recording. I always feel like my best work is in front of me. I wasn't thinking, Okay, you've been at this now for 30 years; you're going to be nominated. I wasn't thinking in the context of that. It was more like five or ten years, maybe even 15. There are people who still aren't in. I wouldn't have been insulted if I wasn't nominated this year. That's why it's so cool that I was nominated and it's even cooler that I'm getting inducted. If I can admit that.
The Rock Hall described all of the 2023 inductees as having "changed the course of rock and roll" with their respective careers. What do you like to think was your course?
I hope I've inspired young women to pick up an instrument and start writing their hearts but also to know that they can produce themselves. For a long time, women weren't really given an opportunity because the assumption was made that men were the ones who organized and ran the studio and produced the music. When my producer left during my second record, my manager said, "Look, do it yourself, and we'll explain it later." I think that opened up a bunch of doors for other young women to go to their labels and say, "If she can do it, I can do it." If nothing else, if that's my legacy, that makes me really happy.
Courtney Love recently wrote an essay about how women have historically been marginalized by the Rock Hall. I'm curious if you read it and, if so, drew similar conclusions from your experience with the organization.
I haven't read it, but I'm aware of it. I think the Rock Hall is very aware of that now — and to a certain extent, they want to try to honor that and make up for lost time. I don't want to think that means all of a sudden their rationale is, We're going to put Sheryl Crow and Missy Elliott and Chaka Khan in because we need women. There are a vast number of women who have been highly influential. It seems to me that they're broadening what they define as "rock and roll" as being those who have influenced how music changed. If they're hearing Courtney, that's great.
This year's nominee list included the most women in the Rock Hall's history, but only around 9 percent of inductees are women. Are you hopeful that this year will serve as a significant turning point?
Yes, I do. I'm always in the corner of women. Without question. There are women whose shoulders I've stood on, and I've been outspoken about the fact that if it weren't for people like Stevie Nicks, Linda Ronstadt, Chrissie Hynde, and Emmylou Harris, there's no way I would be here today. I love the fact that the Rock Hall is now conscious of it, and I appreciate the fact that Courtney brought some attention to it.
Who are some names you'd love to see on next year's nominee list?
I need to do some research of who's in and who isn't. I'm so glad Chaka is in because, honestly, I assumed she was. Peter Frampton — obviously he's not a woman, but he's not in yet. Joe Cocker isn't in yet. I'm assuming Bonnie Raitt is in? She's somebody who was highly influential to me as a young guitar player.
Yeah, she's been in for a while.
And Joan Jett? Is she in?
She's definitely in.
Good. I need to see what women aren't in yet.
Has this achievement made you reconsider whether 2019's Threads is indeed your final album? Perhaps it's an unexpected reawakening?
It's not that I don't want to make albums. I love albums. Mainly for the historical value. Luckily, people are pressing vinyl and buying vinyl more than ever. It's such a beautiful art form that's basically nonexistent anymore. But making an album seems like a waste of time and money. I can only say that because I've been around 30 years. I'd tell every young artist to make albums because the deep cuts are the ones that'll be the most valued to you. They'll be the ones that most beautifully illustrate who you are. People nowadays want you to play the hits, but for young artists, go make those albums. For me, I've been more immediate. I want to put songs out and not wait for a body of work that won't ever be heard. I'm writing like a freakin' banshee right now. So I don't know. I might put out an EP pretty soon, or I might put out a whole album. Or I might just start putting out songs every week or two.
Which of your deep cuts are you valuing most at the moment?
Songs like "Weather Channel" are very specific to struggles I went through that I know people are going through now. Mental illness is real. Songs like "Difficult Kind' and "Riverwide" are important to me. My tried-and-true family knows about these things, but the general public doesn't know. I've got a whole lifetime of songs I just love playing that mean a lot to me, but the audience will go, "I'm going to go get a beer."
You've attended two previous ceremonies to help induct Fleetwood Mac and Pat Benatar—
Gosh, yeah, and also for Linda. I've been in the room well before it was even televised. You felt you were really in on something.
Have you given much thought to who you would like to do the honors for you?
I don't feel like I've even had time to process it. I can't even complete a sentence! I have no idea. I'll be thinking about it, though, because I'm already starting to make a list of people who I don't want to forget in my five-minute speech. I'm going to talk so fast, you won't believe it. Maybe I'll make it a ten-minute speech.
How are you celebrating tonight now that your induction has gone public?
The first thing I did was tell my boys. My almost-16-year-old is very grown-up now, and he said, "Mom, I'm so proud of you." And my younger boy gave me a high five, which means the same thing. I've got some family coming over tonight. I'm going to cook dinner, and I'm sure we'll have some wine. We'll do some serious celebrating.