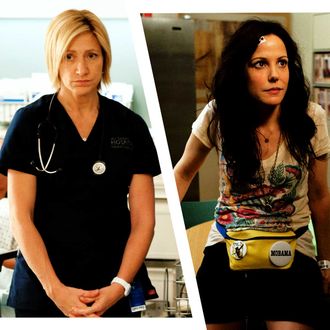 Photo-Illustration: Vulture; Photos: Everette Collection
Reboots, am I right? Hollywood can't get enough of them. As streaming services lose subscribers, the industry response seems to be (1) pulling shows from their libraries to offer less content, and (2) doing existing material all over again. This mimetic-IP repetition is all very …
Oh, what's the word …
Little-boxes-on-the-hillside-little-boxes-made-of-ticky-tacky-little-boxes-on-the-hillside-little-boxes-all-the-same-coded. Don't you think? So in apt news, Deadline reported today that Showtime is looking to revive two of its most popular series of yore, Weeds and Nurse Jackie. Both of the shows' respective original leads, Mary-Louise Parker and Edie Falco, would return to star in and executive-produce the reboots. These would possibly launch in early 2024, but that timeline is contingent on the AMPTP agreeing to pay writers fairly and ending the WGA strike, of course.
Both Weeds and Nurse Jackie were Emmy Award–winning flagship series for Showtime during a much rosier era for premium cable. They stood out from the rest of the TV anti-hero boom with their female-led, unflinching dark comedy. That is, until Weeds went off the rails like so many long-running Showtime series do (I can't speak for Nurse Jackie). According to Deadline, Weeds would pick up to find Nancy Botwin (Parker) in Copenhagen. Earlier today, original cast member Justin Kirk told Variety, "Even as a fan, do you really want to see us all old and coming back?" He also referred to a possible Weeds reboot as the network "trying to drag its tired carcass out."
Apparently, these reboots would be part of "Showtime's new programming strategy focused on IP and franchise building." Here's a strategic idea: Focus on your current creators, and let them grow into IP more people care about! The only "franchise building" I care about is the new Carvel near my apartment! You want a darkly comedic female anti-hero? Renew I Love That for You.