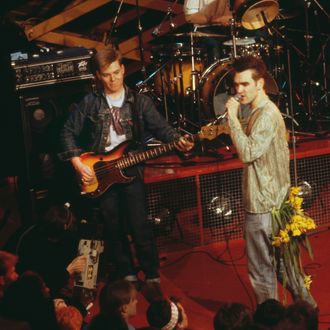 Photo: Pete Cronin/Redferns
Andy Rourke, the longtime bassist for English post-punk band the Smiths, has died. Johnny Marr, the Smiths' guitarist and Rourke's childhood friend, announced the news, adding that Rourke had pancreatic cancer. He was 59. "Andy will be remembered as a kind and beautiful soul by those who knew him and as a supremely gifted musician by music fans," Marr wrote on Twitter. Rourke joined the Smiths shortly after their formation, after previously playing music with Marr during school. Despite being fired from the band for a few days in 1986 (leading to the hiring of guitarist Craig Gannon) and rehired shortly after, Rourke was essential to all four of the Smiths' albums, known for his melodic, often groovy bass playing in the band.
After the Smiths dissolved in 1987, Rourke played bass for Sinéad O'Connor, the Pretenders, and the Stone Roses' Ian Brown. He formed the side project Moondog One with Smiths drummer Mike Joyce and former Oasis member Paul "Bonehead" Arthurs; he also played bass on a few singles for Smiths singer Morrissey after the band's split. In recent years, he performed in the group Freebass with New Order's Peter Hook and Stone Roses' Mani through 2010 and in the group D.A.R.K. with late Cranberries singer Dolores O'Riordan and Olé Koretsky through O'Riordan's 2018 death.
A number of musicians, including Rourke's former Smiths bandmates, remembered the bassist. "He didn't ever know his own power, and nothing that he played had been played by someone else," Morrissey wrote on his website. "His distinction was so terrific and unconventional and he proved it could be done." Joyce tweeted that Rourke was "not only the most talented bass player I've ever had the privilege to play with but the sweetest, funniest lad I've ever met." And in a longer message on Instagram, Marr wrote, "Andy will always be remembered, as a kind and beautiful soul by everyone who knew him, and as a supremely gifted musician by people who love music."