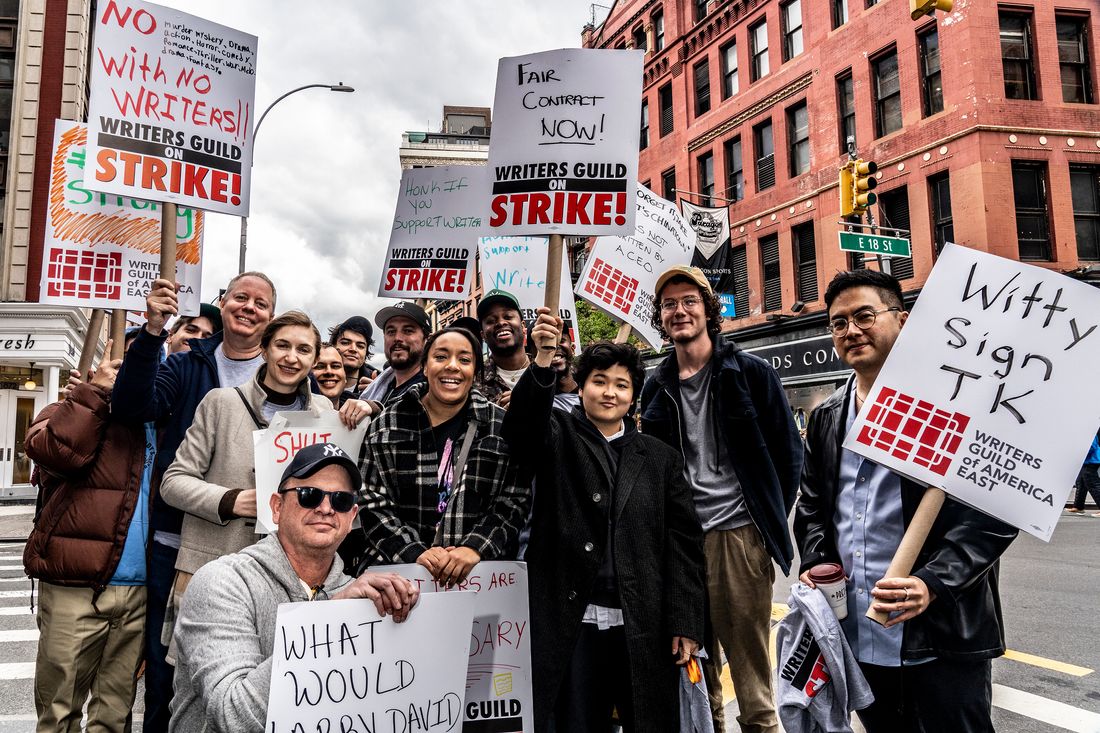 From left: Jake Nordwind, Andrew Dismukes, Bryan Tucker, Alison Gates, Kent Sublette, Ben Silva, Michael Longfellow, Streeter Seidell, Vannessa Jackson, Devon Walker, Alex English, Celeste Yim, Martin Herlihy, and Bowen Yang.
Photo: Mark Peterson/Redux Pictures
On a recent Wednesday, live from New York, it was the Writers Guild of America strike. Following the breakdown of contract negotiations with the major Hollywood studios and streamers, a picket line had formed outside Netflix's 888 Broadway headquarters some thousand people strong, among them writers of late-night TV, streaming sitcoms, and, in a thick clump, the writers of Saturday Night Live and their friends. These being writers, the placards and chants were a little more clever than usual. "Don't Uber Writing," one read. "Don't Piss on My Leg and Tell Me It's Streaming," read another. Were Netflix execs cowed into skipping their usual Sweetgreen lunch runs? "I hope so," said Streeter Seidell, one of the head writers of SNL. "Or at least they sent their assistant out to get it?"
The strike, WGA brass say, is the only workable response to an existential threat to writers, whose livelihoods have been compromised by diminished residuals, nefarious gig-work "mini-rooms," shrunken TV-season orders, and the looming specter of scripts by AI. Stories of writers forced to return to nannying or barista service between plum writing jobs have become worryingly common. The union, which represents 11,500 writers of mostly film and TV between its East and West divisions, had voted for the strike by a margin of 97.9 percent.
The cause is just, but — a bare sliver of silver lining — also just a little bit fun. "I'm going to get a new Raya profile pic," a striking writer told me before disappearing into the crowd. "All our co-workers are now no-workers," said Josh Gondelman, a former head writer of of Desus and Mero and a union council member. The protest had the feel of an alfresco office party: People were running into friends, former colleagues, and Ilana Glazer. "It's starting to feel like a gay club," Alex English, an SNL writer told me with a laugh. "I didn't come yesterday because I didn't have a haircut. Y'all not about to have me on the news looking crazy. It's bad enough I don't got a job. I don't want to look broke, unemployed, and dusty." SNL is one of the last remaining holy-grail shows, one with a long season and reliable residuals, but even so, its writing staff was out on the march; they'd been nearing the end of their season when the strike was called, and the final planned episodes, like the one hosted by Pete Davidson scheduled for May 6, canceled. "I wish that I was at the office writing jokes for Pete Davidson where he plays, like, a big chicken or something," English's colleague Celeste Yim said. "But I can't be doing that. I have to be here."
Industry stalwarts have been here before. "It's great to see such energy, such great turn out," said Cynthia Nixon, as marchers processed in two parallel lines east and west on 19th Street, around the corner of Broadway, down to 18th, east to Park, and back around. "Right here in the middle of Manhattan. If people walking by didn't know there was a writers' strike, they know it now." A city bus honked its support. Nixon has been working long enough that she remembers the 2007–8 strike, which continued for 100 days, and the 153-day 1988 strike before that. "We were very aware of how long those strikes went on for," she said. "And writers and their allies want to be sure that it doesn't take that long."
But if the process repeats from generation to generation, so too does the righteous agitation. Zoe Kazan, an actress and screenwriter whose screenplays include Ruby Sparks and, with her husband, Paul Dano, Wildlife, appeared with her baby in a Snugli at her chest: advocacy starts early. "My parents took me when I was a kid," she said. (Her mother, Robin Swicord, adapted Little Women and Memoirs of a Geisha for the screen; her father, Nicholas Kazan, Reversal of Fortune.) "My dad's strike shirt was my sleep T-shirt for years."
More on the 2023 Writers' Strike
See All