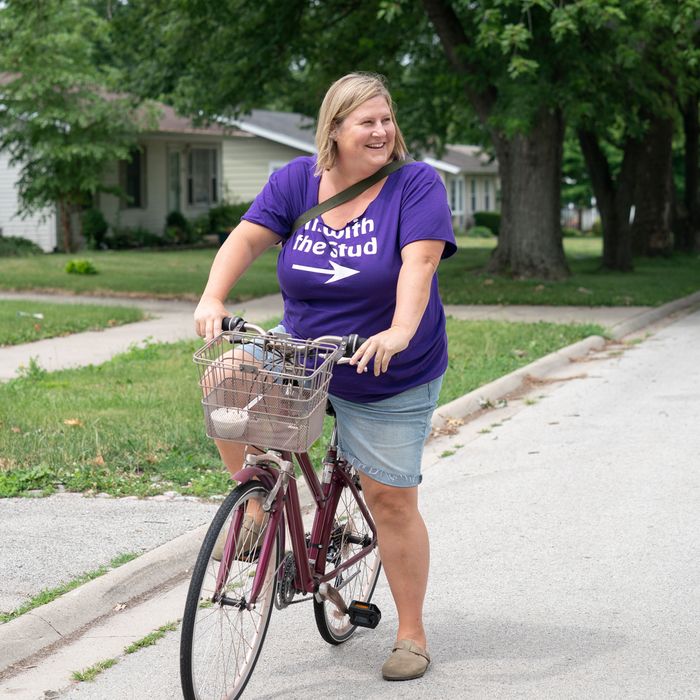 Since Somebody Somewhere's debut in 2022, up through its current second slate of episodes (season two's finale dropped May 28 on Max), this slice-of-life HBO dramedy has made the subtlest of waves by upending audiences' expectations for a project centered around star Bridget Everett, best known as a bombastic, cult-cabaret performer. There are flashes of broad humor splashed throughout Somebody Somewhere, which features Everett as Sam, a middle-aged woman returning to her small-town Kansas roots after a death in the family and finding her sense of place.
But it's also a disarming story about identifying your kindred spirit (Jeff Hiller, as Sam's bestie Joel, has been rightly lauded in a breakthrough role); a love letter to the strains and pains of growing older and watching others grow old; a deconstruction of outsider/insider paradigms; and an understated milestone in LGBTQ+ representation. Somebody Somewhere carries forward the legacy of small but mighty predecessors like Schitt's Creek while staying firmly rooted in the real, and is as sure a bet as there is — amid a streaming landscape saturated with cynicism — for thoughtful pathos and punchy laughs.
Here are five moments, characters, and relationships from the series to this point that epitomize how Somebody Somewhere is, in its own (mostly) quiet fashion, everything at once.
Sam and Joel, BFFs
Due respect to Seth Rogen and Rose Byrne, but Everett and Hiller's chemistry as platonic soulmates Sam and Joel is in a leisurely league of its own. Having not seen each other since their school days, the two reconnect over the mundaneness of their day job at an essay-grading company. As Joel, who is openly gay but also very active in the local choir, drifts from his boyfriend, Michael, and puzzles over his faith, he gravitates toward Sam, who blows back into his life like the gust of fresh air he forgot how much he needed. The feeling is mutual, as Joel is the only person amid Sam's inner circle who accepts her manic mashup of outsized bravado and big insecurity without judgment. They get their daily steps in together, mix martinis for one another, sit idly on park benches nitpicking neighbors' lifestyle choices, and, prevailingly, push each other out of their comfort zones and toward self-acceptance.
Dealing With the Dearly Departed
The most triumphant casting coup in Somebody Somewhere turned out to be character actor par excellence Mike Hagerty, who slipped into the farmer's overalls and understated everyman manner of Sam's dad, Ed, with typical ease. Tragically, Hagerty passed away during filming for season two. Rather than write the character off, the show opted to keep the spirit of both he and Ed just out of view but never far from influence. Ed, as current circumstances have it, is getting some overdue "me" time on a cruise while his daughters manage their alcoholic, increasingly senile mother Mary Jo's (Jane Drake Brody) care at an assisted-living facility. We hear from Ed via letters about the friendships he's forming on his trip and the bittersweetness of being separated from Mary Jo. Scenes of Sam and her sister Tricia (Mary Catherine Garrison) tidying the family farm's barns and silos serve as a cathartic observance of the physical space Hagerty occupied on set. It's a tricky narrative needle to thread, but a touching nod to not quite letting go.
Fred Finds His Better Half
Throughout season one, longtime downtown NYC transmasculine comedy/cabaret fixture Murray Hill fills out the ensemble as Fred, a soil scientist by day and elder-statesman party emcee by night. He also maintains an unlikely bond with Ed over the hushed solemnity of agricultural life. But in season two, Fred's got big news, namely that he's engaged to old grad-school flame Susan (Jennifer Mudge), centering the season around a non-binary romance that surfaces everyone else's dysfunction about their utility at the wedding. In other words, the least complicated thing about Fred and Susan's coming nuptials is their commitment to one another. The storyline neatly exemplifies how Somebody Somewhere wastes little to no time making its characters (see: Sam's repeated brushing off of Tricia's mild discomfort with non-conventional marriage) or audience comfortable with its lived-in vision of an accepting world.
Sam's Inner Janis Busts Out
Everett is a gifted enough vocalist and performer to turn any karaoke classic on its head, and Janis Joplin's "Piece of My Heart" has been in her live-show repertoire for years. But in the third episode of season one, Sam is goaded into a slow-burning rendition during choir practice that articulates all the messiness, heartache, and heroics of navigating a mid-life crossroads punctuated by personal grief. Tears are shed, a standing ovation is had, and in the afterglow/comedown of Sam letting it all belt out, Somebody Somewhere charts its soul-searching course in earnest.
The St. Louis Sushi Disaster
Flatulence and diarrhea have been played for yucks onscreen for decades, from Blazing Saddles' to Harold and Kumar. But the second episode of season two (itself titled "#2") ends with a uniquely yucky bit of gastrointestinal unrest. After watching their high school voice teacher Darlene (Barbara E. Robertson) conduct a concert, Sam and Joel help themselves to numerous servings of a mysterious appetizer dubbed St. Louis Sushi (ingredients: pickles, cream cheese, and ham) by its soft-spoken creator, Brad (Tim Bagley). Brad also happens to be Darlene's young-at-heart, not-terribly-talented new student, and Sam and Joel can't help but crack wise about his wanting talents on stage and in the kitchen. Joke's on them, because later that night, they experience parallel digestive horrors, surviving the shared ordeal together in real-time via one excruciatingly intimate phone call. For all its gradual pace, Somebody Somewhere revels in bursts of shocking vulgarity. Befitting the show's blend of pungent humor and poignant personal growth, Joel ultimately winds up wooing Brad, who's too well-meaning to ignore — not unlike Somebody Somewhere itself.
This advertising content was produced in collaboration between Vox Creative and our sponsor, without involvement from Vox Media editorial staff.