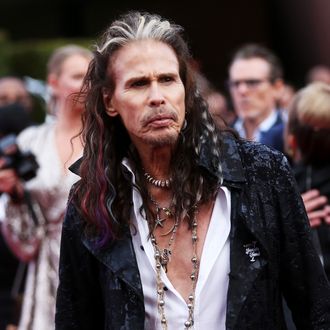 Photo: Phillip Faraone/WireImage
One of the central claims in the teenage-sexual-assault lawsuit against Aerosmith singer Steven Tyler involves admissions Tyler made about the relationship in his memoir. Now, Tyler is attempting to strike that portion of the suit. In her initial lawsuit, Julia Misley claimed that Tyler "aggravated and exacerbated the harm caused" by alleged assaults in the 1970s by writing about their relationship in his 2011 book, Does the Noise in My Head Bother You? Tyler reportedly wrote that he "almost took a teen bride" in the memoir, going on to admit that her parents had signed custody over to him. "She was sixteen, she knew how to nasty, and there wasn't a hair on it," he wrote. (Tyler has admitted that they had sex but argued their relationship was consensual.) He even named Misley, then Julia Holcomb, in the acknowledgements. By publishing the memoir, Misley's lawyers argued, Tyler reframed an alleged assault "as a romantic, loving relationship" and "imposed involuntary infamy" on Misley.
Tyler's lawyers now claim the memoir is protected as free speech. In a new filing, per Rolling Stone, Tyler's team argues that targeting his memoir makes Misley's lawsuit a "strategic lawsuit against public participation," or SLAPP, and wants to strike the memoir claim. It's a convoluted defense — anti-SLAPP laws, like California's, are usually intended to protect assault and abuse victims from being sued for defamation over speaking out. "The depth of the intrusion is minimal and clearly outweighed by Tyler's right to recount events from his own life in his memoirs," Tyler's lawyers wrote. Vulture has reached out to Misley's attorneys for a response. Jeff Anderson, one of Misley's attorneys, previously called Tyler's denial "astonishing, galling, and arrogant."
But that's not the only way Tyler is attempting to brush aside the lawsuit. A day before the new motion, Aerosmith announced what they're claiming is their final tour to coincide with their 50th anniversary as a band. The Peace Out tour kicks off this fall — and Tyler seems to be hoping he doesn't have to juggle court dates at the same time.