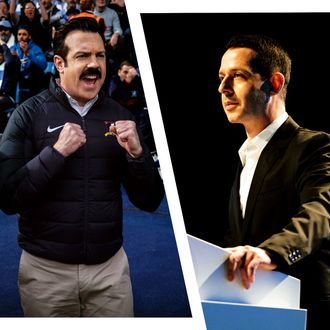 These guys.
Photo-Illustration: Vulture;Photos: Apple TV, HBO
Memorial Day is about honoring our fallen veterans, and we here at Vulture are celebrating them by watching a slew of TV shows that are falling this week. Between Friday, May 26 and Wednesday, May 31, a bevy of popular shows are airing their season or series finales, providing the long weekend with a fierce schedule of sitting on the couch. Finale season technically kicked off on Wednesday with the Survivor season finale (no spoilers, but congrats to the winner), and will continue all the way through the week. Most of our favorite TV shows may be ending, but we're going to celebrate nonetheless. Below, find a list of finales that will ruin your plans to have a productive Memorial Day Week, day by day.
Friday, May 26
• The Marvelous Mrs. Maisel (series finale, Prime Video, 12:01 a.m.)
This Emmy-winning juggernaut will air its series finale on Friday over on Prime Video. After five seasons of manicured outfits and bawdy comedy, viewers will have to mourn a Midge-less world. But if you need your fix of a Joan Rivers–ian stand-up show, there's always Hacks to tide you over.
• Yellowjackets (season-two finale, Showtime, midnight Friday, airing linearly on Sunday at 9 p.m.)
Our favorite teenage cannibals will have to go on a diet after Friday. The final episode of season two will become available to stream on Showtime on Friday, but air linearly on Sunday, as the rest of the season did, so you can always come back for seconds.
Sunday, May 28
• Succession (series finale, HBO, 9 p.m.)
Heard about Succession yet? Well, you're about to hear a lot more about it this week, when it airs its series finale on HBO, but then, just like Marcia's son after season one, it's going away forever. The series finale of this Emmy beast has expectations higher than the elevation Logan Roy died at, but like Kendall Roy talking about Living+, we have an inkling that they just might pull it off.
• Barry (series finale, HBO, 10:30 p.m.)
Last but not least on the list of shows finishing up their runs on HBO is Barry, which being killed off on Sunday. Barry is Bill Hader's show about a hit man turned actor that is nominally a comedy but will leave you with all the emotional impact of a drama. NoHo Hank, we are rooting for you!
• Somebody Somewhere (season-two finale, HBO, 11:05 p.m.)
If you need something a little slower and a little quainter, but of no less quality, to cool off right after Succession and Barry, keep HBO on and watch Somebody Somewhere, Bridget Everett's show about living in the small town of Manhattan, Kansas. The first two seasons have been a never-ending barrage of heartbreaks and laughs, and the wedding the season has been building up to should be an apt ending to this quietly devastating show.
Wednesday, May 31
• Ted Lasso (possible series finale, AppleTV+, 12:01 a.m.)
Capping off this list and the month is the potential series finale of Ted Lasso, yet another Emmy winner. This show about a soccer football team and its bumbling yet positive American coach has been a monster hit for AppleTV+. The series finale has not been officially confirmed, but writer and star Brett Goldstein has said as much; Jason Sudeikis told Deadline it's the "end of this story that we wanted to tell"; and the episode is called "So Long, Farewell," so do with that what you will. You just have to "believe" that it can stick the landing.
This post has been updated to give Ted Lasso fans hope.