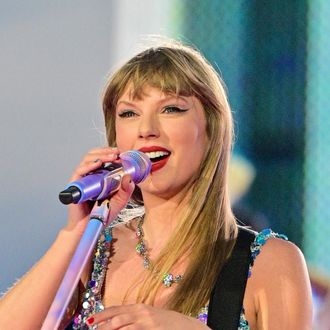 Photo: Lisa Lake/Getty Images for TAS
It's hard to imagine the unique terror of getting called out by Taylor Swift while she's singing a song about holding a grudge, but this appears to have been at least one out-of-line security guard's reality at the singer's Eras concert in Philadelphia on Saturday night. In the words of another Swift song: somebody had to catch him out. According to a concertgoer on Twitter, security guards at Lincoln Financial Field stadium were allegedly "putting their hands on us to physically push us off of the barricade instead of just telling us to move" during Swift's performance of "Bad Blood." Swift appears to directly call out the security guards in question in a video taken of the performance. "She's fine," she tells the guards between lyrics of the song, presumably referring to a fan. "She wasn't doing anything." Swift goes on to yell, "Hey, stop!" multiple times at the security guard without missing a beat of the chorus of "Bad Blood." Future Eras security guards: take note.
TikTok user Caitlin Gabell posted a video on Sunday morning claiming to be the fan in the video, and explained that the security guard had been "harassing" her and her friends. "Taylor noticed that I was having fun and that he didn't like it, and she didn't like it, and he basically got escorted out," Gabell said. She also revealed that Taylor Nation offered her and her group free tickets for Swift's next concert.