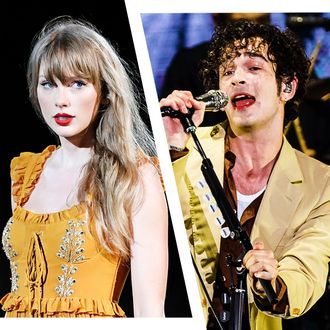 "And when I meet the band / They ask, 'Do you have a man?' / I can still say, 'I don't remember.'"
Photo-Illustration: Vulture. Photos: Getty Images
Taylor Swift's got a blank space, baby — but whose name is she writing? According to the Sun, it's Matty Healy, the face of English rock band the 1975. A source told the U.K. tabloid, "It's super-early days, but it feels right," calling the pair "madly in love." One problem: Healy is at least the third man Swift has been linked to since her split from longtime boyfriend Joe Alwyn recently became public. (Swift and her other longtime boyfriend, Karma, are allegedly still going strong.) First, just days after news of the split in early April, Swift's friend and music-video (sorry, short film) star Dylan O'Brien was seen leaving her New York apartment one morning. Shortly after, Swift started being linked to Formula 1 driver Fernando Alonso after a note on internet gossip rag DeuxMoi and some cheeky posts by the driver. Swifties' attention only turned to Healy — whom she previously dated for a minute in 2014 — after the May 3 report.
Per the Sun's source, Swift and Healy "are both massively proud and excited about this relationship" (allegedly, if Swift's lawyers are reading this!). The Sun reported that Healy was planning to support Swift at her next shows in Nashville this weekend after wrapping the Asian leg of the 1975's tour. Fans did indeed spot Healy in the crowd on May 5, and TikTok has also noticed that both Swift and Healy appeared to mouth the words "This is about you, you know who you are, I love you" at separate shows last week. Paps claimed to get a shot of Healy and Swift driving to her Nashville condo, but the pics are very indistinct. It could be Bigfoot in that car. None of this is concrete evidence of Swift and Healy dating, so for now, let's try to clear up some of the lavender haze around who Swift has actually been spending her midnights with, post-Alwyn.
O'Brien and Swift have been friends since 2021, when he starred in her visual for "All Too Well (Taylor's Version)." And sure, Swift is no stranger to mixing work and play, from dating her Valentine's Day co-star Taylor Lautner in 2009 to writing songs with Alwyn, a.k.a. William Bowery, for folklore and evermore. But come on: Can't a friend support a friend after a breakup? Not to mention, O'Brien was pictured leaving Swift's apartment the morning of April 12, a day before her three-night stand in Tampa, Florida, on the Eras tour. Maybe she was already in Florida and needed O'Brien to water her plants or throw out some of Alwyn's clothes — and he just borrowed a 22-bedazzled sweater for the brisk walk home.
But if you think the Taylan shippers are grasping at straws, wait till you hear about Taynando. The original DeuxMoi post linking the two, which appeared only on the account's Instagram Story, just said some Spanish magazines were starting rumors about them. (Alonso is Spanish — remember that for later.) Sure, feasibly, they could be dating, given that he also split with his girlfriend, Andrea Schlager, last month. But with Swift's Eras tour in full swing, when would she have had time to meet and start a fling with a driver who lives in Spain and travels the world for work? The only "evidence" has come, heavily, from Alonso himself, who's posted a few TikToks with Swift's music in the background. And ahead of a race last weekend, Alonso gave Spanish newspaper Marca the old "I usually keep my personal and professional life apart." It doesn't take a mastermind to see what's going on here.
Which brings us to Mattaylor. The pair have known each other for nearly a decade and don't seem to have bad blood despite being romantically linked briefly in 2014. Last year, when they were splitting custody of Jack Antonoff for their albums Midnights and Being Funny in a Foreign Language, Healy even said his band worked on some unreleased Midnights music. In January, Swift made a surprise appearance at a 1975 London concert, where she debuted her song "Anti-Hero," not a small move from the Über-calculated star. (Equally relevant to their rumored relationship, she met Healy's mother, English TV presenter Denise Welch, at the show.) And Healy, who has notoriously been snogging fans on this 1975 tour, told the crowd he wouldn't be doing so "in front of the queen" that night. Perhaps because they already kissed backstage?! The Sun's source claims Swift and Alwyn broke up just weeks later in February; Healy, meanwhile, split from fellow musician FKA twigs last summer and has only been linked to influencer Charlotte Briar D'Alessio once since then (by the Sun, the sometimes-unreliable purveyor of this same rumor).
Past those concretes, we do also know that Swift loves a London boy, which Healy is. And the pair seem to be kindred spirits as musicians and celebrities — that is, they both love playing with the public's perception of them and also just attention. Both have been alluding to…something in recent concerts. Per "Page Six," Swift told an audience at her Eras tour "I kind of feel like telling you, I don't know, I've just never been this happy in my life, in all aspects of my life ever before. And I just want to thank you for being a part of that. It's not just the tour. I just sort of feel like my life finally feels like it makes sense." And Healy addressed either the dating rumors or racism accusations on BBC Radio 1's Big Weekend music festival, introducing his band by saying "Is it all a bit? Is it sincere? Will he ever address it? All of these questions and more will be ignored in the next hour. Ladies and gentlemen, this is The 1975."
The Sun's source even drew a comparison between the audacious Healy and the shy Alwyn, who "deliberately" didn't publicize their relationship. On top of it all, Swift has an album called 1989 … which is 14 years after 1975. 1 + 4 = 5: Swift's first Nashville concert, where Healy appeared is May 5. That's 5/5. Keep your eyes peeled.
This post has been updated.