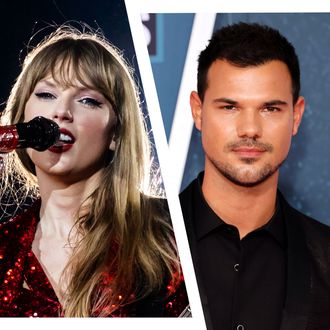 Taylors.
Photo-Illustration: Vulture. Photos: Getty Images
Taylor Swift isn't releasing her next rerecorded album until July, but her ex Taylor Lautner is speaking now. Asked about the possibility of Swift un-vaulting more songs about him for Speak Now (Taylor's Version), Lautner told Today.com, "Yeah, I feel safe." After the pair had a brief relationship in 2009, Swift seemingly wrote the Speak Now song "Back to December" about her old flame — all things considered, a pretty respectful breakup song. Lautner doesn't seem to mind the song, adding that Speak Now is "a great album." But he also knows he's not the one who should be scared, anyway. "Praying for John," he continued, referring to Swift's ex John Mayer, subject of the scornful "Dear John." Hey, at least Mayer can lament with Jake Gyllenhaal after Red (TV).
Lautner, for his part, is in a better place with a different Taylor: his wife, Tay Lautner (née Dome). She even posted TikTok proof of her husband praying for John after the interview. (And, per Today.com, she's just as excited for the new Speak Now.) Taylor's Version — for all Taylors!