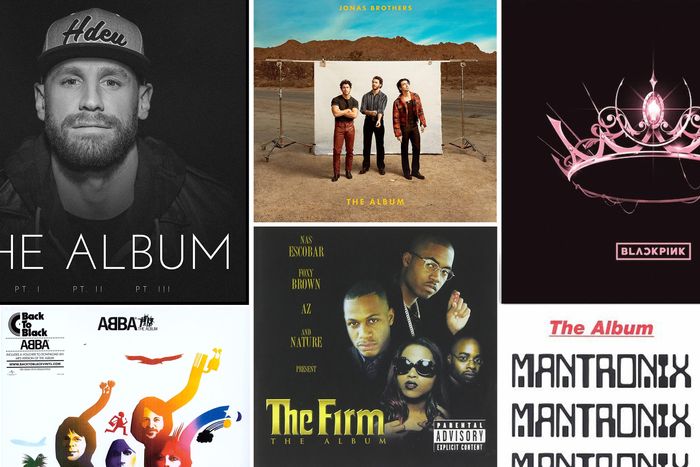 The Album
album covers.
Photo-Illustration: Vulture
Picking an album title is one of the most sacred decisions a musician can make. While some artists think deeply on the matter, coming up with a poetic turn of phrase that captures the essence of the songs held within — and which may even enter the popular lexicon to signify a certain type of project for decades to come (i.e., "it's their Tusk," "this is my Blood on the Tracks") — others just go ahead and call it … The Album. Hey, why not? It's generic and lofty all at once: This isn't just an album, this is THE album.
The approach seems to be in vogue lately. Since 2020, Chase Rice, Teyana Taylor, and Blackpink have all delivered Albums. And last week, the Jonas Brothers returned with a first record in four years, which carries the same non-title. (Nick Jonas told Vanity Fair the name grew out of a band meeting in which the brothers decided, "This is the quintessential Jonas Brothers album.")
But this naming convention has a surprisingly far-ranging history. In honor of the Jonases, we're ranking every album titled The Album, from worst to best. (Though I had to omit Caravan's 1980 LP The Album, as it's currently unavailable to stream. Sorry, Caravan.)
21.

Chase Rice — The Album (2021)
Chase Rice's mundane country-pop bangers have as much soul as an airport turkey-and-cheese sandwich.
Song most likely to double as a GOP presidential-campaign slogan: "Drinkin' Beer. Talkin' God. Amen"
20.

Daniel Schuhmacher — The Album (2009)
Debut album from smooth-piped German winner of Deutschland Sucht Den Superstar (like American Idol, but German) is slathered in hideous overproduction. Muzak-y covers of "Ain't No Sunshine" and "Sweet Dreams (Are Made of This)" sound custom-made for being on hold with Spectrum.
Soppiest ballad: "Please Stay Tonight"
19.

Shane Richie — The Album (1997)
Actor and TV presenter Shane Richie's recording debut simulates the experience of watching your most boring friend do karaoke for 70 interminable minutes. Richie ably belts his way through familiar tunes by Elton John, Ace, and Tears for Fears, but never locates an identity or inspiration of his own.
Least expected rap verse: "Grease Is the Word"
18.

Jeckyll & Hyde — The Album (2007)
Before there was dubstep, there was jumpstyle, a trance-adjacent genre of dance music that thrived in Europe — particularly Belgium — during the mid-2000s. With hits like "Frozen Flame," the Dutch DJ duo Jeckyll & Hyde were among the leading stars of the jumpstyle era, but the pair's thumping, hard house beats and energetic drops fail to translate into a compelling full-length.
Best Album cut: "Kick This One"
17.

Cliff Richard — The Album (1993)
One decade you're a rock-and-roll rebel billed as the British Elvis, then 30 years go by and you're a born-again Christian pumping out easy-listening covers replete with the requisite key changes and sultry sax solos. That's where Cliff Richards finds himself on The Album, one of those records where you can almost hear the Christmas wrapping paper being stretched over the shrink-wrap when you listen to it. Leave this one under the tree for granddad.
Schmaltziest key change: "Love's Salvation"
16.

DJ Shah — The Album (2000)
When you glance at the glowing, psychedelic-coded cover of DJ Shah's 2000 debut, you might reasonably expect a much freakier album. The German-born Shah's trance soundscapes are melodically simplistic, straight down to a thumping cover of "Stand by Me," but Shah's deep, German-accented voice livens things up: on "Commandments," he quite literally provides the voice of God.
Trippiest oldies cover: "Stand by Me"
15.

15. Aunty Donna — The Album (2018)
Look, you're either in the market for sophomoric novelty tunes with titles like "(Walking In on Someone) Doin' a Poo" and "Fuccboi Anthem" or you're not.
Best secret track: "Secret Track. Pls Don't Listen"
14.

Haddaway — The Album (1993)
Haddaway's throbbing Eurodance bangers tend to sound radiant in the club and monotonous anywhere else. The worldwide success of "What Is Love" (yes, that one) often gets him pegged as a one-hit wonder, though, in fairness, "Life" also charted. Both hits appear here twice, a good indication that no one's buying this thing for the deep cuts.
Best Album cut: "What Is Love"
13.

Lil Rob — The Album (2002)
It's easy to root for Lil Rob, a pioneering Chicano rapper, and an earnest and talented emcee who's lived through some shit. But on this frustratingly inert 2002 album, it's easy to wish he'd upgrade from entry-level beats and clunky rhymes (from the somber addiction ballad: "That shit ain't cool, we ain't in school / I quit school because of the playground").
Most relatable anti-capitalist anthem: "Barely Getting By"
12.

Terror Squad — The Album (1999)
A gritty, serviceable, occasionally tedious album from Bronx rap crew Terror Squad, best remembered for Big Pun and Fat Joe's involvement. Terror Squad: The Album rarely transcends gangsta-rap formulas of the era, but does serve as a bittersweet showcase for the talented Pun, who died several months after its release, and who eerily prophesizes his demise on "Watcha Gon Do?"
Best preview of the Alchemist's production talents: "'99 Live"
11.

Jonas Brothers — The Album (2023)
The Jonas boys are all dads in their 30s now, but don't expect a somber album about grappling with mortality. Horny yet inoffensive, this project buzzes with sun-kissed soul-pop hooks about being attracted to your wife under Montana skies, being attracted to your wife in the Hamptons, and being attracted to your wife at Waffle House. (They really coulda called this Wife Guy: The Album.)
Best track that won't easily be mistaken for sponsored content: "Walls"
10.

Okamura & Takkyu — The Album (2003)
This may be the toughest The Album to blurb — not just because scant detailed information is available online about this collaborative effort between Japanese singer-songwriter Yasuyuki Okamura and producer Takkyu Ishino, but also because the LP hops from genre to genre with eager abandon. There's harsh, grinding electronica ("The Spider"), industrial funk ("New Wave Boy"), wacky avant-pop ("Turtels Have Short Legs"), and melodic J-pop ("Adventure"). Ishino's fractured, abrasive production style is the only constant.
Catchiest anatomy lesson: "Turtels Have Short Legs"
9.

Hello Sailor — The Album (1994)
Oddly, here's one of the only straight-up rock albums called The Album. And it ain't bad! Hello Sailor were a major force in the New Zealand rock scene of the 1970s and '80s; though their success never translated stateside, the amiable, tuneful songwriting on this post-reunion effort isn't too far from the mid-tempo American bands of the era, like Soul Asylum or Gin Blossoms.
Best Album cut: "Black Dreams"
8.

The Federation — The Album (2004)
For a stretch in the early 2000s, Rick Rock (not Ross) was an inventive and in-demand rap producer, sculpting some of the freakiest, most head-rattling beats this side of Organized Noize. Rock formed the short-lived Federation with three emcee friends, and his pointy, crunk-adjacent production is the main attraction on tracks like the E-40 vehicle "Hyphy" (a term which doubled as a name for this rap sub-genre) and the twisted love song "In Love with a Hoodrat."
Best guest spots: "What If I Had a Gun" (feat. Twista & Undaflow)
7.

ABBA — The Album (1977)
Is this one called ABBA: The Album or simply The Album? Ah, who knows. Not until Blink-182's not-quite-self-titled was there a high-profile album so ambiguously titled. The iconic Swedish outfit takes tentative and undercooked stabs at art-rock on the latter half of this 1977 release, but side one delivers some of their most indelible pop hits, including "Take a Chance on Me" and "The Name of the Game." By late 1977, ABBA Fever was cooling, but these Swedes still had some juice.
Best a cappella intro: "Take a Chance on Me"
6.

Masters at Work — The Album (1993)
You've heard of Men at Work, now try Masters. This influential garage house production duo, whose 1991 hit "The Ha Dance" was a staple of the early '90s ballroom scene, flirts with ragga hip-hop on their 1993 debut and remains in thrall to the eternal groove. The tantalizing samples come and go (check that Edna Wright/De La Soul flip on "The Buddah Chant"), but the groove never wavers.
Track most crucial to the underground vogueing scene: "The Ha Dance"
5.

Blackpink — The Album (2020)
While most of us were quarantined, the K-pop zoomers stealthily took over the world, delivering one of the highest-charting female Korean albums of all time. If a little slight at 24 minutes, The Album is a relentless sugar rush of hooks, veering from indelible bubblegum-pop ("Ice Cream") to schoolyard chant ("Lovesick Girls") to Balkan-flavored trap ("Crazy Over You") with the cross-cultural maximalism that has made K-pop into a global phenomenon. And hey, if you doubted Blackpink's power, they can even cajole Cardi B into delivering a PG verse.
Best Album cut: "Ice Cream"
4.

4. Teyana Taylor — The Album (2020)
Teyana Taylor's third album is a sprawling monument to R&B ambition and excess. Taylor doesn't just summon the spirit of '90s neo-soul masterpieces; she recruits her R&B idols — Erykah Badu, Missy Elliott, Lauryn Hill — to lend their voices and wisdom. Taylor chronicles the pain and beauty of motherhood, and even incorporates the actual 911 call from when she delivered her firstborn daughter on the bathroom floor.
Dirtiest slow jam: "69"
3.

The Firm — The Album (1997)
Has any high-profile rap supergroup been memory-holed faster than the Firm, the mid-'90s grouping of Nas, Foxy Brown, AZ, and Cormega? (Sit back down, Kids See Ghosts.) On their first and only album, the highs are high, and Foxy Brown injects some saucy bravado into the titillating "Fuck Somebody Else," even if Nas seems to be on autopilot following the one-two punch of Illmatic and It Was Written. As on the best mafioso rap albums, the production is wound tight and funky, with Dr. Dre behind the boards.
Best Ennio Morricone sample: "Intro"
2.

Mantronix — The Album (1985)
Now here's an unjustly forgotten hip-hop classic, steeped in b-boy boasts, boom-clap beats, and futuristic electro-funk flourishes. This influential if pleasantly dated release captures the high-energy, club-infused sound of mid-'80s New York rap — after the heyday of Grandmaster Flash but before the arrival of Eric B. & Rakim's sample-rich grooves. Among the album's famous fans is Beck, who nabbed his "Two turntables and a microphone!" sample from "Needle to the Groove."
Best vocoder use: "Mega-Mix"
1.

Latyrx — The Album (1997)
Funky, freewheeling, and slyly philosophical, this album finds two prodigious West Coast emcees, Lateef the Truthspeaker and Lyrics Born, coming together for an overlooked masterpiece of late-'90s Bay Area hip-hop. Both are operating at the peak of their lyrical creativity here, whether they're trading bars, reveling in playful wordplay, or spitting entirely different verses over the same beat at the same time ("Latyrx"). Steeped in dusty funk rhythms and a mischievous love for language, The Album is a crown jewel of the vibrant Quannum Projects rap scene that also spawned DJ Shadow, who co-produced this album, and Blackalicious, whose virtuosic, tongue-twisting rhymes make a guest appearance on "Burning Hot in Cali on a Saturday Night."
Best track to listen to while gazing out at the ocean and thinking deeply about life and aging: "Balcony Beach"