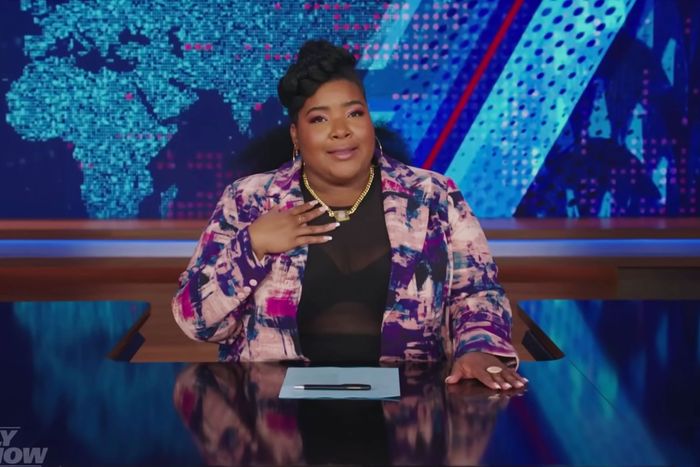 We didn't know what we had when we had it, did we, folks? With the WGA strike in full effect, the majority of late night has ground to a halt. WWHL is still going, for those who need to know what Kristen Doute thinks, but the network shows have gone dark and will probably stay that way for a long time. Gone are the chances for stars to plug Guardians of the Galaxy Vol. 3 (I bet Guillermo would have made Zoe Saldaña drink tequila from a Groot-head shot glass). Molly Shannon can't visit an old SNL castmate to promote The Other Two. And a whole avenue to see stand-up comedy is shuttered for the foreseeable future. The Late Late Show made its exit just before the strike was set to start, going out by destroying James Corden's desk and doing one last prime-time special.
Last time there was a writers' strike, in November 2007, late-night TV halted for two months, then hosts returned without writers at the start of the New Year. Conan O'Brien wasted everyone's time by twirling his wedding ring, and everyone grew beards. David Letterman's Worldwide Pants was instrumental in ending the strike by making its own deal with the WGA against the wishes of the AMPTP. Other production companies followed suit, helping end the strike 46 days later.
Late night is the front line of the WGA strike in a few different ways. It was the first format affected by the lack of writers, as those motherfuckers have to write new jokes for every awful thing that happens in our late-stage capitalist nightmare. Late night is also often the first gig a newbie comedy writer gets — and it's a very tough first job. Brilliant minds turn out wild shit for us to fall asleep to every day, and Monday was the last time they'd get the chance to do it for a minute. Here's the best segment from every show's last episode.
The Daily Show
It's a shame the strike kicked off during Dulcé Sloan's week hosting The Daily Show, because she seemed immediately at home at the desk. Her one and only chance doing "Headlines" was polished, poised, and somehow also raunchy as hell. She knocked it out of the park. Roy Wood Jr. came in for a supporting slot, and their chemistry was wonderful. If Comedy Central hasn't picked a new permanent host by the time the strike ends, I hope Sloan gets to finish out her curtailed week.
Late Night With Seth Meyers
Seth Meyers is a delightful interviewer, because he does not fight people to stay on topic. He is along for the ride, and Parker Posey is always going to take people on a ride. They discussed attending Chris Kattan's shockingly star-studded wedding and how New York restaurants don't let you sneak in wine anymore. Posey's current project, Beau Is Afraid? Touched on, but not devoted to.
The Late Show With Stephen Colbert
Like Seth Meyers, Stephen Colbert acknowledged the likely strike Monday night, thanking his writers and standing with his Guild. He also read some jokes about things that are likely to happen in the future, including a Barbie movie sex scene, ChatGPT, and more beef between Disney and Ron DeSantis. That shitshow writes itself.
Jimmy Kimmel Live!
We rarely talk about the music of late night in this column, but when Bebe Rexha dresses up as a bedazzled pot leaf, you have to acknowledge it. The writers' strike is also getting in the way of audacious musical performances like this one from the last Jimmy Kimmel Live! This is exactly the sort of thing you want to see on your TV at one in the morning. Thank you, production staff of Kimmel, for your service.
The Tonight Show Starring Jimmy Fallon
The Tonight Show went out with a bang, bringing on BTS's Suga. The audience girlies were loud. Jimmy Fallon played a game with Suga where both had to eat food and pretend it was yummy. But Suga wasn't entirely onboard, refusing to eat a spoonful of salt. Fallon took it in stride, and Suga's boundaries actually made the whole segment more fun. That's the kind of self-respect we want to see on the picket line in the weeks to come!