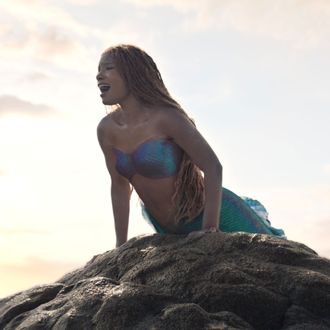 The Little Mermaid wanted to be a part of our world so bad, Disney made her a live-action film. Well, it's one of the latest live-action bald-faced business decisions that the House of Mouse green-lit, following in the footsteps of Lily James's Cinderella, uncanny-valley Lion King, Will Smith's Aladdin, and others. Halle Bailey, who proved her singing chops as one-half of the sibling duo Chloe x Halle, signed on as Ariel nearly four years ago, giving Disney adults time (too much time, perhaps) to anticipate the upcoming film and start discourse about what it means for a Black woman to play a mythical creature. As the pro-Halle camp waits to eat good with sweet high-octave vocals from the singer and the antis whine online, Vulture has compiled everything we know about The Little Mermaid ahead of its May 26 release, below.
Is The Little Mermaid trailer out yet?
Get your Dinglehoppers ready. The Little Mermaid debuted its first full trailer at the 2023 Oscars. In this trailer, we get glowing tentacles, a puffer fish, and Halle Bailey serving the iconic hair flip with ease. The details of the film are still a little in the dark. Literally. You can't see much because the film is so laden in shadiness. We do get a slightly clearer look at Melissa McCarthy as Ursula, Javier Bardem as Triton and Jonah Hauer-King as Prince Eric. You'll be able to see what the film lets you see. The latest look is lit a bit better, thankfully.
What can we expect from the music?
She's a vocalist, honey. Bailey took "Part of Your World" up an octave, as only talented people can. "It's the most chilling, and the most thrilling, film moment because it crystallizes not just her incredible vocal ability but the emotional passion she has in singing it," director Rob Marshall told Variety. Alan Menken, the original Little Mermaid composer, and frequent Disney collaborator Lin Manuel-Miranda will write new songs for the remake. Menken's original composing partner, Howard Ashman, died in 1991. The soundtrack drops May 19, a week before the film hits theaters.
While we wait to hear some of the original songs, here's a peak at "Kiss the Girl."
And in an attempt to make sure there are absolutely no surprises in this flick, Disney released a segment of "Poor Unfortunate Souls" May 17.
Who plays who?
Bailey is our titular mermaid turned human. Bridesmaids and Can You Ever Forgive Me? star Melissa McCarthy does a villainous turn as Ursula. British actor Jonah Hauer-King, known for his role as Laurie in BBC's Little Women, plays Prince Eric. Daveed Diggs of Hamilton fame is Sebastian, Ariel's guardian and loyal servant to the crown. Bridgerton and Sex Education breakout Simone Ashley is Indira, one of Ariel's mersisters. Room's Jacob Tremblay is Ariel's fish friend Flounder, while Awkwafina is expertly cast as the dim seabird Scuttle. Javier Bardem is King Triton. Noma Dumezweni, Art Malik, Lorena Andrea, Kajsa Mohammar, Nathalie Sorrell, Karolina Conchet, and Sienna King have also been cast.
What kind of fish is Flounder?
A fish with crazy eyes and uncanny animation, if the first poster is anything to go by. Species-wise … maybe it's an angelfish?
When's the release date?
The Little Mermaid surfs into theaters May 26.
This post has been updated.