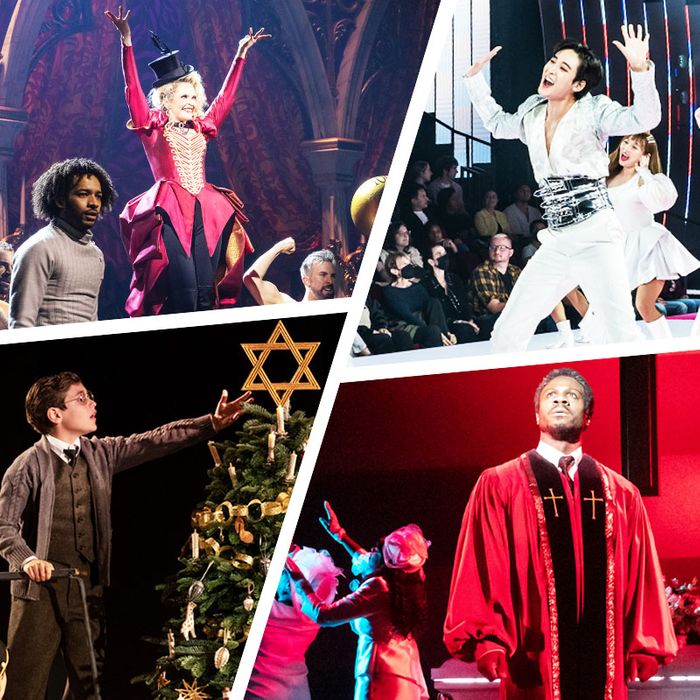 Photo-Illustration: Vulture. Photos: Matthew Murphy & Evan Zimmerman; Joan Marcus
The American Theatre Wing has announced its nominations for the 2022–23 Broadway season before the Tonys ceremony on June 11, and it's not a Hamilton year in which one show is likely to sweep. This year's event at the United Palace theater will see a bunch of close head-to-head races — keep an eye on Jodie Comer versus Jessica Chastain — and split fields, many with at least three contenders, as with Best Musical and Musical Revival. The season itself was cleaved down the middle by a grim series of abrupt closures around the holidays — including very short runs for shows such as KPOP and Ain't No Mo', both nominated today — and a relatively robust spring, leading to a lot of apples-to-oranges comparisons. Do the Tonys favor what's still running or what got acclaim last year but didn't last? Are they leaning toward spectacle or emotion? Do they go for British imports or American crops — and how much do they like corn? Let the campaigning begin.
The most nominated show isn't the front-runner for the big prize.
Some Like It Hot leads the pack of musicals with 13 nominations, including recognition for its leads, Christian Borle and J. Harrison Ghee, and its director-choreographer, Casey Nicholaw, as well as in a bunch of craft categories. Maybe it was that rave from the New York Times (I found the show technically admirable though emotionally empty), but more likely it just fits well into the niche that the Tony voters love: It's a little old-fashioned but well executed. Yet it's not the favorite for Best Musical (nor is it currently selling well). That would be Kimberly Akimbo, a quirkier and smaller-scale story about a teenage New Jersey girl who is aging at several times the normal rate. It has real depth of emotion while also being hilarious — there's a recurring anagramming gag — and it has eight nominations. There's also competition from the countrified all-joke juggernaut that is Shucked with nine nominations — you can see a campaign taking the Book of Mormon and Avenue Q approach of "vote for the thing that made you laugh hardest."
For revival of a musical, it's Sondheim v Sondheim v Brown: Dawn of Justice.
Over in the land of musical revivals, it was a good day for the memory of Stephen Sondheim with the revival of Sweeney Todd getting eight nominations and Into the Woods six. If there was a surprise, it's that Sweeney director Thomas Kail missed out on a nomination. (Woods's Lear deBessonet made it in.) Todd can play the "We're still here and we're doing big business" card, whereas Into the Woods, which transferred from Encores! to Broadway last summer and drew crowds when they were still scarce, may go for a "We reopened Broadway" angle. Michael Arden of Parade, written by Jason Robert Brown, also made it onto the Best Director nominations list, and his show can make the potentially winning case for being the most politically relevant of the bunch.
A not-so-congenial spot.
It has not been a lusty month of May for Lincoln Center Theater's revised but not lauded Camelot (I liked it more than most other critics did, and I was lukewarm). Bartlett Sher's production got nominations for Best Revival and for Jordan Donica's Lancelot as well as scenic, costume, and lighting design. But Phillipa Soo's Guenevere and Andrew Burnap's Arthur were left out, and, pointedly, so were Aaron Sorkin and his rewritten and too-talky-for-its-own-good book. In fact, Soo was skipped twice, because she was eligible as Cinderella in Into the Woods. Not a good season to be any form of Cinderella.
British imports are up against American Pulitzer winners.
The Best Play category is populated by three Pulitzer Prize winners — Fat Ham, which won in 2022; Cost of Living, which won in 2018; and Between Riverside and Crazy, which won in 2015 — as well as the London import Leopoldstadt and the all-American Ain't No Mo'. Tom Stoppard's latest looks to be the favorite: It's an unusually personal and atypically rangy work by the cerebral British polymath, dramatizing a version of his own family history among the Jewish elite in prewar Vienna. Yet although Leopoldstadt won an Olivier in London, American Tony voters may prefer something both homegrown and a little more firmly structured. (The nominators skipped two other British imports: Prima Facie and Life of Pi.) If the voters do indeed want to celebrate something American, I could see a rally around Fat Ham, which is still running and has received a lot of praise.
Nominators' memories were longer than usual …
The Tonys typically favor productions that are fresh in the memory. But this year, they found space to appreciate Ain't No Mo', with six nominations, and KPOP, with three (I'm thrilled to see recognition for its score), both of which opened and closed within the space of last December. The same is true for the Best Actor in a Play category, with a really strong field in which four of the five nominees starred in shows that have already closed: both stars of Topdog/Underdog, Wendell Pierce in Death of a Salesman, and (my favorite) Stephen McKinley Henderson in Between Riverside and Crazy. (The fifth is Sean Hayes in Good Night, Oscar.)
… and a last-minute gambit barely paid off.
Two names are glaringly missing from the lead-acting categories: Oscar Isaac and Rachel Brosnahan. The Sign in Sidney Brustein's Window made the bold move of transferring up to Broadway from a run at BAM right at the end of April, just squeaking into Tony eligibility. If the producers were hoping that freshness and good buzz would work to their advantage for awards, they didn't succeed. Sidney Brustein got only two nominations, for Best Revival of a Play and for featured actress Miriam Silverman, who is incredible as Brosnahan's tightly wound sister. (It's a tough category, one that left out The Piano Lesson's Danielle Brooks and Death of a Salesman's Sharon D. Clarke.) That's a result eerily similar to what happened in the original run of Lorraine Hansberry's drama, when Alice Ghostley's performance in that same role was the only nomination. For what it's worth, she won.
The Tonys' gendered performance categories look increasingly flawed.
Both J. Harrison Ghee and Alex Newell, who are gender nonconforming, are potential favorites in their respective categories: Best Actor in a Musical and Best Featured Actor in a Musical. Newell stops the show with their solo in Shucked, and Ghee's character's arc, which is itself about discovering their nonbinary identity, is the heart of Some Like It Hot. Both performers had to choose to compete as an actor or actress (Newell has said they chose actor as it's the more gender-neutral term), and & Juliet's Justin David Sullivan decided to opt out entirely rather than "move forward with denying any part of my identity." This set of categories is likely to change before long, and you can count on hearing support for that idea in an acceptance speech or two.
There's a small but close race among actresses in plays …
The most exciting category this year has only four nominees, with Prima Facie's Jodie Comer, A Doll's House's Jessica Chastain, Ohio State Murders's Audra McDonald, and Summer, 1976's Jessica Hecht all competing for Best Actress in a Play. Because there were fewer than nine eligible lead performances, there are four nominees, forcing out potential rivals like Brustein's Brosnahan and Hecht's co-star Laura Linney. I'm very happy for Hecht, who is the less famous name in the two-hander but gives the better performance, and that the nominators recognized Audra — though this race boils down to Comer and Chastain, the Oscar-winning star versus the stage newcomer who has already won an Olivier. It could go either way, but I might tip it toward Comer.
… and a telling competition for actresses in musicals.
If the love for Kimberly Akimbo is as strong as I hope it is, then Victoria Clark will walk away with her second Tony for her believably winning and awkward transformation into a teen (compare that to The Light in the Piazza if you want to see real range). But if it isn't, then Annaleigh Ashford, Micaela Diamond, and Sara Bareilles are all hot on her heels (which are locked into ice skates). They're key to the respective successes of Sweeney, Parade, and Into the Woods, and they all are primed to campaign hard for their own shows — expect many a morning and/or late-night TV song (Ashford will threaten to bake Stephen Colbert into a pie or something). As for the supporting actresses, Bonnie Milligan from Kimberly Akimbo may as well be belting her speech already.
Finally, the results for Bad Cinderella are worse than bad.
Sir Andrew Lloyd Webber's big and brash and blah new musical might have rebranded itself on its way from London to New York, turning Cinderella into Bad Cinderella, but it convinced nobody along the way. Its ticket sales are sagging, and it drew zero nominations, with no love even for Carolee Carmello, a potential "you're good in a mess" bright spot here and in the similarly blanked revival of 1776. It's gotta sting extra hard to have Lloyd Webber's score ignored in favor of Tom Kitt and Cameron Crowe's rock pastiche for Almost Famous (itself that musical's only nomination). Bad Cinderella at least has company among other nominationless productions such as The Thanksgiving Play (which pushed D'Arcy Carden), A Beautiful Noise (the usually fruitful route of starring in a bio-musical did not work out for Will Swenson), and The Collaboration (supposedly we'll still have to suffer through a film adaptation of that). One suspects that Bad Cinderella can't stay open much longer, and if it does soon pack up at the Imperial Theatre, it'll mark the end of the streak of Lloyd Webber productions on Broadway that began with Evita's previews in 1979.