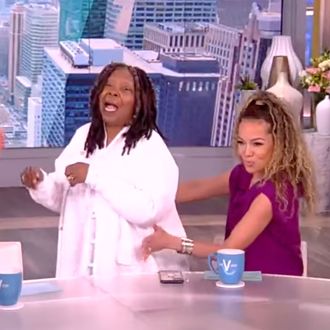 Caught in the act.
Photo: ABC
With Meghan McCain long gone and Joy Behar late to today's show, the women of The View were able to get into some real issues — like what exactly counts as cheating during a bachelorette party. During today's "Day of Hot Topics," Whoopi Goldberg brought up a survey finding that a whopping 70 percent of people cheat at bachelor (and -ette) parties. The cheating ranged from lap dances to a threesome, Goldberg emphasized. "I said during our 'Hot Topics' meeting that lap dancing isn't cheating, but come to think of it, I've never seen a lap dance," Sunny Hostin admitted. The women then tried to explain, asking Hostin if she'd seen Hustlers and saying that, no, you don't get naked for a lap dance. Ana Navarro even exposed that, during that meeting, Hostin said it wouldn't be cheating if her husband got a lap dance.
Eventually, Goldberg decided to take matters into her own hands. "Would you like to see?" she asked, after which Hostin quickly consented and raised her hands. After figuring out the roles — "No, I'm doing it to you!" — Goldberg got to work. "First I start — I'm lookin' at you," she explained, starting to move her hips. "And then I start to turn," she continued, making mischievous eyes at Hostin. "And then it's all like this," she said as she began to show Hostin what she's workin' with. We'll let Goldberg take it from here: "And then it's me going down all the way here! And then I come up. Then I go back on the side." You really just need to watch this marvel of daytime television for yourself:
Now fully, er, enlightened, Hostin rendered a new judgment. "I think that's cheating!" she declared. But really, we want to hear from Manny Hostin — did what you just see count as cheating?