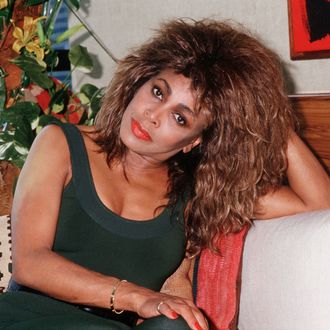 Tina Turner.
Photo: Dave Hogan/Getty Images
Tina Turner leaves behind a massive legacy as the "Queen of Rock & Roll" upon her death at age 83. "With her, the world loses a music legend and a role model," her family said in a statement. Many musicians remembered Turner as an impressive performer, dynamic vocalist, and overall great person. Mick Jagger, whose band the Rolling Stones had Ike & Tina Turner as their tour openers in the 1960s, called Tina "an enormously talented performer and singer." "She helped me so much when I was young and I will never forget her," he wrote on Instagram. John Fogerty, who wrote Turner's hit "Proud Mary" with his band, Creedence Clearwater Revival, tweeted that her take on the song was "different and fantastic." Singer Gloria Gaynor wrote that Turner "paved the way for so many women in rock music, black and white." A wide array of other artists and celebrities went on to pay tribute to Turner, from singers Diana Ross and Debbie Harry to rapper Kid Cudi to basketball star Magic Johnson, who said Turner "gave one of the best live shows I've ever seen."
Angela Bassett, who earned an Oscar nomination for playing Turner in the 1993 movie What's Love Got to Do With It, honored the star in a statement to the Hollywood Reporter. "How do we say farewell to a woman who owned her pain and trauma and used it as a means to help change the world?" Bassett said. She continued, "Her final words to me — for me — were 'You never mimicked me. Instead, you reached deep into your soul, found your inner Tina, and showed her to the world.' I shall hold these words close to my heart for the rest of my days. I am honored to have known Tina Turner. I am humbled to have helped show her to the world." Jenifer Lewis, who co-starred in What's Love Got to Do With It as Turner's mother, Zelma Bullock, told People that she "tried not to cry, because I'm 66, and at some point, we all have to learn how to mourn and not fall apart … But I had to allow myself to cry, because she was one of the greatest entertainers that ever lived. I loved Tina Turner with all my soul and all my heart, and I'm glad we had her as long as we did." Roger Davies, Turner's longtime manager, also released a statement to the media: "Tina was a unique and remarkable force of nature with her strength, incredible energy and immense talent," he wrote. "From the first day I met her in 1980 she believed in herself completely when few others did at that time." Below are more tributes to Queen Tina Turner — including messages from Beyoncé and Barack Obama.
This is a developing story.