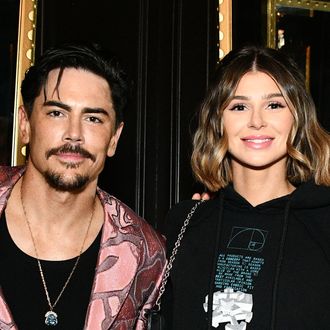 Photo: Araya Doheny/Getty Images
Hours before the Vanderpump Rules season 10 finale aired, the couple at the heart of #Scandoval has reportedly called it quits. "Raquel dipped out," a source told Page Six. "Sandoval is not the one for her." This missive from an unnamed source is dripping with lore, which we will unpack in the timeline below. But what even those untrained in the ways of VPR can understand is this: Tom and Raquel are no more. Mere months after the affair went public, and not quite a year since it began, Tom Sandoval and Raquel Leviss have broken up. Goodbye to the matching necklaces, the fan speculation, and dinner dates at Musso & Frank. Below is a full timeline of the relationship between Tom Sandoval and Raquel Leviss.
Prehistory
November 7, 2016: Raquel makes her debut on Vanderpump Rules as James Kennedy's new girlfriend. Introduced as a pageant girl, Leviss is coming to stay with Kennedy in his tiny apartment with a bedsheet wall. Lala Kent discusses Raquel's move with Tom and Ariana Madix, who have been in a relationship for two years at this point.
May 2021: With funding from Sandoval, James puts on "Rachella," a mini music festival during which he proposes to Raquel. "Rachella" obviously alludes to Coachella — a festival beloved by Tom, Ariana, Raquel, and James — but also sounds like Raquel's birth name of Rachel.
December 5, 2021: James Kennedy and Raquel Leviss issue a joint statement announcing their separation. "After these 5 wonderful years we had together, we decided we have two different goals and made the decision to call off the engagement," it read. "We love each other very much, but we aren't in love anymore." Raquel keeps their shared dog, Graham.
Covert Ops
April 17, 2022: Raquel posts a pic of her and Sandoval at Coachella, captioning it "I'm on an island." Later that spring, rumors will break out that Raquel was spotted making out with Tom Schwartz at Coachella. But Tom No. 2 wasn't even at Coachella.
On her podcast, Sex Love and What Else Matters, Kristen Doute said she believes that this was the true start of the affair.
August 2, 2022: Ariana, Raquel, Lala, Katie Maloney, and Kristina Kelly go on a girls trip to Las Vegas and Lake Havasu. During the Vegas leg of the trip, Ariana gets a call from Tom that her dog Charlotte is most likely dying. She leaves to put her dog down. The next day, the remaining girls go to Lake Havasu, where Raquel feels bullied enough to cut the trip short. She crashes a "guys night," and this is when Sandoval says the affair started.
August 26, 2022: Tom and Raquel allegedly hook up at Scheana Shay's wedding to Brock Davies. Raquel also kisses Schwartz on camera at the wedding. This is when Tom Schwartz says he found out about the affair, but that he thought it was a one-time mistake.
Labor Day 2022: Tom Sandoval stays at a Labor Day party rather than going to comfort Ariana after her grandmother died. Sandoval claims he can't get an Uber from Long Beach, but Scheana's vlogs later show he isn't trying. According to former Vanderpump Rules star Jax Taylor, Sandoval was at that party with Raquel.
September 2022: Cracks in the story begin to appear. James Kennedy's new girlfriend, Ally Lewber, spots Raquel and Tom dancing at the Abbey at one in the morning. When questioned about it, Tom, Raquel, and Ariana all deny anything fishy is going on. In the season 10 reunion, Tom Sandoval says this is when they first had sex.
In episode 13, Raquel tells Lisa Vanderpump that she's late to her SUR shift because she spent the night at Sandoval's. Tom says she "dipped out," but then confirms that she was there. Ariana is at her grandmother's funeral at the time.
In season 10's would-be finale, Raquel buys a lightning bolt necklace from LA boutique Polka Dots and Moon Beams. Fans speculate that Tom and Raquel wear matching lightning bolt necklaces as a secret token of their love. Sandoval also uses a lot of lightning bolt imagery in general, with bolts adorning the TomTom logo, his motorcycle and matching sidecar, and his stage wear for Tom Sandoval and the Most Extras.
September 20, 2022: Raquel is spotted riding Tom's shoulders to get a better view of the stage at Las Vegas' Life is Beautiful festival. In the VPR season 10 finale, Tom says this is when he and Raquel began their affair in earnest.
October 16, 2022: Raquel shows up to BravoCon Day 3 in a TomTom hoodie. She, Ariana, and Andy Cohen adoringly watch a Tom Sandoval and the Most Extras performance — something that Cohen will later look back on with horror in hindsight. "I was at that show, and I'm standing there, and Raquel's standing behind me, and Ariana's in front of me, and you can see how they're both looking at Sandoval. It's wild," he said on Radio Andy.
October 2022: Tom Sandoval dresses up as Raquel for Halloween. Psychosexually loaded behavior!
December 2022: Sandoval takes Raquel to his hometown of St. Louis to meet his family, per TMZ. According to the tabloid, his parents did not approve of his new, secret relationship. But according to Ariana in the post-finale episode of WWHL, Tom's family has not reached out to her since the Scandoval broke.
January 2023: In Tom Sandoval's one-on-one interview with Andy Cohen, this is when he says he told Tom Schwartz about the affair. In that same episode, Scheana says that Ariana and Tom had been working on their relationship at that time and being "more intimate" that whole month.
Also this month, the Toms allegedly go on a vacation with Raquel and Jo Wenberg. "The four of you went to Big Bear together!" Katie Maloney said in the first part of the season 10 reunion. Schwartz asserts that "It was not a double date," but not even Sandoval backs him up on that. Schwartz maintains that the trip was a platonic snowboarding outing. "Raquel hates snowboarding!" James counters.
February 8, 2023: Tom Schwartz and Tom Sandoval are guests on WWHL, and fans notice that Schwartz is deferring to Sandoval on every question. On the Call Her Daddy podcast, Ariana alleges that Sandoval had Raquel flown to New York. "She was in the hotel room," she said. "I know for a fact." Madix later claims that Sandoval had friends pay for hotel rooms and other incriminating things on their credit cards, and that Sandoval would later pay them back on Venmo. "I feel like he put people in a position that they felt like they didn't know what to do," she said on Call Her Daddy. "I can only imagine how that weighed on them." Madix also theorized that Tom Sandoval and the Most Extras were also a smokescreen for out-of-town rendezvous with Raquel.
March 1, 2023, 5-ish PST: On WWHL, Raquel says she thinks Tom Sandoval is hotter than Tom Schwartz because "he has abs." This weirds out Andy Cohen and her fellow guest Scheana Shay.
#Scandoval
March 1, 2023, 9-ish PST: At a Tom Sandoval and the Most Extras show at TomTom, Ariana finds explicit recordings of Sandoval and Raquel on Tom's phone. Ariana calls Raquel, who is out with Scheana post-WWHL. The whole mess gets unpacked on two speakerphones, with Tom and Ariana on one end and Raquel and Scheana on the other. Raquel confesses, and some sort of physical altercation happens between her and Scheana.
March 3, 2023: Scandoval breaks to the public. The VPR cast unfollows Sandoval and Raquel on IG, en masse. That night, former cast member Kristen Doute is seen at Tom and Ariana's house.
March 4, 2023: Tom Sandoval issues an apology…to Tom Schwartz and his parters in Schwartz and Sandy's. That same day, Raquel's alleged crisis PR strategy is leaked to DeuxMoi. The plan is to claim Raquel was a victim, and that the screen recording that started this whole thing was taken without her consent. Tom and Raquel are spotted filming at her building that night.
March 5, 2023: Raquel texts an apology to Ariana. It doesn't go over great!
March 7, 2023: Leviss files an order of protection against Scheana, which complicates the reunion filming on March 23. Her lawyer also sends out letters to other cast members, which Lala shares on her Instagram stories. The narrative in the letter fits the PR strategy leaked to DeuxMoi, but should have been sent to Lala's lawyer Darrell. A letter is sent to Sandoval, obtained by Entertainment Tonight, reminding him of California's two-way filming consent and revenge porn laws.
March 23, 2023: The season 10 reunion films, during which Sandoval and Raquel are attacked from all sides. After the tense filming, Sandy takes Raquel to dinner at Musso and Frank. Lala Kent notes on her podcast that it's the same place Sandoval had taken Ariana for their ninth anniversary in January.
April 14, 2023: A rep for Leviss tells People that she has entered a "voluntary facility for mental health counseling."
April 18, 2023: Tom Sandoval blasts Miraval Arizona Resort and Spa on IG for "THEIR DECISION TO POST TO THEIR INSTAGRAM ACCOUNT THIS PAST WEEKEND ALLUDING TO ME STAYING THERE THIS WEEK." He says that he had intended to check into the spa, but denied that Raquel would be there with him. "THEY CLAIM TO BE A REFUSGE FOR WELLNESS AND BETTERMENT. BUT THAT IS OBVIOUSLY FALSE. THEY'D RATHER FEED INTO THE NEGATIVITY AND SPECTACLE THAT HAS ENGULFED MY LIFE," he wrote.
May 6, 2023: At a Tom Sandoval and the Most Extras show, Sandoval sings a cover of "Stacy's Mom" with changed lyrics. It's now about Schwartzy's mom. "Schwartzy can't you see? / That Raquel is not for me" he sings while wearing three lightning bolts.
May 17, 2023: Shortly before the Vanderpump Rules season 10 finale, an unnamed source tells Page Six that Raquel has "dipped out on" Tom and that he's "not the one for her." But according to Ariana on WWHL, Raquel is still sending Tom letters. "I don't buy that at all. She was sending letters to my house like four days ago," Madix told Andy Cohen. "It was in her handwriting."
May 28, 2023: TMZ obtains a photo of someone appearing to be Tom Sandoval (peep the white nails) on a Southwest Airlines flight to Pittsburgh. During the trip, he has a more than 10-minute conversation with someone saved in his phone Raquel Leviss.
This story is developing.