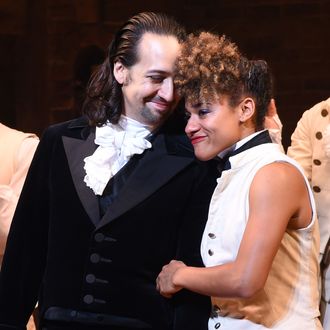 Alexander Hamilton, you are all of us.
Photo: Stephen Lovekin/Variety via Getty Images
Ariana DeBose will still be doing the thing (hosting the Tony Awards), but she won't be doing that other thing (rapping). The Tony Awards were granted a waiver by the WGA on May 15, allowing the June 11 show to go on without picketing despite the writers strike — a result of successful campaigning led by playwright members of the WGA, who petitioned for the Tonys to be an exception largely because of the impact the awards have on the theater industry, according to the New York Times. Because of the strike's ban on writers' producing new scripted content, the Tonys won't be allowed to use any written content, including a draft script and a planned rap for DeBose written by Lin-Manuel Miranda, with whom she previously worked on Hamilton and Bring It On: The Musical. Miranda is a Tonys vet, having won his first Emmy for writing 2013 host Neil Patrick Harris's opening number. DeBose performed a gloriously cringeworthy rap earlier this year at the BAFTA awards, which she co-wrote. This time, she will likely not be doing any rapping at all. With that said, both the woman king and the person who is all of us will almost certainly be Ruthie Ann Miles.