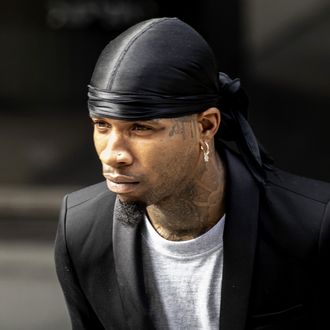 Tory Lanez leaving the Los Angeles Superior Court in September.
Photo: Etienne Laurent/EPA-EFE/Shutterstock
Tory Lanez will not be granted a new trial for the 2020 shooting of Megan Thee Stallion, leaving him with the potential of an over-two-decade-long prison sentence. A Los Angeles Superior Court judge denied his motion for a new trial on May 9. Lanez was convicted of three charges in December — including assault with a semi-automatic firearm — for the assault. The rapper's legal team unsuccessfully argued that the guilty verdict was a "miscarriage of justice," saying that Judge David Herriford, who was presiding over the case, made errors during the two-week December trial. "In the end, the jury believed the prosecution's case beyond a reasonable doubt," Herriford said during the May 9 hearing, according to journalist Meghann Cuniff. Lanez now faces up to 22 years behind bars and potential deportation. His sentencing was originally slated for January but was delayed to accommodate his request for a new trial. The rapper will likely be sentenced next month unless a new appeal is raised in the future.