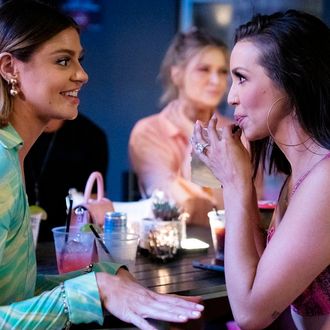 They won't be sitting this close together, that's for sure.
Photo: Nicole Weingart/Bravo
Update May 31: The reunion taping has come and gone, but the fallout of #Scandoval continues. On March 29, Raquel Leviss failed to show up for the hearing to make her restraining order against Scheana Shay permanent. As Shay told TMZ outside the courthouse, there was no way to dismiss the temporary order before this hearing, and with Leviss's absence, the restraining order was dismissed. Shay's lawyer, Neama Rahmani, claims that Leviss's absence "vindicated" her client.
"When Rachel realized that she would lose in court and that she couldn't just drop it, she decided to not show up at all. We were prepared to expose Rachel's lies, but instead she will have to live knowing that she betrayed two of her best friends: Scheana and Ariana," Rahmani said in a statement. "Instead of accepting responsibility for her actions, Rachel shamefully tried to misuse our justice system to shift blame to Scheana. We are happy that Scheana is now vindicated."
On the second of three season 10 reunion episodes, Leviss presented Andy Cohen with the paperwork from her lawyer requesting the restraining order be dropped. This did not prevent Scheana and Raquel from having an elaborate means of keeping a 100-foot distance during the reunion taping. A trailer was kept just off the lot, where Leviss stayed for Shay's segment of filming. Then, once Scheana was 100 feet from the set, Leviss was able to leave the trailer. When Leviss finally did arrive at the reunion, she did not sit in her pre-announced seat. Tom Schwartz sat between the two key players of #Scandoval, much to Sandoval's chagrin.
Original story follows.
Bravo has released the seating charts for the Vanderpump Rules season 10 reunion, and oh, we're sat. Two handy new graphics confirm that both Raquel Leviss and Scheana Shay are participating in the highly-anticipated reunion — despite the fact that Raquel has a temporary restraining order against Scheana for allegedly starting a physical fight after the Scandoval broke (Scheana has denied this). As a simple solution, the reality stars will swap out, meaning that Andy Cohen is hosting one lineup with Raquel and one lineup with Scheana.
Ahead of the filming that took place today, Scheana's attorney, Neama Rahmani, confirmed to Vulture that her client would appear in-person. "Scheana intends to follow the law, but she wants to be part of the reunion," Rahmani explained in a statement. "If [Raquel] attends, Scheana and Vanderpump Rules will make sure that Scheana remains 100 yards away to comply with the restraining order." According to Rahmani, the restraining order will remain in effect until a hearing on March 29. If Raquel pursues it, Scheana "intends to call witnesses and present evidence to disprove her false accusations." Just don't let this distract you from the fact that Bravo has placed Raquel right in the middle of a Tom & Tom sandwich.