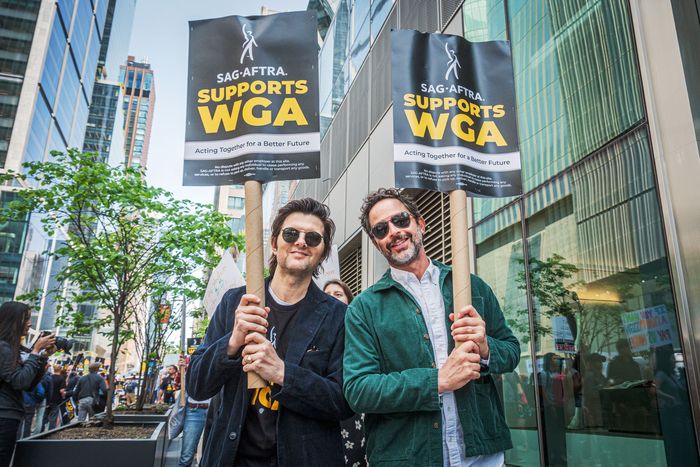 Adam Scott and Nick Kroll adding glamour to the picket line in NYC on Wednesday.
Photo: Erik McGregor/LightRocket via Getty Images
We're at the "lords a-leaping" day of the strike, and it's time to learn the rules. Should you cancel your streaming services to show solidarity? Is that actor doing press to promote their movie undermining labor's struggle against the interests of capital? In this, the first writers' strike of the social-media age, the rules are annoyingly fuzzy. But there's one thing everyone's pretty sure of: We have plenty of time to figure it out! There's no end to the strike in sight, so there's time to sort out this whole new world of strike culture. Below are some of the most recent updates, and as a reminder: You can check in with our full list of shows that are shut down, learn all the vocab you need to function through the strike era, and make sure your favorite celeb isn't some kind of management stooge.
The Twitter Thread Everyone's Reading
Another history lesson, this time from Rutherford Falls showrunner Sierra Teller Ornelas, who walked a career path that is now endangered:
Who Brought Food?
Lin-Manuel Miranda came by the picket / Brought donuts so writers can stick it / To studios bling blap boop pow / He supports striking writers now.
Shows Stuff That Got (or May Be) Shut Down
Upfronts are a yearly May ritual where streamers and networks invite advertisers to a big fancy PowerPoint presentation showcasing all the upcoming content they have to offer and inviting them to buy a bunch of ad space. This usually includes the stars or creators of those projects getting up on a stage and telling advertisers why their show is good and worth the ad money, and then sometimes they hang out afterwards for photos. But now these events are at risk of being surrounded by picket lines their celebrity talent won't want to cross. So far, Netflix has canceled its live presentation at the Paris Theater altogether, instead choosing to do its presentation digitally. Meanwhile, NBCUniversal still plans to host its upfronts on the morning of May 15 at Radio City Music Hall; Fox will be at the Manhattan Center that afternoon; and Warner Bros. Discovery is firing up its sizzle reels at the Hulu Theater at Madison Square Garden on May 17. At least, that's the plan!
The MTV Movie Awards also had to go virtual because of the strike.
Shows that have been shut down include:
P-Valley (Starz)
Blade (Disney/Marvel)
Acts of Solidarity
Folks are showing support for the strike in all kinds of ways, some of which are proving mighty inconvenient for the studios:
• Charlie Day skipped doing red-carpet interviews for his film Fool's Paradise.
• Michael J. Fox's film Still had its premiere postponed due to Fox refusing to cross picket lines.
• Mayim Bialik has decided not to host the final week of Jeopardy! (She has been replaced with Ken Jennings.)
• George R. R. Martin has been writing some really great pro-union blogs.
• UNITE HERE Local 11, a union representing hospitality workers at over 100 hotels in the Los Angeles area, sent a letter announcing that its members will not be crossing picket lines. This could be a problem for any productions scheduled to shoot in these locations.
• Some VFX workers have reportedly walked off the job in response to picketing.
• Boots Riley can always be counted on:
• Schoolchildren sent letters of support:
• Hmmmm:
Spotted on the Picket Lines: More Bands and Mandy Patinkin
The Strike Main Character Award (Good)
WGA West's chief negotiator Ellen Stutzman's parents and aunt were seen marching in the picket line in front of Amazon's headquarters in Manhattan on Wednesday, May 10. "Somebody has to represent the East Coast in her family," Mary Stutzman, Ellen's aunt, told Deadline. "These guys traveled from Albany; I just came from uptown." From now on, I never want to hear about another racist uncle, only the striking aunts!
The Strike Main Character Award (Bad)
Fran Drescher may be beloved as The Nanny, but she's in definite danger of becoming a villain as the current SAG-AFTRA president. When asked about her own union's upcoming negotiations and whether it shared the same concerns as WGA, she hedged majorly.
Drescher did later say she thought it was important that "we sit by our sister unions in solidarity," but the damage was done:
Funniest Attempt to Stop the Strike
Did you know cities have laws against excessive honking? As a person who sleeps next to a street-facing window in New York City, I did not! According to a video from writer Brittani Nichols of a construction-traffic message board outside the Warner Bros. lot in Los Angeles, someone wanted to make that abundantly clear to drivers passing by the picket lines, who've been honking to show support.
Best Signs
Do you have a story tip or interesting bit of writers-strike updates to share? Drop us a line at tips@vulture.com.