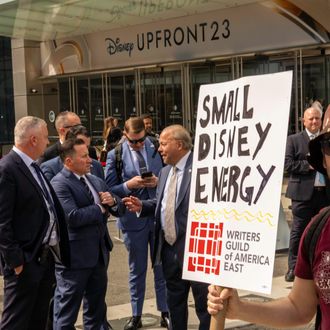 Photo: Bloomberg via Getty Images/Bloomberg via Getty Images
It's the biggest week of the year if you happen to work in TV-ad sales. For those who haven't read or watched The Late Shift, upfronts are presentations networks put on for advertisers. They pull out all the stops to get businesses to buy ads during their cool, sexy programming. Basically, every person in media who wears a button-up and suit jacket to work is in New York City this week attending an upfront event, and the writers who make the content they're looking to sell ad time during did not miss this opportunity to make themselves heard. Picket lines popped up outside of Madison Square Garden and Radio City Music Hall, and celebrities did cross them! A thing they are technically allowed to do, but it's not a great look. Below is all the latest tea, tweets, and links to merch, which is now available.
The Twitter Thread Everyone's Reading
One thing that has made this strike different from the one in 2007 is the immediate solidarity that seemingly existed between unions. According to this thread from Paul Scheer, a member of both the WGA and DGA, that might already be breaking down.
[Panicked Screams] Are the Tonys Still Happening?!
Yes, calm down. The Tony Awards Management Committee appealed the WGA's decision to not grant the Tonys a waiver to go forward during the strike, and the WGA has agreed to not picket the ceremony. Because absolutely no one wants to make an enemy of the theater kids of the U.S. — we've seen what Lea Michele does to people. How the ceremony will look without someone to write it, however, remains to be seen.
The Peabody Awards, however, have canceled themselves, because journalists are built to suffer.
The City of Chicago Has Entered the Chat
Picket lines popped up in Chicago today, where the solidarity is off the charts. Members of the WGA were joined not only by SAG but a number of other unions — including teachers and flight attendants. Lilly Wachowski spoke, introducing herself as a proud union woman and saying, "This is a goddamn emergency, y'all. I'm here to say enough is enough." Chicago's union culture seems to have a much deeper investment in its inflatable-animal aesthetic, and it's paying off.
The Strike Main-Character Award (Good)
I don't know how Neil Gaiman pulled this off either, but somehow he did.
The Strike Main-Character Award (Bad)
With no James Corden around to draw focus, Jimmy Fallon was destined to be the first late-night host to win this. Not him posting that he's playing Zelda while his staff goes unpaid! Not this!
NBC Upfronts were weird
Last week, Netflix canceled its live upfronts presentation, which was to be its first ever. This week, NBC put on its upfront presentation without the network's biggest stars. The WGA picketed the event, and almost every celeb who appeared at upfronts did so in a prestrike recording. The Seth MacFarlane–voiced Ted kicked the event off in a video, and a pretaped interview between Amy Poehler and Rian Johnson emphasized that it had been recorded before May 2. The biggest IRL star to cross the picket line was Vanderpump Rules' Ariana Madix, who is currently monetizing the breakup of her nine-year relationship with Tom Sandoval. Don't make us switch sides on #Scandoval, Ariana!
Strike-Beard Watch
Last strike, all of the late-night hosts (okay mostly just Conan O'Brien) grew great bushy beards in … solidarity? protest of unfair beauty standards for TV hosts? The strike against razors has begun — if Seth Meyers's recent IG post is any indication. Jimmy Fallon was spotted on Bluesky sporting some stubble.
Signs of the Week
Do you have a story tip or interesting writers-strike update to share? Drop us a line at tips@vulture.com.