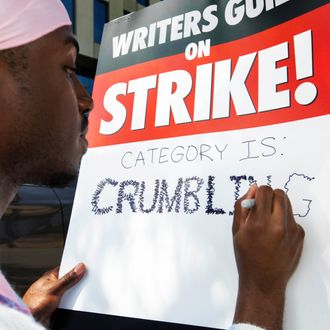 Photo: Jill Connelly/Bloomberg via Getty Images
As the 2023 writers' strike goes into its fourth week, lines are being drawn in the sand. On one side, we have writers, many SAG members (with the potential for many more), the Girl Scouts, Drew Carey, and Scabby the inflatable strike rat. On the other, there's the AMPTP, the people who organized Boston University's graduation ceremony, and whoever made that AI Tesla commercial. David Zaslav got booed in Boston this weekend during his speech at BU's graduation ceremony. Chants of "pay your writers" could be heard, and Scabby commuted in from New York. Meanwhile, strikers kept morale up with pizza and Newsies, and more restaurants promised free food to union members. Below are the latest picket fits, alliances, and more.
SAG Eyes a Sister Strike
On May 17, SAG-AFTRA's board unanimously agreed to send a strike authorization to its members. That's huge. SAG hasn't had a strike-authorization vote since 1986 and hasn't had a strike since 1980. If the vote goes through, and the SAG negotiating committee can't make a deal with AMPTP, Hollywood could essentially shut down. Authorization voting began May 18 and ends June 5. And the writer-actors are pumped. Twitter was awash with memes supporting a potential strike.
Themed Picket Lines
L.A. has been trying to make its picket lines sustainable by keeping them fun. The food, celebs, and Weezer concerts are a part of this, but so are themed picket lines. Disney had a Newsies-themed picket on May 18. Picketers had a Trans Takeover in front of Netflix on the same day, which included a ball with categories like Best Dressed and Best Pet. The themes tied back to the companies themselves: 1992's Newsies, a Disney property, taught millennial and Gen-Z writers what a strike was, and Netflix has come under fire for both its treatment of trans employees and its continuing bankrolling of Dave Chappelle.
Fellow Worker Drew Gooden
YouTuber Drew Gooden made a thoughtful video essay on the writers' strike, as well as all the negative implications of AI in art. Do you want to get mildly choked up about the role of art in human culture, or perhaps as the apogee of our entire species? No? Too bad.
Solidarity, But Make It Fashion
If you want to see what the writers of New York and L.A. think is sensible outdoorwear, check out Instagram account Picket Fits.
Who Brought Food?
Flavor Flav, Chris Pine, and Drew Carey! Flav brought pizza, burgers, and $2 bills to the Warner Bros. picket. Chris Pine brought empanadas to the line and walked with his Wonder Woman and I Am the Night director Patty Jenkins. Meanwhile, Drew Carey seems to be footing the bill for card-carrying WGA members' full meals at Swingers Diner (near the CBS TV City picket) and the Bob's Big Boy in Burbank (near the Disney and WB pickets). According to writer-producer Amy Berg, he did the same thing during the last writers' strike.
The Strike Main-Character Award (Good)
The Girl Scouts of America! Once again, a Girl Scout troop is aligning itself with progressive interests. First it was reproductive justice, then selling cookies outside of dispensaries. Now they're striking and even being given the megaphone. In a video shared to social media, a Girl Scout of Greater Los Angeles can be seen leading a "When I say 'union,' you say 'power'" chant. What badge is that?
The Strike Main-Character Award (Bad)
Boston University alum David Zaslav tried to give a commencement speech Sunday. He was met with a picket line of WGA and IATSE members, booing graduates, and Scabby the inflatable rat. Chants of "We don't want you here," "Pay your writers," and "Shut up, Zaslav" were heard as Zaslav powered through, never taking off his sunglasses.
Do you have a story tip or interesting writers-strike update to share? Drop us a line at tips@vulture.com.