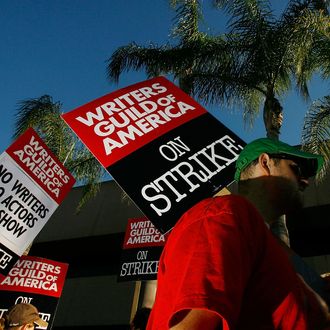 The 2007–8 writers strike.
Photo: David McNew/Getty Images
Have you heard about streaming? Well, if not, know that it's the invasive species of the scripting world — throttling the competition and harmful to the ecosystem if unregulated. And now, because of changes to the entertainment environment due to streaming, writers are ready to strike. As the deadline for a new contract has passed on May 1, the threat of a writers strike has been looming over Hollywood transitioned into action. It will be the first since the 2007–8 strike cursed us with our now-indicted ex-president (no, really — it's the reason The Apprentice stayed on the air and reified him in the American consciousness as a genius businessman and philanthropist). But for a business based on creative output, it's still, ultimately, a business.
Alliance of Motion Picture and Television Producers (AMPTP) announced Monday evening that negotiations with the Writers Guild of America concluded without an agreement. Less than one hour later and just three hours before the contracts officially ended, the WGA released a letter to members that they would be going on strike.
"It's a very regular-degular, working-class existence," Alex O'Keefe, a writer for FX's The Bear, told The New Yorker. "And the only future I'm seeking financially is to enter that middle class, which has always been rarified for someone who comes from poverty … I thought we would be treated more like collaborators on a product. It's like an assembly line now." While working on the show, his small Brooklyn apartment had no heat and the space heater blew fuses, forcing him to work from a public library. When the show won the WGA Award for Comedy Series, O'Keefe had a negative amount in his bank account and bought his tuxedo on credit. The WGA members have officially authorized a strike, so the negotiators set it in motion, starting on 3:01 a.m. ET on May 2. So put on the Chanel boots and get your Andy Sachs on. Here's a guide to the 2023 writers strike — because if Abbott Elementary goes off the air, you'll wanna know why.
What are the demands?
On March 14, the WGA released a report titled "Writers Are Not Keeping Up." It details how compensation for writing has been negatively impacted by the advent (and takeover) of streaming. "On TV staffs, more writers are working at minimum regardless of experience, often for fewer weeks, or in mini-rooms, while showrunners are left without a writing staff to complete the season," the report states. "And while series budgets have soared over the past decade, median writer-producer pay has fallen." It points to an increase in writers working for the Minimum Basic Agreement across the board in roles ranging from staff writers (98 percent of whom now work for the MBA minimum — up 12 percent from the 2013-14 season) to showrunners (49 percent are at the minimum — up 16 percent). In overall terms, the percentage of TV writers working for the MBA minimum increased from a third in 2013–14 to nearly half of all writers in 2021–22.
This wasn't the only issue presented, of course. (Lorde said they would rue the day.) The report points to the fact that comedy-variety shows on streaming "have refused basic MBA protections — minimums for scripts and weeklies — for comedy-variety writers when they work on streaming series, even though episodic writers working for the same companies have those minimum standards." Additionally, regarding the feature-film girlies, the WGA points out that, when you adjust for inflation, "screen pay has declined 14% in the last five years." So these are the issues. But what are writers gonna do about it? The WGA demands increased minimum compensation in all areas of media, increased residuals, appropriate TV series-writing compensation from pre- to postproduction, increased contributions to pension and health plans, the strengthening of professional standards and the overall protections for writers, and more.
What has lead to this?
A strike has been in the air since February, when the L.A. Times reported that both writers and studios were prepping for a potential walkout. The WGA put a "pattern of demands" up for a vote by WGA members on February 27, which included complaints about the "abuse of mini-rooms" (in which fewer writers are given less time to write shows), standardized compensation for feature and streaming films, and commensurate compensation to combat the issues mentioned above. Then, on March 7, 98.4 percent of WGA members voted to approve the demands, so negotiators could bring them to the table in negotiations with the AMPTP, according to Variety.
David Young, chief negotiator for the WGA, left for medical reasons and was replaced by Ellen Stutzman at the beginning of March. Young, whom Matthew Belloni of Puck referred to, at the time of his departure, as "controversial," led the WGA through the 2007–8 strike and, as Belloni noted, is "fiery" and "feared." "Nobody does anything in Hollywood unless they're afraid," he wrote. "And he's set a fear-based tone and cadence, if not the actual agenda, for these negotiations."
Three days before negotiations began, on March 17, Pitch Perfect and Blockers writer Kay Cannon released a video on behalf of herself and other WGA-side negotiators about what would happen once negotiations began. "There may be rumors or leaks to the press about what is going on in that room," Cannon said, speaking to fellow members of the WGA. "Take these with a grain of salt. They are likely coming from the studios and are intended to scare or distract you and to undermine our strength at the table."
How are negotiations going?
Negotiations began on March 20. The intent was for them to last two weeks before taking a two-week break. On the last day of initial negotiations, March 31, Deadline reported that there was a proposal for the two sides to talk during the scheduled break, calling this a "significant step in the negotiations" and noting that sources had told the outlet that "there seems to be a willingness to keep discussions going, in some form, after some common ground was found between the WGA and AMPTP."
Puck, however, disputed this positive version of events, calling it a "smokescreen," harkening back to Cannon's comments about the press. "A well-informed and impartial source, albeit from outside the room, tells me that the report's spin was 'nonsense' and the alleged movement is a 'charade,'" Jonathan Handel wrote in Puck. He claimed that the negotiations were mostly made up of the two sides reading speeches at each other rather than discussing matters. A source told him, "It truly seems like they just want to strike and have no intention of coming to a deal."
Negotiations concluded on Monday, May 1, without an agreement, leading to a strike. There's no word yet on when negotiations will resume, though members will hear a full report from the Negotiating Committee on Wednesday May 3 at 7:00 PM ET.
How did this all lead to a strike?
The WGA asked its writers to vote on authorizing a strike on April 3. Online voting ran from April 11–17, and, on the 17th, it was officially announced that members had voted to authorize with an overwhelming 97.85 percent "yes" vote. "After two weeks at the bargaining table, [the studios] have failed to offer meaningful responses on the core economic issues in any of the WGA's primary work areas — screen, episodic television and comedy-variety," WGA negotiators said in a statement, when asking for strike authorization. "They have listened politely to our presentations and made small moves in only a few areas, almost entirely coupled with rollbacks designed to offset any gains. In short, the studios have shown no sign that they intend to address the problems our members are determined to fix in this negotiation." Following the announcement of authorization, they added on Twitter, "Writers are ready for a deal from the studios that allows writers to share in the success of the content they create and build a stable life."
"A strike authorization vote has always been part of the W.G.A.'s plan, announced before the parties even exchanged proposals," the AMPTP said in a statement to the New York Times. "An agreement is only possible if the guild is committed to turning its focus to serious bargaining by engaging in full discussions of the issues with the companies and searching for reasonable compromises."
Importantly, this did not mean that WGA members were voting to strike right away. It only meant they were authorizing their representatives to call a strike later, depending on how negotiations went. Now that the strike is authorized, the AMPTP and WGA had a deadline of May 1, which is when the current contract ended.
Has anyone said anything publicly in support of strike authorization?
Short answer: Yep! Notable Hollywood names, like Daniel Kwan of Everything Everywhere All at Once, have taken to Twitter to voice their support for strike authorization. "It's about writers getting their fair share," Kwan wrote on Twitter. "It's about maintaining a healthy middle/working class of writers in our industry. It's about showing our collective strength as new tech threatens to take away our leverage."
But this Oscar winner isn't the only one expressing support. Other writers of hit TV shows and films — Adele Lim (Crazy Rich Asians), Ashley Nicole Black (Ted Lasso, A Black Lady Sketch Show), Justin Halpern (Harley Quinn, Abbott Elementary), Jeffrey Lieber (Lost), Ashley Lyle and Bart Nickerson (Yellowjackets), and many more — have expressed support for their union and declared that they are voting "yes" on strike authorization. What will happen next? In this TV drama, you'll just have to wait for the next episode.
What was the deadline to avoid a writers strike?
The current contract was up on May 1 and because there was no deal by then, we'll be looking at a strike.
What shows would be most affected?
The shows that would be most immediately affected are the ones that produce work on an immediate basis, so you can expect late-night shows to be writerless first. Saturday Night Live and all the talk shows would be caught out in the cold. (For what it's worth, that might be why James Corden's last day on The Late Late Show is scheduled for April 27.)
After that, many of the most popular network shows will be on break for the summer, but expect them to be screwed when they come back in the fall, as they typically start writing in the summer. Abbott Elementary, you in danger, girl.
Streaming is kind of a different story. Remember how we said that streaming caused lots of changes to the industry? Well, a writers strike is definitely not ideal for them, but streamers often have shows banked for a pretty long time, so they'll be able to tide audiences over for a while — I mean, the trailer for HBO's The Sympathizer adaptation came out on April 12, and that show isn't coming until sometime in 2024. A potential strike might force them to focus on more international shows or just parcel out what they already have more slowly. Just like there's no precedent for how streaming has changed TV, there's no precedent for how a strike will go down.
This is a developing story.