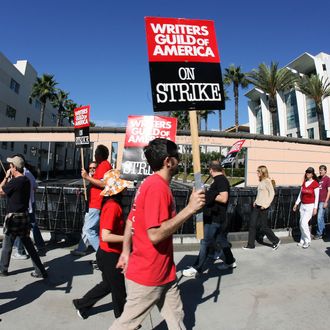 From the 100-day writers' strike in 2007.
Photo: Gabriel Bouys/AFP via Getty Images
Well, we got it. The Writers Guild of America is calling for a writers' strike, it announced on May 2. It has been in negotiations with the Alliance of Motion Picture and Television Producers since March 20, hoping to come up with a solution to a multitude of issues affecting current screenwriters, including a lack of residuals for streaming and the proliferation of so-called "mini-rooms," in which small groups of writers are tasked with gargantuan tasks. Unfortunately, those talks reached a stalemate, and, with the due date for a new contract set for May 1, the WGA has used its previously approved strike authorization to call for an official strike.
"We have not reached an agreement with the studios and streamers. We will be on strike after the contract expires at midnight," the WGA wrote to members shortly after talks concluded on Monday night. "Therefore, earlier today the Negotiating Committee unanimously rejected the AMPTP's final offer before deadline and recommended to the WGAW Board and WGAE Council the issuance of a strike order. Based on that recommendation, the Board and Council unanimously voted to strike after the current MBA's expiration at midnight tonight."
Now, expect writers picketing and for shows that are produced on a weekly basis (SNL, late-night shows, etc.) to be put on hold. The last strike was in 2007–08 and lasted for 100 days, so it might be a while before we get to hear either of the Jimmys laugh again.
More on the 2023 writers' strike
See All