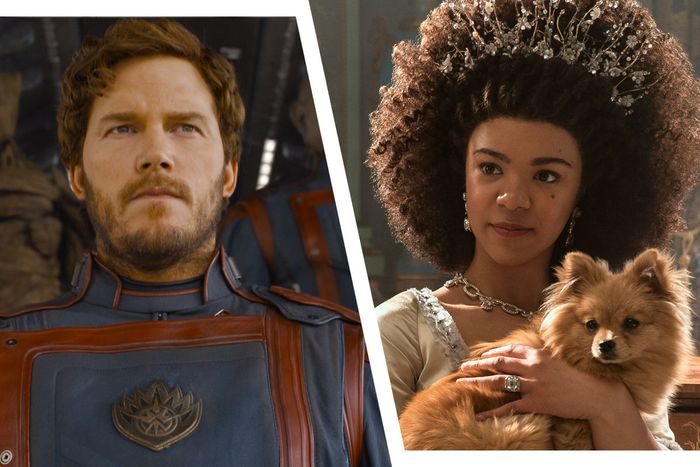 Guardians of the Galaxy Vol. 3
;
Queen Charlotte
.
Photo-Illustration: Vulture. Photos: Marvel; Netflix
In the most endearing way possible: What's up, a-holes? The movie slate is thin this week, as James Gunn bows out of the MCU with his final Guardians of the Galaxy movie. It's almost hard to believe that when Gunn's first Guardians was about to debut, it was painted as Marvel Studios's first potential stumble, and now Vol. 3 is being poised as Marvel's saving grace. Oh, how the tables turn. But aside from the Marvel fare, there's another inspired-by-Pete-Davidson's-life project, the coronation of Queen Charlotte, the actual coronation of a real-life British monarch, and a new season of Star Wars Visions to celebrate a little day known as May the Fourth. Now, come and get your weekend recs. —Savannah Salazar
Featured Presentations
.

Guardians of the Galaxy Vol. 3
If you had told me, almost a decade ago, that I would be crying at the backstory of a talking space raccoon voiced by Bradley Cooper … I might have believed you, actually. Sad animal stories will get ya! Guardians of the Galaxy Vol. 3 is indeed a sad (and sometimes surprisingly disturbing) animal story, but it's also, in true James Gunn fashion, a hoot and a holler that capstones the Guardians trilogy as we know it. Maybe we can just sunset the whole MCU now. Just a thought! —James Grebey
➽ I am Groot.
.

Queen Charlotte: A Bridgerton Story
Bridgerton's first prequel focuses on a young Queen Charlotte's (a stunning turn from India Ria Amarteifio, with Golda Rosheuvel continuing to play older Charlotte) introduction into regal English society intertwined with her complicated love story with King George (Corey Mylchreest). Queen Charlotte is a stellar watch, both perfect on its own and perfect while you wait for season three of Bridgerton. —S.S.
.

King Charles: A Coronation (News) Story
I don't much care that an old white man born into wealth, power, and international renown is getting a fancy piece of jewelry, but I acknowledge some folks do! There will be pomp, circumstance, and the historical trappings of empire on display, whether you're genuinely curious or just watching for Pooh. Musician Nick Cave defended his decision to accept an invite by explaining that it "will more than likely be the most important historical event in the UK of our age. Not just the most important, but the strangest, the weirdest." So there's that. —Eric Vilas-Boas
.

The Other Two season 3
One of the funniest shows edges into more surreal territory as it continues to send up the entertainment industry with biting inventiveness. Sit back and enjoy as Brooke Dubek (Heléne Yorke), sister and manager of pop star ChaseDreams (Case Walker), goes to a showbiz party after leaving the industry and literally becomes invisible to everyone there. —Jen Chaney 
.

Bupkis
Sure, there was The King of Staten Island, but, apparently, that wasn't enough Pete Davidson for Universal. Now there's Bupkis, a "heightened, fictionalized" series on Davidson's life as he stars as himself. Edie Falco and Joe Pesci join the show as his mother and grandfather. Though the guest-stars list feels endless (John Mulaney, Bobby Cannavale, Ray Romano, etc.). —S.S. 
➽ The latest in a long, long, long, long line of semi-autobiographical self-insert sitcoms.
Animation Station
Star Wars: Visions season two
This animated anthology is the only recent Star Wars thing that can give Andor a run for its money. For its second slate of short films set a long time ago in a galaxy far, far away, Visions once again tapped a host of genius animation houses and let them run wild: El Guiri Studios's short, Sith, is painterly and expressionistic; Aardman Animations (known for Wallace & Gromit) created a stop-motion race movie; and the Irish studio Cartoon Saloon (Wolfwalkers, The Secret of Kells) crafted a dark and moody short that pulls from banshee folklore. The nine-episode season is a must-watch and about as long in total as a theatrical Star Wars movie. —E.V.B.
Unicorn: Warriors Eternal
The king of American action cartooning returns! Unicorn: Warriors Eternal is the latest adult animated series from Genndy Tartakovsky, who has masterminded modern classics like Samurai Jack, Primal, and Dexter's Laboratory. In the works for 20 years, the new show is a fantasy about ancient magical heroes who get resurrected to fight evil in a steampunk future. It's animated by Studio LaCachette — which also worked on an episode of Star Wars: Visions this season. —E.V.B.
➽ P.S.A.: If you don't know Tartakovsky's Samurai Jack, you "gotta get back, back to the past."
Triple Feature
Guardians of the Galaxy Vol. 1 and Vol. 2
Why not have a proper send-off for the Guardians with a marathon? These films are some of the best in the MCU catalogue. (Vol. 2 is my favorite MCU movie.) The Fantastic Four may be the royal family of Marvel Comics, but the Guardians of the Galaxy is the most royally fucked-up found family of the MCU. Time to reminisce. —S.S.
Coming Soon
Dune: Part 2
This trailer promises that the Dune sequel will have much more of two things that the first movie, while great, lacked: Zendaya and BIG WORM. Bless the Maker and His water! —J.G.
➽ Director Francis Lawrence takes you back to Panem about 60 years before Katniss Everdeen, a.k.a. when the games were budget, in this trailer for The Hunger Games: The Ballad of Songbirds and Snakes. —S.S. 
Web Ephemera
The Met Gala Sucked
This is a savage, 36-minute (and it's just part one!) roast of the Met Gala, which was, as creator HauteLeMode put it, "horrendous, hideous, awful, disgusting." Enjoy. —E.V.B.
Harry Styles, "Satellite"
If you need more proof we live in a dystopia, Harry Styles's latest clip is a Wall-E remake starring … a glorified Roomba? Nice track, though. —E.V.B.
Why Is WaterTok So Divisive?
If you haven't heard of WaterTok, congratulations. But chances are your algorithm is serving you video after video of people putting an ungodly number of syrups and flavorings into their water. This video is a pretty good explainer of the whole controversy. —J.G.
➽ Meanwhile, I have made IRL friends angry with my firm belief that "plain" is the best flavor of seltzer.
This Week on Actual TikTok
Solidarity Sonic's speedy unionizing tips, Cardi B's viral spicy bowl, and our No. 1 boy.
➽ Last but not least, here's a fun quiz full of fake names.
Want more? Read our recommendations from the weekend of April 28.