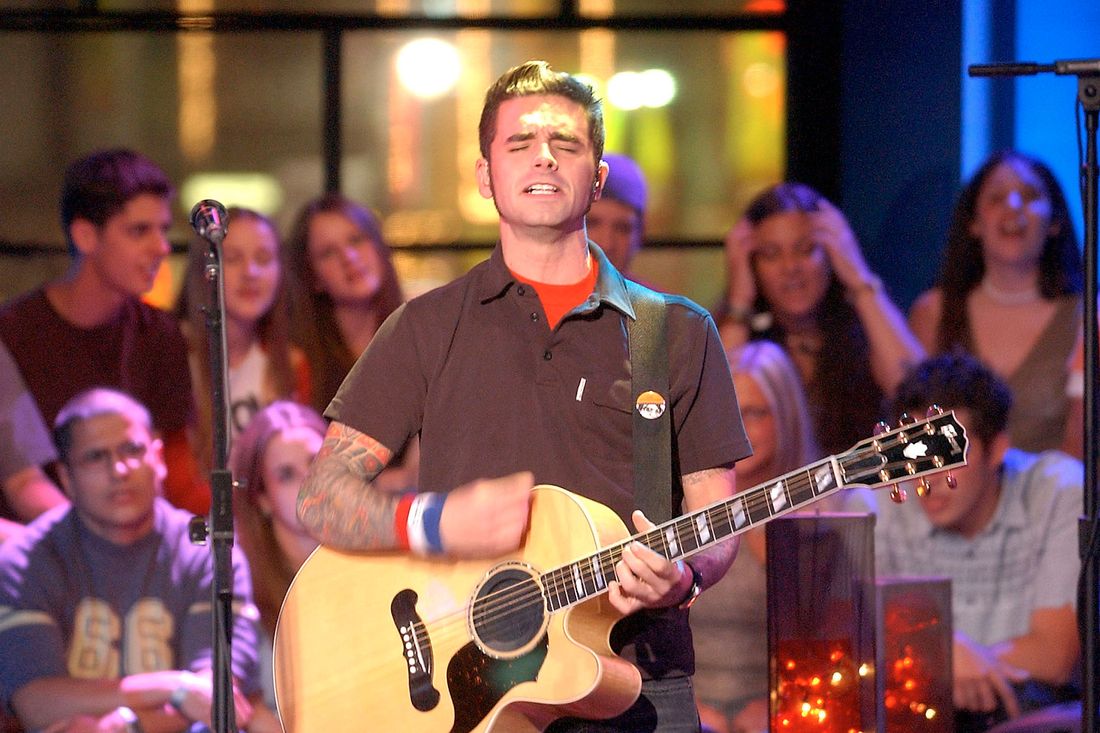 Screaming infidelities: Dashboard Confessional introducing emo to the world on
MTV Unplugged.
Photo: Scott Gries/Getty Images
In 2002, the music industry was on fire. CD sales hit an all-time peak in 1999, but the rise of file-sharing platforms like Napster had sparked a sharp drop. Of all genres, rock seemed most under siege. As the search for the next Nirvana neared its 11th hour, lightning struck in the form of a yearning punk-rock subgenre called emo. Or at least that's what music execs like Jimmy Iovine and Luke Wood were hoping for. Dashboard Confessional and Jimmy Eat World were just happy to be there.
I always knew their fame was unexpected, but interviewing both bands for my book, Where Are Your Boys Tonight?: The Oral History of Emo's Mainstream Explosion 1999–2008, illuminated just how novel it all felt. Less than two years before Dashboard Confessional did MTV Unplugged and Jimmy Eat World graced SNL, they were playing venues like the Wayne Firehouse, a rec hall in northern New Jersey where tickets went for $8. At home between tours, Dashboard's Chris Carrabba worked in a South Florida elementary school and Jimmy Eat World's Jim Adkins at an art-supply store in Arizona. These were '90s kids raised on Fugazi. They never planned on being music-industry saviors.
Then Dashboard's Unplugged went platinum and Jimmy Eat World's "The Middle" became one of 2002's biggest pop songs. Shocking as this was to the punks who frequented the Wayne, it was just the beginning. Over the next five years, bands like My Chemical Romance, Fall Out Boy, Paramore, and Panic! at the Disco pushed emo so far into the mainstream that it's now impossible to imagine social media or millennial emotional awareness (or lack thereof) without it. Emo didn't end up saving the business, but Best Buy behemoths like Paramore's Riot! and My Chemical Romance's The Black Parade provided overcast teens with a thrilling soundtrack as it careened into the unknown.
If one moment captures the unlikely success of emo's many heroes, it may be Dashboard fans voting the Strokes home early from the MTV Video Music Awards. The following chapter, an insider's pass into Radio City Music Hall and Studio 8H, falls at the pivot point when emo subculture went mainstream — and somehow emerged as the defining rock music of the 21st century.
An excerpt from 'Where Are Your Boys Tonight?: The Oral History of Emo's Mainstream Explosion 1999–2008'
Andy Greenwald (music journalist, former Spin contributing writer): The front of Spin magazine was a section called "Noise" where they covered up-and-coming bands and things. The editor Tracey Pepper would often, generously, give me opportunities to cover bands other people weren't interested in or she herself didn't fully understand or appreciate. I was given the opportunity to write about Dashboard Confessional at CBGB. I went to the show a little skeptical, having listened to Chris Carrabba's records and not personally connecting with them. Emo hadn't been my scene at all.
That night, the clientele was almost entirely suburban high schoolers wearing, like, pleated khakis and Gamecocks hats. Chris was up there singing songs that had felt kind of mono on record, but they were exploding into this outrageously intense stereo because the audience was singing along, singing everything back to him. It was something I'd never seen before.
Mike Marsh (drummer, Dashboard Confessional): Chris really went out of his way to condone it. He would step off the mic, step to the front of the stage, and sing with them. It became like a church thing, where you're trying to get the people to sing the word of God back to you.
Ian Cohen (music journalist): If you didn't know all the words to the songs, you were gonna feel out of place.
Chris Carrabba (front person, Dashboard Confessional): This is when things really started to snowball for Dashboard. When people started to have a real sense of community.
Rich Egan (co-founder, Vagrant Records; manager, Dashboard Confessional): When The Places You Have Come to Fear the Most came out in March 2001, we had no setup for it, just because we had to rush it out. We sold 2,500 records the first week. Most records in their second week drop off 70 percent. This went up. It got to about 2,550. And it just stayed there for a year. I remember it was right around a year later when the record hit the 100,000 mark. The kids loved Chris. It wasn't a press-created thing. The press was reacting to the cultural shift. He was unlike anything before him in our scene.
Carrabba: That album cycle took us from playing VFW halls to headlining our own shows at big clubs. I would end up talking to the kids at the merch table — forgive me when I say "kids," you know what I mean, the people attending the show. They would tell me why the songs were important to them or what was special about the night. And then they would tell me about other bands they were excited about or books they read or things that were going on in their lives. And I thought, This doesn't feel that different than being back in Florida.
Marsh: When Chris finally signed to Vagrant and [booking agent] Andrew Ellis, I think there was a lot of talk about, "You need to get a band. We're not gonna do the guy-sitting-on-a-chair, Bob Dylan shit. We need a band. It's going to be more powerful, it'll sell more tickets, the records will be cooler."
Egan: Interscope really wanted to get into the Dashboard Confessional business. So they bought part of the label to get into that business.
Jeff Sosnow (A&R, DreamWorks Records, Interscope Records): Jimmy Iovine bought half of Vagrant Records to get Dashboard Confessional — that's all you need to know. He went to the end of the earth for Chris Carrabba.
Egan: We sold 49 percent of Vagrant to Interscope around October/ November of 2001.
Greenwald: There was a lot invested in the idea that Chris Carrabba was the next big thing.
Egan: Bill Carroll, Vagrant's head of radio, and our publicist Brian Bumbery had really sold MTV on Dashboard. So they got all of MTV down to Irving Plaza to watch Chris. That was the tipping point.
Carrabba: A couple of folks came backstage after the show and said they found it really exciting: the volume, the ceaselessness of the sing-along. And one of the guys said, "I'd always wanted that to happen on my show, and it never did." I said, "What's your show?" He said, "MTV Unplugged." That was Alex Coletti, the one and only.
Greenwald: Alex Coletti was a major voice and tastemaker at MTV. Alex saw Chris live, understood it, and was the person inside MTV championing him.
Egan: Alex was sitting in the balcony during Dashboard's set, and he called Van Toffler and the heads of MTV saying something like, "I'm gonna bring MTV Unplugged back and start it with this kid. You wouldn't believe it. The crowd is just singing every word at the top of their lungs. Not just the choruses!" Alex was like, "This will play really well on TV."
Jim Adkins (front person, Jimmy Eat World): Chris also looks like a model. So when he's on TV, people want to watch more of that. Seriously, Chris is hot, man!
Carrabba: I was like, This can't be real. But then the next week, Alex was emailing me about dates and logistics.
Dan Bonebrake (bassist, Dashboard Confessional): At that time, I'd watched almost every MTV Unplugged and I was like, Man, they do it well.
Carrabba: I liked the idea of songs you'd come to know one way being delivered in a fully different way. The ones that stood out to me most were obviously Nirvana's and Pearl Jam's, which they did pretty early on in their career.
Marsh: I remember feeling like, Are we ready to do MTV Unplugged? For me, that was like Eric Clapton, Nirvana, Alice in Chains, Jay-Z … We were a band [as a trio] for about a year and a half. We hadn't done shit yet. We were still trying to figure out our sound. And it was exciting, but it was horrifying. With that type of notoriety comes fame …
Greenwald: For MTV, I think being able to be back in the authenticity business mattered. They'd feel better about their jobs if they were putting a guy like Chris on TV, with his fan base who adored him, than they would by putting Fred Durst up there, you know? They were hoping to fill the same role that they had filled ten years before.
Egan: MTV needed to kind of justify why they were doing an Unplugged with this kid, so they started playing the "Screaming Infidelities" video a lot.
John Lefler (guitarist, keyboardist, Dashboard Confessional): The first show of note we did as a four-piece was the Unplugged. I played guitar and keys.
Egan: Unplugged was recorded for MTV and released as an album with a DVD of the session. We filmed at MTV Studios. The windows look down onto Times Square. We got there in the morning.
Carrabba: I remember walking by the line for the show and thinking, That's a long fucking line. The nerves really set in when I saw that line. It's in Times Square, in the Theater District. So when you walk through there and see a line, it's like, They're here to see something excellent. And I really wanted it to be excellent.
Egan: They put out a call saying "first come, first serve," and way too many kids showed up than that studio could handle. Not even a hundred kids could fit in there.
Carrabba: Walking onto the set, I was like, "We better rise to the occasion because this is very real now." This is what I'd seen on my TV so many times, what I'd been moved by so many times: these thick, hanging, red velvet drapes with beams of blue light cascading through. There's this mix of grandeur and intimacy without being gaudy. What made our Unplugged different than other bands' was they had the audience wrap behind us and even onto the stage with us. You can see the audience's faces more than any Unplugged at that point.
I remember saying, "Hey, listen, they've told me it's okay if you guys sing along." That was a wash of relief: Okay, we get to be ourselves. You can conduct yourselves like you would at any Dashboard show.
Marsh: I don't particularly care for how campy it was, if I'm honest. I didn't like it at the time; I don't like it now. They put a lot of emphasis on something that happens at every show.
Lefler: I don't feel that way. It's Dashboard Confessional. Chris being genuine, the lack of irony in his music and performances I think works well with something like that … Yes, people sing at shows. But Dashboard, in those years especially, was a different-level thing.
Egan: There's that blonde girl with the glasses. I remember her and
her boyfriend distinctly in every shot. They were directly behind Chris.
Greenwald: The kids who filled the studio at 1515 Broadway that day were essentially the same kids who'd been at CBGB. His people came with him.
Egan: Man, it was exhausting. I can't imagine what Chris and all the kids were going through. We had to do every song multiple times: a string would break, a bad camera angle, or maybe a camera would fall over. And Chris is a perfectionist; if he didn't feel the song was right, he'd say we need to do it again.
Lefler: From what other people have said, we played "Screaming Infidelities" like seven times. I don't remember that. It was a very unusual situation to be in, when two weeks prior you're a waiter who's never heard any of these songs before.
Marsh: Even as a drummer, it wasn't as physically exhausting as the mindfuck of having to do things over because the lighting's gotta be right or you gotta make sure this person's being seen. It wasn't like telling Eric Clapton and his band to redo it, where it would be the same exact take. We'd just done these great takes, and we weren't gonna synch together like that again because we weren't that good of a band yet.
Carrabba: Sometimes there'd be ten minutes in between songs.
Egan: You'd expect him to go back to the greenroom, but Chris would just start talking to the kids and working his way through the audience.
Marsh: I remember the audience being really tired. I'd turn around and there'd be people leaning their head on their hand. They knew they were gonna miss the last train home. But as soon as "PLACES, EVERYBODY!" they were back singing along again.
Carrabba: There was all this intensity. And then it was over: "Okay, everybody turn in their badges. Nice having you today." We had to pack up the euphoria and holster it for a minute. I'm used to finishing my work in a bar or a club, then spilling out into an alley, then hopping in a bus and turning the music really loud. I remember thinking, What do I do with all this energy?
Egan: It was 5 a.m. the next morning when we finally wrapped. It was about a 24-hour shoot.
Carrabba: I got out into the street and saw the people who'd been in the audience hanging out waiting for us. I viewed them as my bandmates for the night. Finally, without feeling self-conscious or anything, I was high-fiving them like, "Wasn't that fucking amazing!"
Marsh: We went to Jimmy Iovine's house [months later] to view MTV Unplugged in his massive theater room. I remember some of his comments: "You guys are gonna be the next big band. You guys are gonna be the next Nirvana!"
Adkins: A lot of people saw Unplugged and said, Hey, that looks like me! I want in on this party!
Egan: Unplugged went platinum. Places You Have Come to Fear the Most eventually went gold.
Carrabba: Dashboard Confessional's popularity was growing because people were burning CDs for friends and bringing their friends to shows. It wasn't really based on "I heard the song on the radio." That's not how it happened for us. I guess there is a certain elegance about … you just have this song. It's a single. It serves as an invitation.
Cohen: I was a junior in college, working at the radio station 91.9-WNRN in Charlottesville, Virginia. We were able to play songs that weren't necessarily singles. On Jimmy Eat World's Bleed American, I think pretty much everything besides "My Sundown" and one other song was cleared for us to play, which was unheard of. Like, aside from greatest-hits albums, you don't clear nine out of 11 songs for airplay.
Luke Wood (A&R DreamWorks Records, Interscope Records): Jimmy Eat World's single "Bleed American" had been starting to move up rock-radio rotations … 12, to maybe nine, and we start to think, Oh fuck, it could be a hit. After 9/11, it died immediately. But we were all very mature about realizing "We're gonna work this album for a long time. How do we move past this conversation?"
There was a desire to prove the album. We didn't want to lose it because of a tragedy that wasn't related to anything the band did. We had to decide what single to go with next. It was between "If You Don't, Don't," "Sweetness," and "The Middle." Their manager, Gary Gersh, told me how perfect the lyrics to "The Middle" were.
Cohen: One of Jimmy Eat World's best qualities is the ability to sing
about people who are like, five to ten years younger than they are.
Wood: You feel isolated and alone, you're stuck in the middle, and it takes some time to find your place. Everybody feels like that at some point when they're a kid.
Greenwald: "The Middle" is a perfect pop song. But it's also a perfect pop song that encapsulates that yearning that's endemic to Jimmy Eat World as a project. It's like, imagine if "Goodbye Sky Harbor" was three minutes long and you could sing along to it.
Wood: DreamWorks had just had "Last Resort" with Papa Roach. We had "Hanging by a Moment" with Lifehouse. We had Alien Ant Farm with the "Smooth Criminal" cover. And Nelly Furtado's "I'm Like a Bird." We had a lot of hits. A lot of things were happening. Nobody was looking at Jimmy Eat World to be the hit. The band was gonna go tour, play to their core audience, make sure people saw the band they loved.
Adkins: We played at Tom DeLonge's wedding reception. It was a surprise for Tom. He seemed stoked! We played "Episode IV" from Static Prevails, "Call It in the Air," "If You Don't, Don't" from the new record, and probably "Sweetness."
Cohen: That Jimmy Eat World album got the lead review in Rolling Stone. One of the main talking points was that they played Tom DeLonge's wedding. Like, that's their peg? Okay! This was before "The Middle" was big. This was the first thing that made me aware that Jimmy Eat World could be a big deal.
Wood: Bleed American was clearly a little different than Clarity. I just wanted them to play to as many people as possible and get over the baggage of having been dropped by a different major label recently.
Adkins: It was a frog-boiling-in-water situation. We didn't realize how big it was getting until much later.
Wood: At first, "The Middle" was driven by major-market modern-rock radio stations, where it climbed the charts relatively quickly. By that time, it wasn't uncommon for rock records to cross over into pop. There was a track record of this. But not for bands from the underground of third-wave emo.
Egan: "The Middle" is one of the catchiest songs ever written.
Wood: At that point, after a decade of working at major labels and working with MTV, I knew what we needed: How do we get them on TRL? I knew we needed a video to drive the story.
Adkins: We hadn't done many videos up to that point, and we certainly had never done anything with a narrative behind it.
Wood: We all felt like it had to be some crappy high-school party. Okay, well, what makes you not belong? Not wanting to be in my underwear at this party!
Adkins: No approachable, normal people were cast at first.
Wood: It was all L.A. music-video casting kids. I remember someone bringing out Polaroids and they all looked like video girls, for lack of a better word. I was like, "We don't want to see some Keanu Reeves–looking lead guy! This is Jimmy Eat World!"
Adkins: Luke was like, "We want an actual dream sequence of showing up alone at a party in your clothes and everyone's in their underwear. It wouldn't all be models; there'd be all types of people there."
Wood: There was a scramble 72 hours before the shoot. We ended up recruiting everybody from Arizona State University. There was no Screen Actors Guild, just kids.
Zach Lind (drummer, Jimmy Eat World): A bunch of our friends wound up being in the video. We basically said, "Anybody who wants to come down and be in a video and be in their underwear, come on down."
Wood: I'm not gonna say we still didn't cast really good-looking people …
Cohen: This was back when MTV still mattered. It was one of the primary conveyances for interacting with popular music. And you would just see that video all the time, for obvious reasons. It's very photogenic.
Adkins: "The Middle" went to No. 1 on alternative radio. On the Hot 100, it went top five.
Wood: Dashboard was a cultural moment. But in terms of radio, "Screaming Infidelities" did not get that kind of airplay.
Adkins: When "The Middle" was headed to No. 1, we got asked to play SNL.
Wood: In New York City for SNL, we went to a sneaker store and they're playing "The Middle" on the radio. At Starbucks an hour later, "The Middle" was on the radio. Then like four times the next hour, Jim got recognized: "Are you that guy? Are you 'The Middle'?"
Adkins: Will Ferrell, Jimmy Fallon, and Amy Poehler were on the SNL cast then. There was like a four-foot hallway between our dressing room and the host's. Cameron Diaz was running in and out of there all the time for costume changes. It's a tight situation; you meet everybody.
I was doing a dummy check of everything before I left the dressing room, there was no one else around, and I bumped into Philip Seymour Hoffman. He was like, "Hey, I've never heard you guys before, it's good stuff!" I'm thinking, Famous people are hearing our stuff now? The best I could think to say was "All of us are big fans of your work!"
Carrabba: I remember thinking, We made it! Our scene! We made it! We're on Saturday Night Live.
Adkins: That was the most nervous I'd ever been. I grew up watching SNL. I would set the timer to record it so I could watch the musical guests in the morning. Then all of a sudden, you're there. We'd played "The Middle" so many times by that point, and we were on tour. Once we started playing, it's like, Oh yeah, we got this. But up until that point? Hooooooly shit. Insane.
Lind: SNL was such a blur.
Wood: Then it got to "What's the next single?"
Adkins: "Sweetness" was the next big Bleed American song.
Wood: It had a massive hook, but it also had this silent conversation with their core audience — the whole call-and-response, "sing it back" thing. Those of us who came from the scene knew what that was.
Trying to pick our fourth single, we went with "A Praise Chorus." In hindsight, I would have gone with "Hear You Me" one thousand times. It was probably the biggest A&R mistake I ever made. The band was worried: "How do we be a rock band on tour and suddenly have a power ballad?" But it's one of those records you don't worry about, like Green Day's "Time of Your Life." We should have gone with "Hear You Me." It would have been a No. 1 song. It would have changed their entire career.
Adkins: It was a matter of How much are we going to push this album? versus Maybe we should switch gears and just work on a new album. Traditionally, our fans thought of us as more of a rock band. We didn't want to be blowing up as the acoustic-ballad band when, for a lot of people, that would have been their only experience with us.
Matt Pryor (front person, the Get Up Kids, the New Amsterdams): I remember playing a festival in Germany and seeing Jim and Zach. Jim had to go do, like, six interviews. He got pulled away and goes, "I gotta go explain to people what emo is …"
Adkins: For a while, every interview we did was "What's with this emo thing?" "Where'd you get your band name?" and "So you played Tom DeLonge's wedding …" Those three questions. Every single interview.
Lind: We treated the word emo like a dog you're training not to
jump up on you. The best way to train that dog is just to ignore the dog.
Cohen: Jimmy Eat World's what really cracked it open: "Well, fuck, man, whatever is going on in this genre of music, I want all of it."
Tom Mullen (marketing, TVT Records, Equal Vision Records): I was so amazed that people were paying attention because emo was largely ignored for so much of my life.
Jolie Lindholm (front person, Rocking Horse Winner): Rocking Horse Winner did a Seventeen-magazine photo shoot about the emo scene at the time. It's so funny to me now … I think it was shot in New York City — we were in there with Jimmy Eat World and Dashboard in the same section.
Cohen: I was reading Pitchfork at the time, and they just hated all that shit.
Amy Fleisher Madden (co-founder, Fiddler Records): Things like Pitchfork came for us and used really negative words to describe what we were doing. We didn't even use the word emo back then. That made it worse. Emo was a derogatory term. We didn't say, "This is gonna be the biggest emo band of all time," because that was like saying, "This is the worst thing you're ever going to hear." Emo didn't really become cool until much later. And it's still surprising to me.
Egan: Vagrant bands, we never used the word. Not because emo was a like four-letter word or forbidden, but because it was … kinda lame. To us, it was punk rock, it was indie rock. The mainstream didn't really start labeling it emo until Dashboard was taking off. Then they started to drop that word all over the place.
Carrabba: I didn't have a clear picture of how big our band was going to get.
Pryor: Dashboard is its own thing. It's a unicorn. Chris's trajectory doesn't follow any norms you read about in music autobiographies. It's just a phenomenon.
Carrabba: We were supposed to have a run of shows in the U.K., and we got nominated for the VMA. I felt really guilty canceling those shows. I remember that morning in New York City, getting coffee and feeling conflicted. It felt like skipping school.
Egan: The morning of the VMAs, I remember thinking we had no shot of winning. It was Dashboard, the Strokes, the Hives, and Norah Jones, all nominated in the same category, for the MTV2 award.
Carrabba: Hopefully, I'll get to meet some people I see on TV, like Jimmy Fallon. Wouldn't that be amazing? If I get to meet Jack White, wouldn't that be cool? It was at Radio City Music Hall. These are the things I was thinking about. I was not thinking, What if we win? I thought it was nice to get nominated. I wasn't gonna write a speech. That seemed weird.
Finn McKenty (vlogger, journalist): This is the peak of MTV's relevance. A lot of people forget or pretend that MTV fell off in the '90s. MTV was at the peak of its relevance in the 2000s. TRL alone! TRL started in the late '90s, but it was mainly the 2000s. Jackass, Viva La Bam …
Mullen: Someone who was part of our scene was on the VMAs. That's crazy! I was definitely watching that award show.
Egan: We were going over in a limo, and you know, you gotta stop at the red carpet, get out, and do all that stuff. We felt like freshmen crashing the seniors' party. We had no business being there.
Carrabba: I was from a scene I was proud of. I didn't want to get disowned by that scene for visiting another one. And that moment of being on the red carpet, I really felt like, Oh shit …
Egan: The press didn't know who Dashboard was. There's all these pop stars around him, and I could hear people: "Who is it? Who is it? All right, pose for a picture!" Then Chris got interviewed by Triumph the Insult Comic Dog. That was awesome.
Carrabba: Actually seeing Robert Smigel there, face-to-face with the puppet dog … I'm thinking to myself, I'm about to get dunked on so hard, and it's going to be the best.
Egan: The dog was like, "And who are you?" And Chris was like, "Dashboard Confessional." He's like, "What are you gonna confess to, sucking?"
Carrabba: That was pretty disarming. Then I remember somebody saying, "Hey, what if you won and you got up there and forgot to thank somebody important?" So I wrote a list.
Egan: We had gotten tipped off from the MTV people, like, "Hey, you may want to prepare a few words." The category Chris was nominated in was fan-voted. So it didn't matter that 99 percent of mainstream America didn't know who he was.
Lefler: Whoever's fans were the most internet savvy in 2002 probably had the best shot at winning.
Carrabba: At award shows, they stage a camera near you. I was really aware of the camera. I felt uncomfortable in my own skin. I remember them announcing the names of the nominees, which included the Strokes and Norah Jones. Norah was sitting not far from me, and I could see the camera on her. The Strokes were a couple rows behind me.
Marsh: I remember I couldn't get my armpits to stop dripping. I couldn't get my legs to stop moving. Chris was the same.
Egan: I was thinking either the Hives or the Strokes were going to win it. Brittany Murphy and Anthony Kiedis announced the winner.
Carrabba: I don't remember this, but my name was announced.
Egan: She didn't even pronounce "Dashboard Confessional" correctly. She's like, "And the winner is Dashboard Confessions … 'Screaming Infidelities!'"
Carrabba: They just said me. Wait, I think we won this. Avril was sitting right in front of me. I remember her turning around to clap when they announced my name, which I thought was nice.
Marsh: I remember walking down the aisle to get up onstage and seeing Gwen Stefani looking at us … How did I get here, man? Eminem and all these massive artists. I don't know how we got here so fast.
Carrabba: And then I was on the stairs. And I was reaching in my pocket. And I'm thinking, I'm glad they suggested I write thank-you notes. I remember thinking, Just speak clearly.
Lefler: When the Strokes didn't win, they bailed right away. I was disappointed because I wanted to hang out with them.
Egan: Afterwards, we went to the Interscope after-party and Eminem performed. A hundred people in this little bar up in the balcony. Then like an hour in, he comes up to the railing, the music drops, he starts freestyling. We're like, "What kind of life are we living?" We had a shoot for GQ the next morning. And I had a Newsweek interview at 9:00 a.m.
Marsh: Axl Rose sat down next to me at that after-party and leaned back on the couch; he was exhausted. He looked over at me, and I looked at him. He says, "Hey, I'm Axl." I said, "Yeah, I know." He said, "Who are you?" I said, "I'm Mike, I play in a band called Dashboard Confessional." Eminem and 50 Cent were upstairs blaring rap music, and Axl Rose leaned into me and said, "I fuckin' hate rap."
Carrabba: I remember getting an attaboy from Eminem about winning the award. And he started asking me how many songs I had for my next record, what I was most excited about … I was surprised how much he knew about my music. I remember him rattling off song titles of mine. Also, what he did that was really nice … I wasn't really looking for an autograph myself, and he said, "Do you have a sister? What's her name?" And he signed something on a cloth napkin for her. He signed it "Marshall." I remember wondering if he always does that.
Egan: The next morning, I completely slept through my Newsweek
interview. I woke up at 11:30, checked my voice-mail, the writer was totally cool and ended up meeting us at the GQ shoot. DMX walked in with two pit bulls, in a huge fur coat.
Carrabba: I could see someone having an animated conversation with DMX. And DMX seemed to be a willing audience. This kind of piqued my curiosity because I was only a few feet away. I heard them say "Napster" a few times.
Egan: This was right when Jimmy Iovine started on his thing of suing Napster. They were going to go after users, go after kids. So these Universal Music executives were trying to get all these artists to speak out against downloading. That was their big initiative. So a couple suits from the legal department corner us. They had this big chart.
Carrabba: They said, "You're exactly who we came to talk to."
Egan: "You're the No. 1 one most illegally downloaded artist in all of Universal."
Carrabba: My response was "That's amazing."
Egan: "Oh, that's killer!"
Carrabba: And the guy said, "Right?! What are we gonna do about it?" And I said, "I guess … hope more people download it?" They started yelling at me instantly.
Egan: They're like, "We need you to do a PSA and speak out against downloading!" Chris was really pissed. He goes, "Those are the kids that come to my shows. The fact that you're selling less because of it is not my problem."
Carrabba: They went red-faced.
Egan: We played grown-up dress-up for the night. We went to the MTV Awards and had a GQ photo shoot. It was all foreign to us. This was not our punk-rock world. We're not in Kansas anymore. There was no turning back. It was almost like an ending when we won that VMA.
Greenwald: It felt like a rubber band: How far could you stretch this music, which was predicated on a very intimate connection between performer and audience? Could you stretch it around the whole country? Could you stretch it around the whole world without something essential snapping? What happens when a subculture goes mainstream?
Egan: I didn't want to be in the mainstream. With Vagrant, with
Chris — everything we did was based on a DIY aesthetic. We bought in wholesale to Ian MacKaye and Dischord, that whole thing. It was almost like betraying it. I just remember feeling like, Well, that was a good ride. It's over now. Being the underdog is over.
From Where Are Your Boys Tonight?: The Oral History of Emo's Mainstream Explosion 1999–2008, by Chris Payne. Copyright © 2023 by Chris Payne. Reprinted by permission of Dey Street Books, an imprint of HarperCollins Publishers.