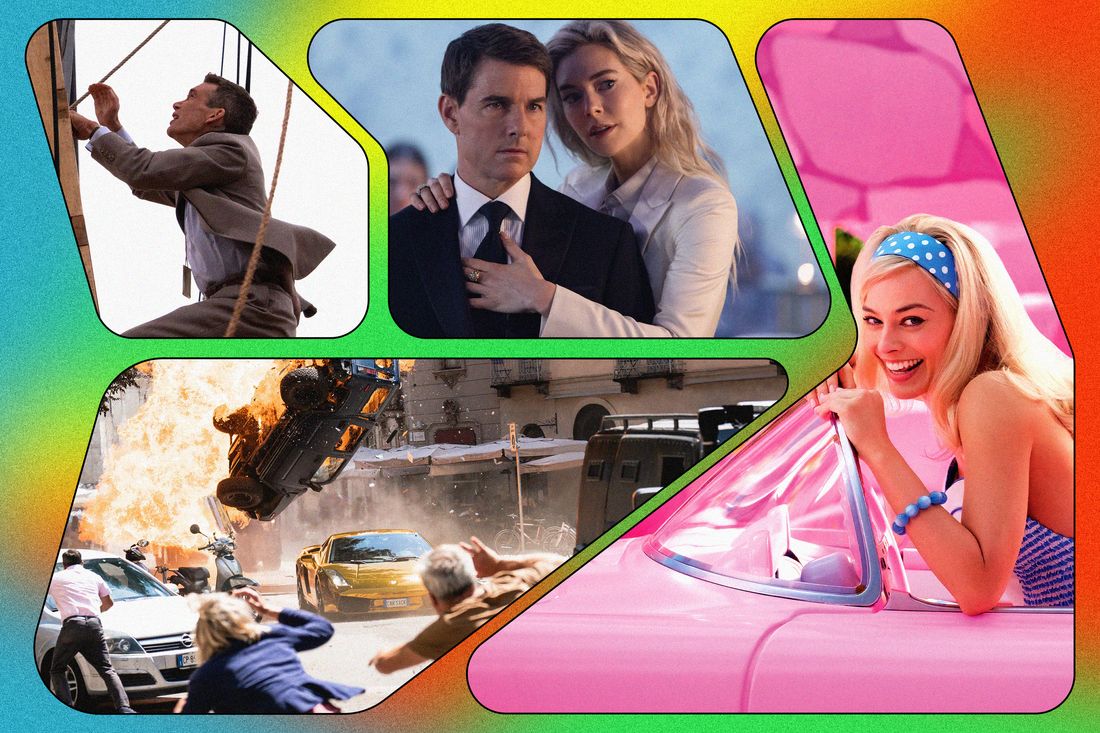 Photo-Illustration: Vulture; Photos: Paramount Pictures, Universal Pictures, Warner Bros. Pictures
By much Hollywood reckoning, Mission: Impossible — Dead Reckoning Part One (out July 12) will triumph over a crowded field to become this summer's most financially successful blockbuster. Even with multiple tentpole titles poised to pop on a global scale — The Flash, Spider-Man: Across the Spider-Verse, and Disney's live-action version of The Little Mermaid among them — box-office analysts cite the inalienable power of the Tom Cruise Effect™ in predicting this seventh installment of the $3.57 billion-grossing, 27-year-old franchise will reach the financial mountaintop during moviedom's traditionally lucrative season. They point to what Boxoffice Pro's Shawn Robbins refers to as the "post-Maverick glow": the halo effect of last year's Top Gun: Maverick, which not only drew record numbers of moviegoers back into cinemas at a precarious post-pandemic moment but more generally is credited with reigniting the cultural love affair with sharing a communal spectacle — and oxygen — in a darkened auditorium at a moment when many industry observers wondered if the theatrical moviegoing experience was headed for extinction.
But Hollywood can get it wrong. Predicting which titles will break through — at the box office, in the discourse, in critics' hearts, and on awards bodies' watch lists — in the hottest months on the calendar can be a fickle business. But every year, we try anyway. Here are Vulture's predictions for which films will pop at the ticket counter and stir up the conversation during the dog days of 2023.
.

The Franchise Installment That Will Make a Billion Dollars
Fast X
Like Mission 7, the tenth installment of the $6.6 billion-grossing street-racing series is also a Part I, "The beginning of the end of the road," as Fast X's trailer tagline promises (with the franchise-concluding Part II scheduled to drop in 2025). Unlike any previous entry in Cruise's Mission: Impossible oeuvre, however, the chronically underestimated F&F films have crossed into three-commas territory twice before: 2015's Furious 7 grossed $1.5 billion worldwide, and its immediate follow-up, The Fate of the Furious, took in $1.2 billion. (Fun fact: Both Dead Reckoning and Fast X feature white-knuckle car chases spilling across Rome's Spanish Steps.) Fast X has a packed cast, pitting new archvillain Jason Momoa against Vin Diesel, as well as a trio of Best Actress Oscar winners — Brie Larson, Helen Mirren, and Charlize Theron. "This is a film that brings in multicultural audiences," says Fandango managing director Erik Davis. "The cast is enormous. It is by far the most diverse ensemble that we're going to see this summer. That goes a long way in terms of who's showing up."
Perhaps most crucially, the Louis Leterrier–directed tenth Fast entry has been cleared by government authorities for distribution in China, the world's biggest movie marketplace, while Mission: Impossible has not. And that Middle Kingdom bow will, in all likelihood, dictate who wins the summer. "The Fast & Furious films have always performed well on a global scale — more so internationally than they have domestically," says Davis. "And I think China is a big wild card here." —Chris Lee
.

The Other Franchise Installment That Will Stick the Creative Landing
Indiana Jones and the Dial of Destiny
You can't treat Indiana Jones and the Dial of Destiny as just another franchise sequel. Your average Fast & Furious or Marvel or Jurassic World movie is basically just the most recent iteration of an endlessly churned-out product line; whether it's good or bad rarely matters when it comes to the bottom line. But to make a new Indiana Jones movie after more than a decade of nothing requires someone at some point having an idea that's new, a script that's great, or some directorial vision. Harrison Ford isn't coming back for just any old reason. And when they work, these types of sequels can be special. Think Top Gun: Maverick, Star Wars: The Force Awakens, Creed, and Mad Max: Fury Road. I'm optimistic that Indy 5 will be good given the talent involved and what it must have taken to get them onboard. The fact that it's premiering at Cannes a full month before it opens theatrically suggests the studio has real confidence in it. (Yes, Indiana Jones and the Kingdom of the Crystal Skull, which many now consider a creative dud, also premiered at Cannes, but that was a pro forma screening that happened something like three days before the movie opened in theaters.) So Dial of Destiny will be up to scratch, but will it be a hit? Consider this: The Indiana Jones franchise is massive. The first three movies were the biggest releases of their respective years, and the fourth was No. 2 (behind The Dark Knight). Most of the viewers who helped make those movies hits are still alive, and there's a lot of fondness for this character. If it's actually a good movie, Dial of Destiny will surely be one of the biggest hits of the year, quite possibly the biggest. —Bilge Ebiri
.

The Movie That Everyone Will Talk About
Barbie
The biggest movie of the summer will be Barbie. Will it be the most financially successful? The Magic 8 Ball says, "Very doubtful." But there's no question that it's destined for greatness in another arena: the arena of discourse. Hell, it has already been holding off all comers there for months thanks to some strategically timed releases of Pepto-pink stills of star Margot Robbie, teasing teaser trailers, and photos of male lead Ryan Gosling in front of a CinemaCon backdrop wearing a T-shirt emblazoned with director Greta Gerwig's name in the Mattel doll's logo typeface. Not even Barbie's nuclear-goth nemesis, Oppenheimer, with which it shares a release date and which exudes a po-faced masculinity that perfectly offsets Barbie's winking high girlishness, can dream of competing. It remains to be seen if Barbie will be good, and on that front, my faith in Gerwig's talents is warring with my suspicion that there is no one capable of turning a toy line into a live-action adaptation that's genuinely worth watching. But I have no doubt that Barbie — which has already brought Gosling back as a fun public figure, offers an array of beloved/hot actors to play Barbie and Ken variations, and promises a tongue-in-cheek take on the mixed legacy of the doll it's inspired by — will be the most talked about movie of the summer. And isn't that its own win? —Alison Willmore
.

The Movie That Letterboxd Will Talk About
Oppenheimer
When discussing Barbie vs. Oppenheimer, the temptation to slip into crude gender stereotyping is immense. For instance, it would be all too easy to posit the former as shallow, IP-driven fluff and the latter as hardheaded, technically rigorous auteur fare. Or, conversely, to call Barbie a daringly postmodern spin on feminist praxis and Oppenheimer a movie about how men will literally build a bomb capable of destroying all human life instead of going to therapy. Neither seems likely to wind up as the summer's No. 1 grosser — and if Oppenheimer underperforms at the box office, expect the mother of all "bomb" puns — but just as Barbie seems likely to become the most memed movie of the season, you can bet Oppenheimer will be the movie that self-proclaimed serious cinephiles rally around. If you haven't written a 10,000-word Letterboxd review touching on utilitarian ethics, Christopher Nolan's formal innovations, and period menswear, do you even love movies? —Nate Jones
.

The Festival Hit That Will Have Legs
Past Lives
The other cinephile pick of the summer is smaller than Oppenheimer, but when all is said and done, it could be the one that emerges triumphant with critics — and with Oscar. It's Past Lives, a decade-spanning romance from playwright Celine Song that hits theaters in June on the back of nearly unanimous raves from Sundance. Reviews from Park City hailed it as "exquisite," "miraculous," and "devastating," and more than one named it a shoo-in for best-of-the-year honors. In other words, it's the perfect counterprogramming for the brainless summer season — and from a studio, A24, that knows how to polish a little gem until it shines. —N.J.
.

The Studio Comedy That You Shouldn't Discount
Strays
No, I don't actually think Strays, an R-rated comedy in which Will Ferrell voices a dog who wants to bite the dick off his jerk owner, Will Forte, will be the biggest hit of the summer. In fact, being a studio comedy — you know, the genre whose theatrical death we all bemoan but then turn our noses up at whenever one appears — there's a good chance it will underperform. But here's the thing: Our society will be better off if Strays turns out to be a hit. Yes, it'll probably lead to more foulmouthed animal movies in the near term, but if comedies can return to being proven moneymakers, we'll get better comedies being made overall. And once humans remember the joys of sitting in large crowds in movie theaters laughing at stupid jokes, the world will begin to heal. I'm not even kidding. —B.E.
.

The Superhero Movie That Will Be Great
Spider-Man: Across the Spider-Verse
This follow-up to the dynamic, heartfelt wonder that was 2018's Into the Spider-Verse has a lot of pressure on its shoulders. The film has to do more than just properly balance the explosion of an already high-caliber cast of characters — bringing the voice talents of Issa Rae and Daniel Kaluuya into the fold. It needs to be narratively moving and expertly balance its impulses toward sweet emotional arcs and eye-catching, elastic action sequences. I have faith in the animators, writers, and other artists involved in bringing this to life. That's enough to say on the level of craft, care, and sheer audience enjoyment — I believe Across the Spider-Verse will be the most successful of the superhero set of blockbusters this summer. If the creators and voice cast manage to match the energy of its predecessor, we'll have a powerful reminder of why masked-crusader stories can resonate so deeply with audiences. —Angelica Jade Bastién
.

The Superhero Movie That Will Finally Revive the DC Universe
The Flash
Ezra Miller's ongoing self-inflicted troubles may be enough to sink The Flash, but Warner Bros. is taking another risk that has been less scrutinized by the terminally online: It's bringing to the screen a remixed version of The Flashpoint, an important, highly critiqued cross-universes comic book event that led to a revamp of the DC Comics universe and paved the way for the New52, a mistake on so many levels that the company is still shaking it off. I've heard buzz that The Flash is much better than the trailers would have you believe, but that's beside the point in a market in which superhero films aren't rewarded for being good so much as being inoffensive. The Flash may not win the summer entirely, but I have a suspicion that WB's big bet on a controversial adaptation will perform better than expected and set the stage for James Gunn to remake this cinematic universe for the better. —A.J.B.
.

And Yes, The Brand Too Big To Fail
Mission: Impossible — Dead Reckoning Part One
We no longer have movie stars; we have carefully managed, smooth-to-a-fault brands. And no actor exemplifies this shift more than Tom Cruise. The seventh and penultimate entry in the Mission: Impossible world will be something even bolder than a simple franchise installment — it will be the most powerful and successful brand-management extension project this summer will see. (Though I'd also bet it will become the most successful at the box office.) After Top Gun: Maverick's financial and critical success, Cruise proved he has a keen understanding of what audiences desire in their biggest blockbusters, demonstrating a death drive that theatergoers (including me) find wildly curious. Lt. Pete "Maverick" Mitchell did it with dogfights, and superspy Ethan Hunt will do it with international foot chases. With Christopher McQuarrie on writing and directing duties once more and a sprawling cast of character actors and burgeoning stars to support Cruise, Mission: Impossible 7 promises the same kind of blissfully bombastic entertainment — albeit this time globe-trotting — that it took to lure people back into theaters in 2022. This year, M:I 7 will solidify Cruise as a shiny action-movie product that can't fail. —A.J.B.