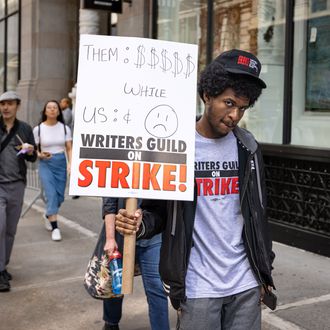 Photo: Michael Nigro/Pacific Press/LightRocket via Getty Images
The ongoing Writers Guild of America strike has been defined by its signage. Picketers on both coasts have gone viral for signs ranging from "It's one writer, Michael. What could it cost? Ten dollars?" to "Give up just one yacht." Perturbed by issues ranging from a lack of residuals on streaming shows to overall poor pay and the continued leadership of Warner Bros. Discovery CEO David Zaslav (a favorite individual to target), members of the WGA have put pen to poster board and made their grievances known through wit. Their signs are well-served on social media, which, in the years since the 2007–8 strike, has ballooned into a location as important as New York or Los Angeles and where a bit of wit and righteous anger are an eternally successful combination. Much like the protest itself, which has called on the Screen Actors Guild and Directors Guild of America to join in the fight, the signs are a group effort.
In preparation for the first day of striking, ideas were pitched in a Google Doc, according to Josh Vazquez, an internal organizer at the WGA East. Now, more than three weeks in, it's free rein. The signs are made weekly in large groups, and a recent sign-making session had around 90 people in attendance. There are a few rules when it comes to materials — in New York, protesters must use soft materials (like toilet-paper rolls) to hold their signs up, while in L.A., they have the ability to use wood, according to WGA East captain Greg Iwinski — but the content is not policed. "The signs are working," one WGA captain told me during a picket line in front of HBO and Amazon offices during week two of the strike. "We're getting attention, because we're writers." The signs certainly feel like the work of writers who don't have much else to focus their creative energy on. While picketers are welcome to bring their own signs, most of them are distributed at the pickets, and on days when protesters stretch beyond a city block, they create a formidable mass of white and red.
While attending a picket line on May 10, I noticed some writers and supporters with their signs already in tow, but typically the signs are collected in a centralized location for distribution at the pickets. Over in L.A., themed gatherings like the Netflix Trans Takeover and the Newsies protest have started to proliferate. In New York, the signs are brought to protests in large black garbage bags and, on arrival, distributed willy-nilly. While pictures go viral of big-name picketers carrying self-referential signs, like Quinta Brunson holding one with an an Abbott Elementary–themed message at a WGA West gathering, most of the picketers I've seen, whether they're negging Zaslav or punning with "Do the write thing," are anonymous. Either way, it creates a united front.
But while the signs have a tendency to go viral, studios and streamers likely aren't paying much attention to that — after all, no boycotts that could affect their bottom line have been announced (yet). The signs are more for the people holding them than those they're aimed at. "The goal of all of this is, in reality, to get the seven companies of the AMPTP to come back and negotiate with us," Iwinski said. "I don't know if a witty sign is what gets them to come back, but what it does do is keep morale high, build camaraderie, and help us remember what we're good at, which is entertaining people."