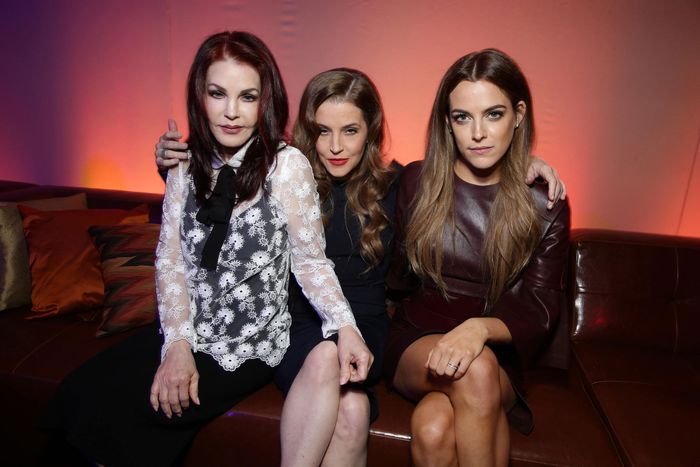 Photo: Eric Charbonneau/Invision/AP/Shutterstock
Update, May 16: Priscilla Presley reached a settlement over the dispute surrounding her late daughter, Lisa Marie Presley's will, the Los Angeles Times reports. "The parties would like to report that they've reached a settlement," Ronson J. Shamoun, Priscilla Presley's attorney, told a Los Angeles judge on May 16, describing everyone in the family as "happy" and "united" after the hearing. Specifics of the settlement were not discussed in court, and attorneys for both parties filed motions to seal the agreement, per CNN. The disagreement arose after the elder Presley disputed a 2016 amendment to her daughter's will, which said the late Lisa Marie had removed her mother and former business manager, Barry Siegel, as co-trustees and replaced them with her children Riley and Benjamin Keough, the latter of whom later died in 2020. A new hearing is set for August 4.
The original story, published March 24, follows.
When Lisa Marie Presley, Elvis's only child, died after experiencing cardiac arrest at her home on January 12, her family seemed unified in grief. "It is with a heavy heart that I must share the devastating news that my beautiful daughter Lisa Marie has left us," Priscilla Presley, her mother and Elvis's ex-wife, told People. "She was the most passionate, strong and loving woman I have ever known." In a statement from her family shared by Graceland's management, surviving relatives said, "Priscilla Presley and the Presley family are shocked and devastated by the tragic death of their beloved Lisa Marie. They are profoundly grateful for the support, love and prayers of everyone, and ask for privacy during this very difficult time." But as the weeks wore on, it seemed that sadness was the only thing tying Lisa Marie's family members together. Soon, control over Lisa Marie's estate seemed like it was tearing them apart.
In late January, Priscilla's legal team filed paperwork in a Los Angeles court challenging the "authenticity and validity" of an amendment to her daughter's trust that left Lisa Marie's daughter Riley Keough as the sole trustee. Priscilla's legal challenge argues that a 2016 change to Lisa Marie's trust is suspect. Priscilla claims Lisa Marie's signature on the document appeared "inconsistent" with past signatures and that her name was spelled incorrectly. Before the 2016 paperwork, Priscilla and Lisa Marie's former business manager Barry Siegel were listed as co-trustees — the amendment that is now in dispute takes control of the trust away from Priscilla. (Siegel has reportedly said he wants out of the co-trustee role.) So far, Keough has not filed paperwork in response. Keough and her half-siblings, 14-year-old twins Harper and Finley Lockwood, are beneficiaries to her trust — which counts the Graceland mansion and 15 percent of Elvis Presley Enterprises among its assets, per the Los Angeles Times. Before her death, Lisa Marie appeared to be drawing in lots of money related to her stake in Elvis Presley Enterprises — even though most of the $97 million received when she sold 85 percent of it in 2005 has been "depleted." In 2022, Lisa Marie received $1.25 million in income from the trust, which is valued at "tens of millions," according to the New York Times.
Sources have been telling tabloids that the grandmother and granddaughter, who supported Baz Luhrmann's Elvis together along with Lisa Marie, are in a very bad place. One of Lisa Marie's confidants told "Page Six" that Priscilla's challenge was a "money grab" and that the pair had "no relationship" when Lisa Marie passed away. A hearing in the legal dispute is now scheduled for April 13, and a lot of questions remain about the family's trust issues.
Christopher Melcher, a celebrity attorney and legal analyst, said that it's "common" for people to place their assets in a trust while they are "estate planning" — figuring out who gets what upon death. It's an easier — and cheaper — way of leaving assets to the people. The trustee, in turn, is in charge of carrying out the deceased person's wishes with the handling of an estate. If there's a will but no trust, then everything has to go through "probate," involving the court. Priscilla's petition maintains the pre-2016 doc is what Lisa Marie wanted, which would leave her and Riley as co-trustees.
"Priscilla thinks it's fraudulent, [and] that Lisa Marie didn't sign this," Melcher said. "That is a ridiculous position for Priscilla to take." Melcher said it's "common sense" that Lisa Marie would want her children handling the assets. "When Elvis died, he had one child, which was Lisa Marie — he wanted everything to go to Lisa Marie," Melcher said. "Priscilla and Elvis were divorced and he made a conscious choice not to leave Priscilla in his will or estate. When Lisa Marie expressed her wishes, she wanted her children to inherit her estate." Melcher doesn't think that Priscilla has much of a legal leg to stand on, as Keough and her two minor half-sisters are poised to get the estate anyway. "Riley's got the better legal argument."
Regardless of who might or might not have a better claim to control of the trust, it's poised to be a long and complicated process. Benny Roshan, who chairs Greenberg Glusker's Trust and Probate Litigation Group, explained that the dispute is in its very early stages. Priscilla filed a petition. Keough can reply, or she could decide not to file anything. "We're not likely to see an actual ruling on the underlying petition or filing on April 13," Roshan said. "This is not the first and last that we'll see of this petition." As for how long it could take to resolve everything, it depends on whether there's disagreement over Priscilla's petition. If nobody wants to fight Priscilla on this, everything could be resolved as shortly as in a few months. But if there is a conflict — which it sure looks like there is — it could take "upwards of a couple of years to resolve." As for who has a better case, it depends on the facts. "If Priscilla Presley is right, then I think she has a strong case, and she might get the relief that she's asking from the court." But "that's a question mark for us."
As this is happening, Keough is starring in the popular Prime Video series Daisy Jones & the Six, about a rock-and-roll band dealing with all the lasting repercussions of fame, from money issues to crumbling relationships. And Priscilla is promoting the new animated Netflix series she co-created called Agent Elvis, about a crime-fighting version of the man at the center of this whole mess.