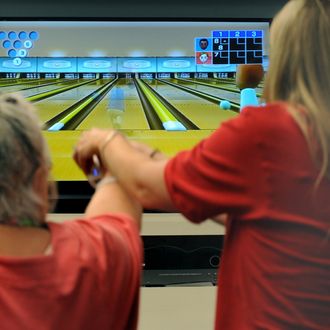 Gamers pictured circa 2008.
Photo: Michael Williamson/The Washington Post via Getty Images
Wii did it, y'all. On Thursday, New York's Strong National Museum of Play announced that Wii Sports has officially entered the World Video Game Hall of Fame, which recognizes games that have "enjoyed popularity over a sustained period and have exerted influence on the video game industry or on popular culture and society in general." Fellow 2023 inductees include The Last of Us, Computer Space, and, in a win for gamer girls, Barbie Fashion Designer. These games will be on display in a newly-expanded Strong Museum on June 30, and are now among 40 titles that have joined the World Video Game Hall of Fame since it was established in 2015.
In particular, Wii Sports was praised for its "in-depth storytelling, intimate exploration of humanity, thrilling game jumps and cutscenes, and its memorable characters" — no, sorry, that was the press release's description of The Last of Us. Nintendo's sports simulation was actually praised for the way its accessible motion-based technology helped redefine the concept of who a gamer could be, from little kids to senior citizens. (But come on, anyone who has ever made a crowd of Miis jump by accidentally throwing their bowling ball backwards or suffered through a slo-mo replay after losing a tennis match knows that Wii Sports can also be an incredibly intimate exploration of humanity.)