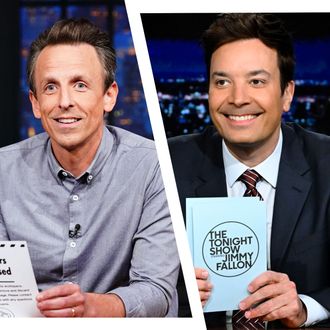 Update, May 17, 2023: Following the end of NBC's and Jimmy Fallon's commitment to pay staffers of The Tonight Show Starring Jimmy Fallon for three weeks of the WGA strike on May 19, staffers of the show will be put on "unpaid leave," HuffPost reported. Meanwhile, sources stated that Seth Meyers, Jimmy Kimmel, and Stephen Colbert are "continuing to keep their staffs paid" for now.
Original story published May 3, 2023, follows:
Late-night TV was the first domino to fall after the WGA strike began on May 2. Television's entire slate of late-night programming — with the exception of Bravo's Watch What Happens Live and Fox News's Gutfeld — has gone dark. The uncertainty of these shows' futures has raised questions about the fate of the non-striking staff members: Will they continue to be paid for the duration of the strike? Will their health benefits be interrupted? Will networks try to use their financial status as leverage to try to pressure hosts back to work? Long-term, these questions remain, but on May 3, it was reported that employees of The Tonight Show Starring Jimmy Fallon and Late Night With Seth Meyers will be getting a little bit of cushion to tide them over for the time being. Employees of both productions will continue to be paid for at least three weeks of hiatus, with two of the weeks being funded by NBC and an extra week of compensation being covered by Fallon and Meyers themselves. Their health-care coverage has also been extended until September.
The move mirrors that which was taken by late-night hosts during the last writers' strike in 2007–2008, when Conan O'Brien, Jay Leno, David Letterman, and Jimmy Kimmel stepped up to the plate to pay their crews while their shows were off the air. Late-night hosts similarly paid their employees' salaries from their own pockets when their productions were shut down due to the pandemic in 2020. Meyers and Fallon have both expressed support for their writers publicly, with Meyers calling their demands "very reasonable" and Fallon saying "they got to get a fair deal."