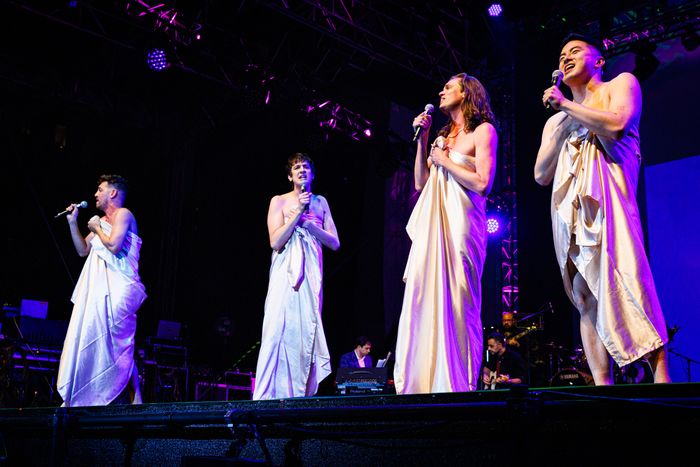 A quartet of Gay Guys (Famous) perform "Breathe," by Faith Hill (also famous).
Photo: Sachyn Mital/2023 Lincoln Center for the Performing Arts
Culture's biggest night occurred on June 17 at Lincoln Center, and we're not talking about anything included in the acronym EGOT. No, bitch, each of those awards only celebrates one medium, making them jester flops in the town square. Instead, we choose to celebrate the Las Culturistas Culture Awards, in which all media that truly makes up culture is celebrated — from film to music to podcasting to Gay Guys (Normal) and all the things in between.
The second annual LCCAs, hosted by Las Culturistas co-hosts Matt Rogers and Bowen Yang, featured special guests like Vulture sister Pat Regan, musical performances, and a shocking loss by Kiwi actress Melanie Lynskey. But as any awards-season junkie will tell you, the real winners and losers of any given show are not the bolded or non-bolded names on the lists published in the trades but the people and things that made the biggest impact of the night. Idina Menzel may have never won an Oscar, for example, but she won the 86th Academy Awards when John Travolta called her "Adele Dazeem," thus distracting the audience from the fact that she couldn't really hit those notes live. Success!
As such, here are the true winners and losers of the 2023 Las Culturistas Culture Awards:
Winner: Teachers, artists, neighbors
Before any culture award–giving occurred, Lincoln Center sent out a lovely woman to give the opening speech, in which the entire audience was asked to thank their teachers, artists, and neighbors in a call-and-response. So again we say, "Thank you, teachers, artists, and neighbors."
Winner: Kimberley Locke
Not only was American Idol season two second runner-up Kimberley Locke's song "8th World Wonder" nominated for Record of the Year, but it opened the show. Rogers and Yang sang the track accompanied by four cute dancers in red. The one stage right when they were all at front should feel free to call me at (603) 73 … Sorry, I've been told that's not allowed.
Loser: Annie's Mac & Cheese
Kraft Mac & Cheese was a sponsor of the night, and the audience was led in a group reading of the famed Las Cultch ad for the product. Annie's can go choke.
Winner: Kayteighs
Although the night had representation from all four major Las Cultch listenerships (Kayteighs, Readers, Finalists, and Publicists), when prompted, it sure did seem like Kayteighs were the most plentiful and passionate group. Congrats, girlies (non-gendered)!
Winner: Miss Culturista Patti Harrison
Back for a second year as Miss Culturista, Patti Harrison was in luck when the weight of the award was reduced by four ounces from last year, thus making it much easier to carry.
Winner: Zane Phillips's butt in a jumpsuit
Star of the upcoming Netflix show Glamorous and the film Fire Island, Zane Phillips was present at the awards for line-reading purposes in the categories Kindest Greeting and Most Memorable Line in a TV Show alongside presenter, actress, and star Jo Firestone. But the real winner of these categories was not "Bonjour, boo" or "Cook my meat" but the audience, which got to see Phillips's butt in his jumpsuit.
Winner: The cast of Titanique
In addition to performing the song "If You Asked Me To," by Celine Dion, the cast won the illustrious award for The Kimberly Akimbo Award for Best Indoor Live Performance. Slay.
Loser: Bonnie Milligan (not present)
Unfortunately for her, former Record of the Year performer Bonnie Milligan could not be present at this year's awards ceremony, because she had to perform her Tony Award–winning role in the Tony Award winner for Best Musical, Kimberly Akimbo, and was relegated to video status. Sad for her.
Winner: Andy Cohen, who will be becoming gayer
While accepting his award for Best Gay Guy (Famous) via video, Bravo's Andy Cohen promised to become gayer in order to fulfill the promise of his category. We cannot wait to see him dressed like Tomás Matos at the next RHONY reunion.
Loser: The technically correct '90s in favor of 90's
In the illustrious category "Amber" Award for Best 90's Name, the decade, in fact, appeared as 90's as opposed to '90s. Tell AP Style that Las Cultch is coming for them.
Loser: Twinks who wish to speak (which is to say, all of them)
Alan Cumming received the award for Outstanding Reality Competition Host and, unfortunately, could not come in person (though he did send in a video acceptance speech). His award was instead accepted by silent twink assistants, who were not even allowed to utter a singular "Gagatrondra" or "Padam."
Winner: La Guardia Airport
La Guardia Airport won three awards and received a video montage set to "Glamorous," by Fergie — one of the most glamorous songs in history.
Winner: Cate Blanchett
She won the Cate Blanchett Award for Good Acting.
Loser: Anyone who wanted to hear Cate Blanchett speak
She chose to celebrate with confetti in silence.
Loser: Kylie Minogue's appendix
Kylie Minogue was somehow both on Long Island and at Lincoln Center, though it was notable how much she looked like Patti Harrison. Unfortunately for the Aussie superstar, her appendix burst twice during her performance of the seminal pop classic "Padam Padam." But, like a true professional, she soldiered on.
Winner: The continued relevance of Mommie Dearest
After winning the Allison Williams Cool Girl Award, Wicked starlet Ariana Grande sent in an acceptance speech showing off her Mommie Dearest knowledge, speaking alongside Faye Dunaway as Joan Crawford. Combined with that RuPaul's Drag Race Rusical from a few weeks back, it looks like Mommie Dearest's hold on the Gay Guy and Gay Guy–adjacent community continues.
Winner: Jessica Chastain
She may not have won the Tony, but she did win the LCCA for Best Dressed."Happy for you, queen.
Winner: Matt Rogers's brown underwear while performing "Breathe," by Faith Hill
Rogers and Yang were joined by Josh Sharp and Aaron Jackson for a performance of Record of the Year nominee "Breathe," by Faith Hill, all wearing very sensual bedsheets. While Yang, Sharp, and Jackson kept their sheets close to their bodies at all times, you can't keep Rogers from strutting (why would you want to?), and soon the sheet was a bit askew and his lovely, earth-toned underwear was in full view — as it should be. Slay, mama.
Loser: Singing "Breathe," by Faith Hill, in unison
At one point during their rendition, the quartet broke into beautiful harmony, which was stunning. Unison is over. Harmony is my new best friend.
Loser: The fan who wanted Melanie Lynskey to win Finalist of the Year and screamed it, but then D'Arcy Carden won and accepted the award in person, and it was honestly kind of awks
Sorry, but congrats to D'Arcy.
Winner: MUNA, hot
MUNA was there, and they were all very hot and even funny. Technically, they all did lose the MUNA Award for Hottest Queer to their own fans, but that was the hotter option anyway.
Loser: The idea of "All I Want for Christmas Is You" without a rap verse
Fire Island stars Nick Adams and Tomás Matos blessed our ears with a rendition of "AIWFCIY," by the Elusive Chanteuse, Mariah Carey. While it was going extremely well beforehand, the rendition really took flight when it came time for Matos to perform their surprise rap verse about the very event we were all at! It was shocking and beautiful. Make this the official version!
Winner: Kylie Minogue, who may not have a working appendix but does have bedbugs and a Las Culturistas Culture Award
Minogue accepted the award for Record of the Year for "Padam Padam" in her trademark Australian accent. She may not be known to any straight Americans, but in that room on that night, she was the biggest star in the world.