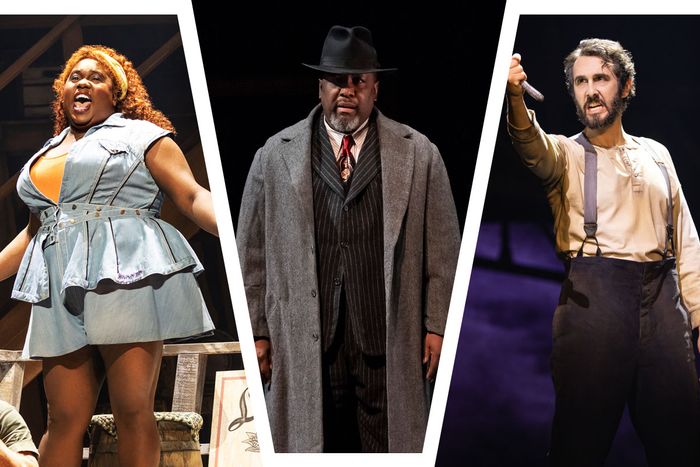 Photo-Illustration: Vulture. Photos: Matthew Murphy & Evan Zimmerman (Shucked and Sweeney Todd); Joan Marcus (Death of a Salesman)
Here are all the 2023 Tony Award winners.
Much like Warren G. Harding, this current Broadway season has campaigned on a return to normalcy. Also much like Warren G. Harding, that campaign has had mixed results. This year's Tony Awards will take place on Sunday, June 11, in a mysterious unscripted format thanks to the WGA strike — a somehow fitting capper to a season with high highs, low lows, and the anxious feeling of not quite equilibrium. Only the dire economic reality of Broadway and its desperate need for televised publicity persuaded the Guild to grant a limited exception, allowing the show to air. We've already written about the state of many of the races, but in a just world, who will be happily spinning a trophy en route home on Sunday evening? Two Vulture theaterheads, critic Jackson McHenry and staff writer Devon Ivie, got together to discuss this year's slate.
Devon Ivie: Let's start off swinging here. Which of these nominations do you feel was the least deserved? Because I have one show in mind.
Jackson McHenry: Wow.
Ivie: Is that too pointed? I'll rephrase. Which of these nominees gave you the most pause?
McHenry: I was surprised New York, New York got the amount of affection it did because the show didn't work for me. I will say the very broad fantasyland version of New York it presents may convey that it's a self-conscious throwback to a different kind of musical, and that's something I can imagine Tony voters liked. Its lead, Colton Ryan, was nominated for his performance, and I know a lot of people actually did like him. Looking back, it was in some ways a thin-feeling season. So I guess you have to fill out the list of nominations with something.
Ivie: New York, New York was also the show I was thinking of. Colton was miscast. I think what confused me most, and maybe you noticed this, was he played his character like a drunken limey the entire time, even in the second act where he apparently gets sober — he didn't change his portrayal at all. It didn't track, though I'll give kudos to that terrific tap-dance number he does on top of a skyscraper. The show just left a lot to be desired. I remember walking away thinking, Lin-Manuel Miranda actually contributed to this?
McHenry: The book for New York, New York, which I think is especially thin, also got nominated. Pointedly, Aaron Sorkin's revised book for Camelot did not, and though I had problems with that, too, it was a better choice. The voters really seemed to have given a thumbs-down to Camelot, which I was lukewarm about and other people more strongly disliked.
But we should talk about Some Like It Hot, which did get a ton of nominations. I admired it technically, and it contains some really good set pieces, but nothing there remains with me at all emotionally. There's interesting writing for J. Harrison Ghee's characters as they come to terms with their nonbinary identities, but the songs haven't stuck in my head — aside from "Let's Be Bad," which is just a song from Smash.
Ivie: I was eagerly awaiting your first Smash mention.
McHenry: I know you liked Some Like It Hot.
Ivie: I did. I thought the most spectacular musical number of the season was the show's chase choreography for "Tip Tap Trouble." Oh my God. That is what Broadway is to me — being swept away by a meticulously crafted song-and-dance routine. How did they make all of those doors dance? When friends have come to me over the past few weeks and asked, "If I can spend money on only one musical this entire year, what should it be?" I always suggest Some Like It Hot. Is it a little slick? Sure, but there's a lot of joy there.
McHenry: See, when people ask me that, I send them to Kimberly Akimbo. It's certainly a smaller-scale show, but it has such an emotional loveliness and texture.
Ivie: Yeah, we need more people to experience Kimberly Akimbo. It's been referred to as a "nerdical," which I think is a dumb term and cheapens it. There's so much heart in it. But I have a gut feeling the Tonys will crown Some Like It Hot. The appeal is bigger, and it's more of a crowd-pleaser.
McHenry: I support a nerdical. Who wouldn't like a show with a character who speaks Elvish? Nobody I want to know.
Ivie: Here's something I've been thinking about recently: When I reported that anonymous Tony voters' column, one voter posited that the artistry behind crafting jukebox musicals — incorporating preexisting music into a structure — was more difficult than creating original ones. I don't agree. There's no way finding a clever slot for "I Want It That Way" in & Juliet is comparable to crafting an original song like "This Time" in Kimberly Akimbo. But maybe enough people believe it.
McHenry: For ticket buyers, it's great. & Juliet is making tons of money. But for Kimberly Akimbo, I've been listening to the cast album a lot and thinking about how much work those songs have to do — both in establishing character and structure. The way the mother is so kooky-seeming initially and then gets her "Father Time" song to get her perspective, even though she initially seems so superficial, is really well crafted.
Ivie: I don't think a jukebox show could ever get my full Tonys support: I wouldn't have been happy if MJ won last year, and I can't imagine & Juliet taking it in 2023.
McHenry: I don't think I've ever seen a jukebox musical that has fully convinced me the songs are showing the character's emotions in the same way. & Juliet is a fun time. I love getting shot at by confetti cannons. I can't deny that I enjoy hearing Céline Dion and Katy Perry songs belted at me by people with great voices. But I was never convinced of its being well crafted.
Ivie: It's the perfect bookend to a "cocktails with the girls" type of night. I assume it'll have a very long touring run.
So what about the Shucked phenomenon? It's having a deservedly viral moment. It leans into the corniness. I thought the original songs were fantastic. I remember thinking to myself after "Somebody Will" crescendoed, Oh my God, This could've been a Morgan Wallen song and reached the Billboard charts. 
McHenry: Shane McAnally and Brandy Clark are really good at their jobs. I like Shucked a lot. It's intent on doing exactly what it wants to do, which is make you have a fun time and laugh a lot in the theater. I'm not really won over by it emotionally, especially the main storyline with Maizy and her fiancé, Beau. It's cookie-cutter, and that's fine, but it doesn't feel like it has any larger ambitions.
Ivie: Are you saying puns can't win Tonys?
McHenry: Avenue Q won! Maybe Shucked has a good chance of pulling off a surprise where you vote with your funny bone. You have to be on the right wavelength to appreciate it: I'm going to see something that knows it's making jokes that are clever in that they are so intentionally dumb. I'm still betting Kimberly gets a win for Best Musical. I see the precedent for a well-crafted, less commercial show winning in The Band's Visit's win in 2018 and A Strange Loop's win last year, but this is a much closer race than either of those.
Ivie: We definitely need to give a Vulture Honorary Award to Shucked's Alex Newell for "Independently Owned" if somehow they don't win on Sunday. Every season we have one barn-burning hell-raiser performance where everyone stands up to applaud for five minutes, and this was it.
McHenry: Absolutely. It's a number built to stop the show, and they do. I assume they will win the Tony for Best Featured Actor. It's sort of the ideal featured role where you're just like, Here's a scene you can kill. Tear the roof off. The same goes for Bonnie Milligan's "Better" in Kimberly Akimbo. The two of them have all but locked down their categories with those high notes alone.
Ivie: I recently reread a Pitchfork feature in which the site rescored several previous reviews with new grades — some albums got higher marks, while others fell with age. It got me thinking about you as a critic and if you've had retroactive thoughts about the shows you've seen this season.
McHenry: Honestly, no — I'm confident in my opinions, at least the recent ones. Maybe even more so with a little distance. I didn't review some of the shows that were nominated, so I'll say here that I really liked and admired Cost of Living. As for Leopoldstadt, which I assume will win Best Play, I thought it was really interesting but not quite successful. It's a little more rangy and less precise than some of Tom Stoppard's best work, and I liked seeing a personal exploration from him, but I felt it wasn't quite fully baked. In a way, it's a pity that's the one that has taken up so much space at the center of the campaign season. I imagine the runner-up is Fat Ham, a play that I thought was conceptually interesting but that wasn't executed as completely as it might have been. Did you see Fat Ham?
Ivie: I did, and I understand what you mean. I thought it worked until the Vegas-style sequence at the end, which seemed tacked on. They wanted to reclaim the ending to make it more joyous, but it was jarring to explode the tone so abruptly.
McHenry: I got frustrated. The ending is very intent on saying, "Let's rewire Hamlet into not being a tragedy," in a way that abandons the logic of the characters. I think Between Riverside and Crazy is a great play that had an incredible performance from Stephen McKinley Henderson at its center. It's just a really thorough portrait of a vivid New York character. You lean back in your seat and trust in the confidence of the writing. I also had a lot of fun at Ain't No Mo', and I was happy to see it recognized because it opened and closed so quickly.
Ivie: This may surprise you, but I've started to cool on A Doll's House since seeing it several months ago.
McHenry: Go on.
Ivie: The more I thought about it, the more issues I had with the staging decisions. Jessica Chastain is one of the finest working actresses going; this is a master class, and I would recommend it to anyone just to see her. But she's relegated to chair acting, and roughly half the audience couldn't physically see her in her climactic exit scene. I had to crane my head just to see what was going on, and I was in the orchestra. It's a huge deprivation that most of the audience couldn't experience that catharsis. All that said, I'm going to be rooting for Jodie Comer for Best Lead Actress in a Play. It's a one-woman show with very heady subject matter, a monologue of nearly two heavy hours, and she is somehow able to do that eight times a week in her first time on Broadway? You would never, ever think doing this in London and now here was her first professional stage-acting role.
McHenry: There are only four nominees in that category. Jessica Chastain does a lot of interesting work in A Doll's House, but I agree that the production is misguided. Jamie Lloyd's approach is just too reduced given that A Doll's House is about the bourgeois middle class and keeping up appearances. It doesn't feel like a complete thematic statement.
Ivie: It was almost like they were still in rehearsals.
McHenry: I had good seats, so I had a perfect view of her leaving. But I've talked to so many people after the show who weren't able to see the final moment. Because you're like, Why are you not staging for the full audience of people who are spending a lot of money on tickets to see Jessica Chastain? She still seems unlikely to beat Jodie Comer despite a lot of campaigning, but that makes it seem all the more likely that A Doll's House wins Best Play Revival. The competition has either already closed — like Topdog/Underdog and The Piano Lesson — or is running but not a favorite, as with Sidney Brustein. It got no love for Oscar Isaac or Rachel Brosnahan. Miriam Silverman's got that great performance as Rachel's bigoted sister that has been awards fodder in previous productions, and I bet it will be again. I think the voters will shift their Jessica affection right over to A Doll's House as a whole.
Ivie: That reminds me of something: A Doll's House and Parade share a staging decision. Jessica comes out before the show begins and spins on a turntable for ten minutes, and Ben Platt remains onstage during Parade's intermission to convey his life in a jail cell. Do you think something like this enhances the theatergoing experience, or is it just a tasty bite for Instagram Stories? We get more quality time with the actors, so I'll call it a plus either way.
McHenry: I think the instance that comes to mind immediately is that Old Deuteronomy in Cats sits onstage in the intermission. Jessica's picking up where the Jellicles left off.
Ivie: It always comes back to Cats.
McHenry: Good on Ben Platt just sitting there drinking his water during intermission. I've thought to myself, What if he has to go to the bathroom? I think it's an interesting way of engaging with the demands of the current Broadway audience wanting some Instagrammable moment to prove they were there. Maybe they can put Jessica onstage at the Tonys — have her spin around for the entire three hours from Pluto TV to CBS.
Ivie: It seems Josh Groban is the main competition against Ben Platt. When I first heard he was playing Sweeney Todd, I remember being like, This is the man who played Andy's brother in The Office. Are you sure? But I thought channeling Sweeney's mentality into a place of grief instead of menace worked well in this setting. Josh isn't exactly a frightening guy, you know what I mean? He's got a marvelous baritone. He's just not physically who I would've envisioned for the role. I was giggling during the number where he was crooning and slitting his clients' throats one by one on his barber's chair. I still think he pulled it off, and if it were up to me, I would vote for him.
McHenry: I think J. Harrison Ghee might win Best Actor in a Musical, actually, if only because I think Some Like It Hot won't win Best Musical but has enough affection that the votes will coalesce around its best performance. But I also think Josh and Ben are solid competition! I feel like it's important in life to never underestimate what an Evan Hansen might accomplish. I wasn't as won over by Groban's performance. To me, Annaleigh Ashford is the standout in that show. She just goes so hard into the comedy, twirling around on the floor, doing an absolutely wild Cockney voice. I've talked to people who found her overbaked, but I think she's a potential spoiler for Best Actress in a Musical if it doesn't go straight to Victoria Clark. Personally, I would also give it to Victoria, but I'm Akimbo-pilled.
Ivie: Who are these people against Annaleigh? Can I have a strong word with them? She had me in stitches with "The Worst Pies in London." Another vote for her! Listen, as someone who only got Ben Platt exposure from reading about the uncanny-valley Dear Evan Hansen movie, I went into Parade a bit biased. But I thought Ben was terrific. He has a gorgeous singing voice, and I felt the emotional weight of every note. It's interesting that we have two couples' pairings for the acting categories, with Ben and Micaela Diamond and Josh and Annaleigh.
I use the word impossible a lot with Kimberly Akimbo because I think Victoria achieved it: She believably played a person decades younger than herself without coming off as a caricature. I think the Tony should go to her.
Something I'm also thinking about is the passage of time: Into the Woods, even though it was extended several times, closed months ago. You can take the subway to the Theater District right now and see any of the other musicals. The idea of immediate gratification is more important than I think voters admit.
McHenry: I can't remember who first said this, but Into the Woods is the Top Gun: Maverick of the Tony season because of Sara Bareilles and the affectionate reviews. It opened over the summer, was making lots of money, and brought in audiences at a time when there was so much anxiety about ticket sales and anxiety about getting people to return to the theater after all of the pandemic restrictions. I could see Into the Woods, Parade, or Sweeney Todd winning. Camelot's nomination is a "happy to be here" situation. It's a true three-way race, which I think Parade will win by a hair. It's a messier musical, but that makes the effort the revival puts in all the more apparent — and I think the Sondheim votes may be split. I wasn't all the way there with the heavy-handed directorial choices Michael Arden makes in Parade, but they're heavy-handed in a worthy direction highlighting the pervasiveness of antisemitism.
Ivie: If I may introduce another metric, can we praise the Sweeney Todd orchestra? I went to check out the pit at intermission and it was staggeringly robust. So many bassoons and French horns!
I'd now love to hear your thoughts on the acting nominations for plays. I wasn't able to see them all, but Topdog/Underdog blew me away. I walked away with emotional whiplash from the two leads.
McHenry: It's great that Corey Hawkins and Yahya Abdul-Mateen II were nominated. Corey is someone I'd mostly seen in films like In the Heights and Kong: Skull Island, but he didn't have a lot to do in those bigger Hollywood projects. So I was happy to see him level up as an actor in Topdog/Underdog, giving a nuanced, tragic, and detailed performance that held my attention. I'd have a tough time choosing between Corey and Stephen McKinley Henderson for Best Actor in a Play, though I'd lean toward Stephen. His work in Between Riverside and Crazy is just towering. The voters, I bet, are more split between him and Sean Hayes. Good Night, Oscar is still running, and Hayes plays the piano in it — people love a talent showcase. But Stephen's performance lingers in a lot of people's minds. I'll predict he wins, giving in to my own hopeful bias.
Ivie: Let's not leave out Wendell Pierce in Death of a Salesman. I've appreciated reading further about how an all-Black cast adds an additional layer of subtleties to the text. It was a timely production.
Tell me this, what are some odds and ends of this theater season that you think are worth singling out? I didn't like Almost Famous, but I'm not mad that it has a nomination for Original Score. Cameron Crowe knows how to rock out. Led Zeppelin even relented and gave the show "Ramble On." Lord knows they're difficult when it comes to their music rights. Also allow me to shout out Jennifer Weber, who locked herself two Best Choreography nominations for KPOP and & Juliet. We should all be lucky to compete against ourselves one day.
McHenry: I liked that there was recognition for the score of KPOP, which opened and closed in the fall. Its book was a struggle — it didn't adapt well from the original immersive staging — but it was still a really fun show, and I'm glad the voters remembered it. I was also happy to see the number of featured performances in Cost of Living recognized. Katy Sullivan is so good in it, and Kara Young, who got a nomination last year for Clyde's, is one of those actors you're always happy to see pop up in something. Since both are in the Featured Actress category, I think Miriam Silverman still wins for Sidney Brustein, but I wouldn't be surprised by a Cost of Living upset — either there or in Featured Actor in a Play for the soulful David Zayas. In fact, the Featured Actor category could twist in a lot of directions: Arian Moayed in A Doll's House has an extra Succession attention boost, and Jordan E. Cooper of Ain't No Mo' could get an award as a roundabout way of celebrating his writing. I'd vote for Arian, the best performance in A Doll's House, but my money's still on Brandon Uranowitz. He's on his fourth nomination and really does stand out among Leopoldstadt's giant ensemble, so now's the time. Patrick Marber will also win for Direction of a Play for wrangling that ensemble. If a production wins Best Play, the director usually wins too. Jamie Lloyd's work reviving A Doll's House is the logical rival, but I think people are too cool on his chilled-to-the-bone approach there.
Ivie: If you could choose a defining high point of this season, a scene or a musical number that sticks in your mind, what would it be and why?
McHenry: I like ending on a positive note. There's a reprise in Kimberly Akimbo of the opening song, "Skater Planet," where the kids are hanging out in the school library and imagining their futures. One wants to go to MIT; another thinks about living in Rome. They're all playing Uno, and as it goes on, you realize Kimberly is sitting there confronting the fact that she's not going to experience any of that. I think about that moment so much.
Ivie: My moment was also a Kimberly Akimbo song — Bonnie Milligan's big solo number "Better." She's enlisting everyone in her weird moneymaking schemes and trying to get them to have fun with her. You're just like, Okay, more of that in every show, please.
McHenry: I do love that the quartet of show-choir kids comes in and sings harmony there. Wow, we're just sitting here plugging Kimberly Akimbo.
Ivie: Team New Jersey!