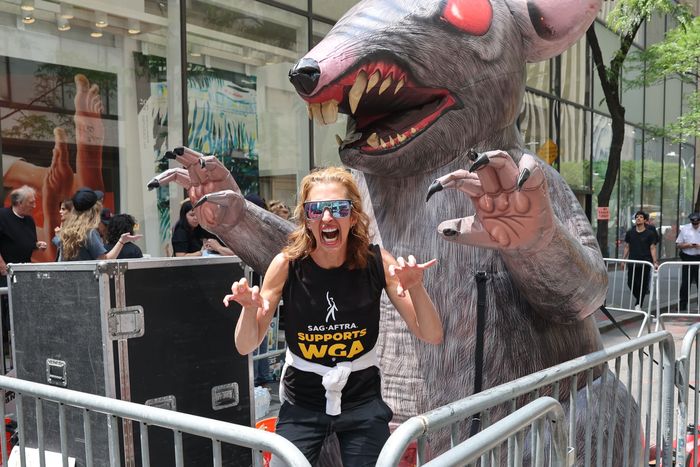 Photo: Getty Images/GC Images
Welcome to Vulture's Strike Recap, or Strike-cap, if you will, a regular rundown of all the biggest news from the WGA picket lines.
The hope from the outset of this strike was that, like in the final scene of Avengers: Endgame, the three unions would unite in a historic push to wrest power and money away from the studios and put it in the hands of the creative professionals whose work the studios exist to sell. Now here we are, with writers who have been on the picket lines for over a month finding out that there will be no dorky edits of Jon Avnet as Ant-Man attacking David Zaslav as Thanos. There is only disappointment, a really generous use of the word "historic," and an SAG strike-authorization vote that looms larger than ever.
The Directors Guild Has Left the Chat
On the night of Saturday, June 3 — a normal time to send people important emails and issue press releases — the Directors Guild of America announced it had reached a "historic" deal with the AMPTP. It came as a surprise to those who had thought this summer would be one of solidarity between three of the largest unions in Hollywood, who were all relatively aligned on wanting to firmly restructure how streamers were treating the people who make the stuff they stream. Instead, the DGA decided that the studios' current offer was good enough, with Puck's Jonathan Handel calling it a "solid deal" but raising his eyebrows at the use of the word "historic" to describe pay raises that don't seem to take into account that little inflation thing we have going on.
Spotted: Picket Lines in Atlanta
WGA-West board member Eric Haywood revealed he went down to the Hollywood of the South, a.k.a. Atlanta, Georgia, to set up some picket lines at the various productions currently filming down there. Among their targets was Bad Boys for Life, where the funny signs practically write themselves.
Not Spotted: Sidewalks
Writers have been loudly picketing Universal on the sidewalk, which is where people who aren't in cars are most able to safely exist while outside in a city. But as luck would have it, the studio was overcome by a sudden urge to dig, and it tore its whole sidewalk up. Maybe this is just an awkward coincidence and not, as Roman Roy would say, "a move," but the WGA isn't having it and has scheduled a show-of-force picket outside the studio for Tuesday, June 6.
The Strike Main-Character Award (Bad)
Apple TV+ probably wishes it wasn't named after something that rots, because it has walked right into one of the WGA's best-named actions: the #BadApple movement on Twitter. Writers are picketing Apple stores and sharing their tales of making content for an obscenely wealthy company that didn't seem interested in compensating them fairly for it — a pattern, maybe?
The Strike Main-Character Award (Good)
SAG-AFTRA finishes their strike-authorization vote at 5 p.m. PT today, meaning all eyes are now on them, which they probably all love because they're actors. And so far, the vibe online is very "voting yes for labor solidarity," so they're the main character (good) for now, the way Luke Skywalker is assumed to be good until he goes into that tree and has to prove it by cutting off the head of his future evil self. Will the actors cut off the heads of their future evil selves? Time will tell. Until then, SAG-AFTRA is the complicated hero of this show.
Do you have a story tip or interesting bit of writers-strike updates to share? Drop us a line at tips@vulture.com.