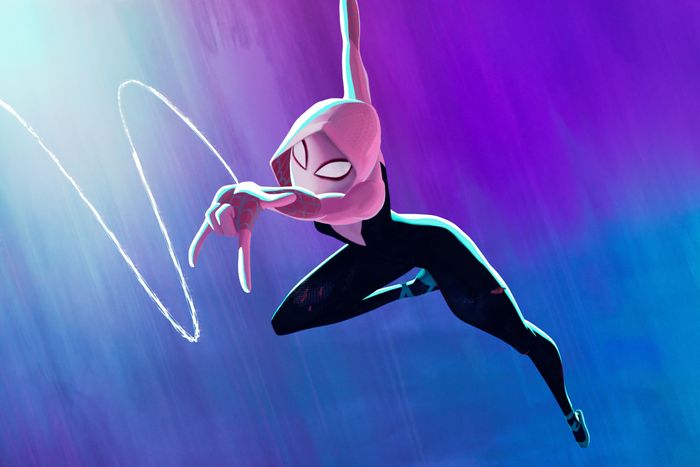 Spider-Verse
's Spider-Gwen, voiced by Best Supporting Actress nominee Hailee Steinfeld.
Photo: Courtesy of Sony Pictures
It was halfway through Spider-Man: Across the Spider-Verse that I had a thought: Is everyone in this movie an Oscar nominee? For an animated sequel, Spider-Verse's voice cast is noticeably stacked with past winners and nominees. Its opening sequence catches up with Spider-Gwen, voiced by Hailee Steinfeld, a Supporting Actress pick in 2011. Much thematic weight is given over to the parenting struggles of Miles Morales's father, voiced by newly minted Supporting Actor nominee Brian Tyree Henry. The film also contrives a way to bring back two-time winner Mahershala Ali as Miles's morally conflicted uncle Aaron, and one of the many new characters, an anarchic Brit known as Spider-Punk, is voiced by Daniel Kaluuya, who recently won an Oscar at the second time of asking.
Expand it beyond the Oscars, and the cast gets even more gold-plated. A pregnant, motorcycle-riding Spider-Woman named Jessica Drew is voiced by eight-time Emmy nominee Issa Rae. Despite his name, Oscar Isaac has never been nominated for an Academy Award, but the man who plays anti-hero Miguel O'Hara did get an Emmy nom for Scenes From a Marriage. There's also a live-action appearance from Donald Glover, reprising his role from Spider-Man: Homecoming, who by himself has two Emmys (from ten nominations) and five Grammys (from 12 nominations), plus vocal cameos from Andy Samberg (ten Emmy noms) and Jorma Taccone (11 Emmy noms; he edges Samberg thanks to an SNL writing nod from 2009).
It's only natural that Across the Spider-Verse should boast such a prestigious voice cast. After all, the original Spider-Verse won the Best Animated Feature Oscar in 2019, giving the series cred as a formally inventive, creatively free franchise that A-listers need not feel embarrassed to cash a check from. It got me thinking. When it comes to Oscar bona fides, how does the cast of Across the Spider-Verse measure up against other animated films?
As it turns out, not super well. When we compare the track records of the spider-sequel's cast with eight other famously stacked voice casts of recent vintage, it scores near the bottom of every metric. That's no slight on Spider-Verse: Many of its cast members are young and near the beginning of their careers. They simply haven't had time to amass the awards-season résumés that other star-studded casts have. Given their talents, it's a fair bet that the likes of Kaluuya, Henry, or Ali could return to the Oscar stage. But if they don't spring the superhero sequel to the top of the charts, who does?
Glover's Spider-Verse cameo brought to mind the 2019 Lion King, which the multi-hyphenate headlined as the voice of adult Simba. Though the much-maligned photorealistic remake doesn't feature a single Oscar winner, if you factor in the other awards, it blows away the competition. Because not only does this movie star Donald Glover, it also stars Beyoncé, who, you might have heard, has won more Grammys than any other person in history. It also features John Oliver, who might as well be the Beyoncé of the Emmys: He has 17 trophies for his work on The Daily Show and Last Week Tonight. All told, the Lion King voice cast has 26 Emmys (from 89 noms) and 40 Grammys (from 109 noms) — all of which they are probably much prouder of than being in The Lion King.
Still, when we're talking about awards season, we're mostly talking about the Oscars. And the prize for most Oscars in a voice cast turns out to be [Ingrid Bergman voice] a tie! Our winners, with eight trophies each, are Antz, a children's film that cast Woody Allen as the hero one year after he married his ex-partner's adopted daughter, alongside acting winners Gene Hackman, Christopher Walken, and Anne Bancroft; and Wes Anderson's Isle of Dogs, whose cast includes a three-time Actress and one-time Best Picture winner in Frances McDormand, a Documentary Feature winner in Fisher Stevens, plus F. Murray Abraham, Tilda Swinton, and Anjelica Huston.
Due to Anderson's ability to cast even the smallest of roles with top-tier talent — as well as his propensity for handing voice parts to his co-writers and producing partners — Isle of Dogs also winds up smashing the record for most Oscar nominees in a voice cast. There are 15 in all: Bryan Cranston, Edward Norton, Bill Murray, Greta Gerwig, Scarlett Johansson, Harvey Keitel, Ken Watanabe, Roman Coppola, Bob Balaban (nominated for producing Gosford Park), and Jeff Goldblum (nominated for a live-action short) join the five winners previously mentioned.
But neither Antz nor Isle of Dogs holds the record for most total Oscar nominations in a voice cast. That honor goes to another Anderson film, Fantastic Mr. Fox, thanks in large part to the presence of Meryl Streep and her record 21 nominations. The Roald Dahl adaptation is also boosted by George Clooney's eight noms and Willem Dafoe's four — as well as Anderson casting himself as a weasel, adding his own seven nominations to the pile.
Honorable mention goes to the film that placed second in both total wins and total nominations: 2004's Shark Tale, whose voice cast likely boasts the most Oscar scandals of any animated film. The star is Will Smith, who delivered the most famous slap in Oscar history; the femme fatale is Angelina Jolie, who delivered the most famous kiss in Oscar history; and there's a supporting role for longtime Oscar snubbee Martin Scorsese. (Whose 14 nominations are pulling a lot of weight here.) You'll note that Smith and Scorsese both had to wait until after Shark Tale was released to win their Oscars, and female lead Renée Zellweger didn't win her second until afterwards, either. The set of Shark Tale seems to have been Hollywood's version of a Velvet Underground concert — not a lot of people were there, but everyone who was later won an Oscar. It must have been something in the water.
More on Spider-Man: Into the Spider-Verse
See All
To avoid having to deal with the issue of Walt Disney and his 56 career nominations, we restricted our sample to the '90s onward.