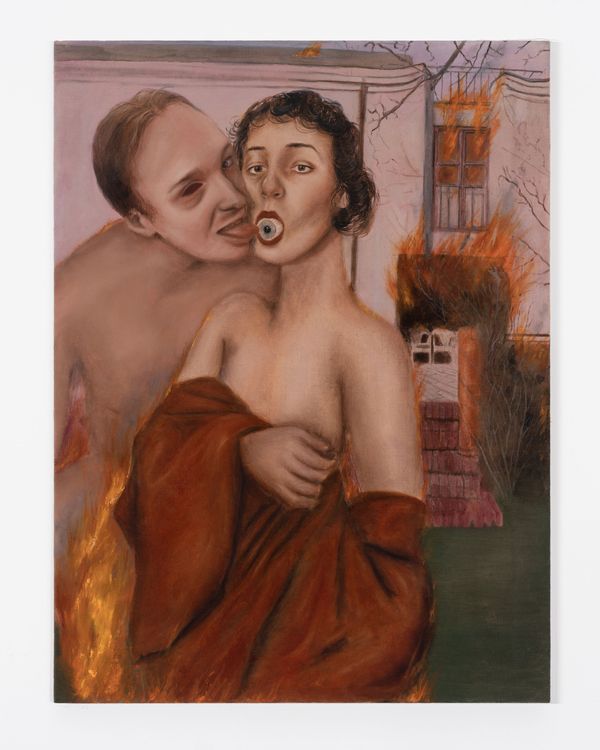 Art: Courtesy of the artist, Foksal Gallery Foundation and Fortnight Institute, New York. Photo by Jason Mandella
The 28-year-old Polish artist Agata Slowak told the writer and curator Alison Gingeras, who prepared the press materials for Slowak's show at Fortnight Institute, that she "wanted to queer Jesus." Her paintings are full of nails and stigmata — surreal, sadomasochistic images that depict male ruin and female power. Slowak wrote to me that she, a young woman in a Catholic country, occupies a "rupturing position." She added, "I find it difficult to function in communities in general."
From the Cycle, White Balls on the Wall gives us an icon of neurotic obsession. A woman's hand holds a penis, exposing its underside. Nails are driven through each of her fingertips, affixing them to it like the savior to his cross and producing a trickle of blood. Around the wrist there is a bracelet with a cross as its clasp.
Slowak's technique is partly classical. We think of the early Renaissance and Romanticism and Cranach, but also the kitsch-modernism of Picabia and the hyperrealist images of masturbation by Christian Schad. Slowak is painting her love life, her fantasies, and the murky night world of her desire. Gingeras calls it "auto-psychoanalysis."
In You Were Cold in My Shadow, a naked couple stands in front of a burning building. The man is missing an eye, which is located in the woman's mouth. He licks at it, as if to say, "This is mine. I want it back." He is balding, effeminate, long, narrow. She is in control, gazing at the viewer. It's a picture of dismemberment and defilement and decadence, though the couple exudes a strange sense of comfort.
In Self Portrait With Sperm and Blood Crossing, Slowak is seated, posed like some academic nude. A man ejaculates at her. She raises her right palm; an arc of blood spurts from it, forming a neat cross of red and white, a double stigmata. Here is both attraction and avoidance fused into one flesh. She is frozen in space, staring at us. Her ambivalence speaks to the ways all of us become caught in patterns driven by inner necessity and mad longing.
Sperm Flooded the Brain is a lurid indictment: a portrait of Slowak with the top of her skull open to reveal her brain covered in dripping sperm. Apparently, the mother of her ex-boyfriend would tell her, "You have sperm on the brain." What a strange expression. Here, Slowak becomes a carnivorous flower, seductive, evil, a death's head.
These days, artists often crawl into older styles of painting and inject them with new electrifying subject matter. Cecily Brown repurposes de Kooning's Abstract Expressionist nudes by adding women and unfamiliar narratives; Lynette Yiadom-Boakye uses the work of the Eight, an early-20th-century movement, to produce extraordinary scenes of everyday Black life; Betty Tompkins brings Chuck Close's photorealism to scientific detail, zeroing in on dicks in vulvas. These interventions are coming from women, people of color, and other underrepresented artists.
Slowak stands out in this regard, and her use of old forms isn't just aesthetic. Bad Fetus shows a bloody head emerging from her vagina. An abortion, in other words, which can put you in jail in Poland. She seems to be saying that there is still medieval horror in the modern world.