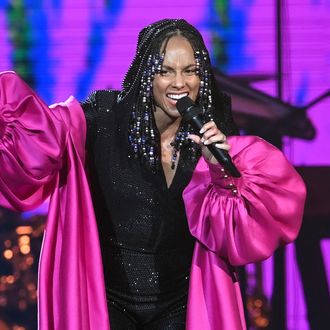 This girl is on fire.
Photo: JUAN PABLO PINO/AFP via Getty Images
Alicia Keys is giving us another peek into her Diary, but this time it's for Off Broadway. The singer's musical Hell's Kitchen will bow this fall as part of the Public Theater's 2023–2024 season. "I've been working on Hell's Kitchen for 13 years!!" Keys tweeted when the Public's slate was announced on June 1. "Now, it's finally making its world premiere on October 24th at the ICONIC @PublicTheaterNY in the heart of NYC this fall is a DREAM COME TRUE!!!!!!! 🌟 🌟 🌟" It's her second theater project: She co-produced and wrote music for 2011's Stick Fly. Hell's Kitchen features music and lyrics by Keys. The production is loosely based on the life of the Grammy-winning singer, who grew up in the musical's eponymous Manhattan neighborhood. The coming-of-age story follows Ali, a 17-year-old girl living in a tiny New York apartment who's "chasing her New York dream, struggling to find herself, her voice, her identity," Keys wrote. Tension between Ali and her protective mother arises when the teenager falls for a young drummer. It's not until Ali hears the sound of a piano in a neighboring apartment that she begins to liberate herself through music — much like when we all heard the first chords of "Fallin'." Hell's Kitchen begins previews on October 24 and officially opens November 19.