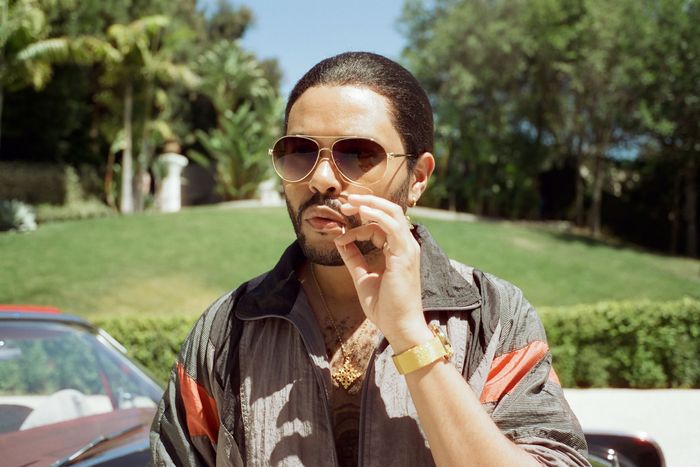 Like: Is Sam Levinson and the Weeknd's new HBO show starring Lily-Rose Depp actually "sexual torture porn," or nah?
Photo: HBO
This article originally published during the 2023 Cannes Film Festival. We are republishing it on the occasion of the series' premiere on HBO.
Before the Monday night premiere of The Idol at Cannes, nobody had actually seen the HBO series, but everyone had formed an opinion on it. The dramatic, yearslong metanarrative surrounding the show — co-created by Abel Tesfaye, a.k.a. the Weeknd, Euphoria's Sam Levinson, and producer Reza Fahim, and starring Tesfaye as an enigmatic cult leader sinking his claws into Lily-Rose Depp's disgraced pop star — has been threatening to eclipse the project ever since it was announced all the way back in 2021.
In April of 2022, after shooting nearly 80 percent of the show at a rumored budget of $75 million, director Amy Seimetz dropped out of the series, and HBO announced it was refining The Idol's "vision" by "adjusting its cast and crew." Sometime thereafter, Levinson moved his entire family into Tesfaye's Bel Air mansion, where he reshot the entire thing. In March, a bombshell report from Rolling Stone alleged that the show had, at Tesfaye and Levinson's behest, evolved from a story "about a woman who was finding herself sexually" to a story "about a man who gets to abuse this woman and she loves it." Reportedly, Tesfaye felt the show was heading too much into a "female perspective," and as a result, the show had devolved into a "rape fantasy" — "sexual torture porn" that dialed up the nudity and disturbing content. "What I signed up for was a dark satire of fame and the fame model in the 21st century. The things that we subject our talent and stars to, the forces that put people in the spotlight and how that can be manipulated in the post-Trump world," explained one crew member. "It went from satire to the thing it was satirizing."
Both stars leapt to The Idol's defense: Tesfaye tweeted a clip from the series in which his character calls Rolling Stone "a little irrelevant," explaining in a recent Vanity Fair cover story that he thought the article was "ridiculous" and that he "wanted to give a ridiculous response to it." He also claimed that Seimetz, who has yet to publicly comment on any of this, left the project due to scheduling issues. Depp put out her own statement, writing that Levinson was "the best director I have ever worked with" who "hires people whose work he esteems and has always created an environment in which I felt seen, heard, and appreciated," perhaps referring to another layer atop the mille-feuille of Levinson-related drama: the press surrounding Barbie Ferreira's early departure from Euphoria and her co-star Sydney Sweeney's comments about asking Levinson for fewer nude scenes.
There's no such thing as bad press, especially in France, which meant that on Monday at 10:30 p.m. at the Palais, the air was thick with anticipation and probably ketamine. The question was burning, implicit, unspoken, internally dialogued in dozens of languages, and I'll answer it for you now, among others: Is The Idol "sexual torture porn," or nah?
What happens in the first two episodes?
We meet Jocelyn, a pop star whose mother has died a year earlier and who may or may not have had a psychological breakdown thereafter. She's since taken eight months off and is ready to reintroduce herself with a single called "World-Class Sinner," but she isn't sure she likes it. (It sounds sort of like a Dua Lipa/Charli XCX castoff.) Jocelyn is a perfectionist, hard on herself, and desperate to succeed at any cost, and she also likes to masturbate while choking herself (something we see her do twice in the first two episodes alone). She meets Tedros Tedros (yes, that's his full name), a club owner, manager, and possible cult leader of several fledgling artists, all of whom seem to be under his control financially and emotionally. The details of the cult remain unclear by the end of episode two, but it seems to involve sex and Tasers. He's described as "rape-y" ("That's why I like him," says Jocelyn) and "sketchy," with his rattail, menacing energy, and penchant for stalking around in the dark in black trench coats and shock-collar-ing his artists. And he's recently disappeared off the grid, according to Jocelyn's nervous management team.
The two start hooking up at his club but are interrupted by her best friend and assistant, Rachel Sennott's Leia, who doesn't like his vibe. Undeterred, Jocelyn invites Tedros over to her house the next night, where he convinces her to redo her song but sing it "like she knows how to fuck," or, as he explains, like Donna Summer in "Love to Love You Baby." They record a new version of "Sinner" after he wraps a silk robe around her face, suffocating her. She begins to audibly panic, but he pulls out a pocket knife and cuts a small hole for her mouth and tells her to sing from it, then (maybe?) fucks her. This all happens in episode one. In episode two, Jocelyn's label rejects her "new sound," which involves a lot of orgasmic moaning and the Weeknd–esque production; soon after, she emotionally disintegrates on the set of her new music video and is worried she may lose it all. Tedros brings some friends over to do cocaine and have sex, then decides to move in for two weeks to help Jocelyn rerecord her entire album.
After all the casting shake-ups, who is actually in this show, and who do they play?
Hank Azaria is Chaim and Da'Vine Joy Randolph is Destiny, both co-managers of Jocelyn. Troye Sivan plays Xander, Jocelyn's best friend and creative director. Rachel Sennott is Leia, Jocelyn's anxious assistant, trying to save her from her imminent downfall. Jane Adams is Nikki, a morally bankrupt record-label executive who's worked with Jocelyn for years. Hari Nef is Talia, a Vanity Fair reporter profiling Jocelyn. Blackpink's Jennie Ruby Jane is Dyanne, Jocelyn's talented dancer who may be betraying her behind her back. Dan Levy is her long-suffering publicist. Moses Sumney is a cult member who seduces Leia to distract her from protecting Jocelyn. Suzanna Son is Chloe, another Tedros acolyte. Eli Roth is an angry Live Nation rep.
Is it Sam Levinson–y?
Yes. Lots of nudity, porn-adjacent sex, and provocation for provocation's sake, as well as great eye makeup and his usual stylish cinematography. And much like he does with Malcolm and Marie, Levinson tries to have it both ways, attempting to preemptively insulate himself from critique by having characters within the show argue about the things with which he imagines the critics will take issue. For example, the show kicks off with Jocelyn at a photo shoot, arguing with an intimacy coordinator about whether she is allowed to show her boobs (which are already out, as they are for possibly 50 percent of the first two episodes). She wants to — "It's my body," she protests — and the intimacy coordinator says she can, they just have to "change the nudity rider and wait 48 hours," in a process he calmly explains was designed to make people like her "safer."
Everyone on Jocelyn's team ridicules this man, and eventually Hank Azaria locks him in a closet so Jocelyn can doff her top as much as she wants. Shortly thereafter, Jane Adams's exaggeratedly craven label exec Nikki argues with Troye Sivan about whether mental illness is "sexy" — she says it is, and that they should capitalize on Jocelyn's breakdown, because it allows men in Middle America to believe they'll somehow be able to "fuck her." Troye Sivan, whom Nikki insults as a "college-educated internet person" who wants to "cockblock America," looks pained; Jocelyn, Nikki, and Jocelyn's boobs ultimately prevail. The attempt at proactive meta-critique is too obviously defensive and on-the-nose to be effective. As is the show's attempt at explanatory pastiche — at one point, Jocelyn and Leia watch Basic Instinct, with the implication being that this is what Levinson is up to. But at least thus far, the show plainly lacks the knowing, campy tone of that erotic-thriller classic.
Britney is mentioned in the first episode as a parallel to Jocelyn — as her publicist puts it, they've both struggled publicly and had a redemption arc. He describes their troubles as "unique but relatable." Jocelyn also does some choreo inspired by "I'm a Slave 4 U."
What's the wildest thing that happens, plot-wise?
Some of the wildest moments include Jocelyn having a PR crisis because a selfie in which she has cum all over her face has leaked (yes, we do indeed get to see the selfie). Later, the Weeknd fucks her with an ice cube, and then, remembering this, she masturbates against a full glass of ice so hard that she cuts her thighs and has to airbrush the slashes out on the set of her music video the next morning. The second episode ends with Jocelyn gagging as she blows Tedros while Chloe watches, hiding in Jocelyn's closet and looking aroused. Then Tedros and his crew gather around a naked Chloe as she plays a song about not liking her family on Jocelyn's piano. (Suzanna Son is a great singer!)
What's the dialogue like?
Jocelyn's leaked selfie leads to her being described by her own team as a "human cum sock," among many other descriptors that feel like they were pulled from an all-male writers' room's half-erased brainstorm whiteboard. The writing also tends to veer into tired hetero porn tropes: Tedros blindfolds Jocelyn and tells her to "get that throat wet for me" by sticking her finger down her throat, then directs her to "stretch out her tight little pussy" and "suffocate on my cock."
Are the sex scenes torture-porn-y, or nah?
The first few scenes feel more Fifty Shades of Grey — costume-y, a bit goofy, like a fanfic. That last scene, with the aforementioned cock suffocation, feels like faint rape-fantasy porn for the Middle American men to which Nikki is so desperate to appeal. We don't see Jocelyn get off; we just hear her gagging.
What's the nudity situation?
If it wasn't already clear — a lotta boobs and a lotta butt. Several shots peering up at Jocelyn from between her thighs or directly into her inner thighs. Throughout, Jocelyn is either nude or wearing sheer/scrap outfits that barely cover her — some of them are Euphoria-core and fun. No male nudity to speak of.
How Euphoria-esque is it?
The Idol's sexual ethos is just as self-consciously and effortfully attempting transgression, though it's more normie and less surprising overall. But it's just as leery and just as fixated on young, beautiful women sobbing off their avant-garde eye makeup. Drug-wise, it's tamer, too — just some coke, nothing Rue-level.
Anything else fun happen?
Alexa Demie, always a delight, shows up briefly as a woman hanging at the club where Jocelyn and Tedros meet. Nef and Sennott and Randolph are highlights acting-wise, bringing a comedic lightness, intelligence, and sense of perspective that the show needs. Depp is also really impressive in a messily written role.
How is the Weeknd's house?
It looks a lot like the house from Death Becomes Her, or Cher's dad's house in Clueless. Very 1990s new money: heavy velvet curtains, lots of white walls and black leather and deep reds.
Is it "a dark satire of fame and the fame model in the 21st century," or is it "the thing it is satirizing"?
It depends on how it all plays out — is this a campy horror story about a fearsome manipulator, or, as Depp has put it in previous interviews and the press notes, a "love story" about her "favorite TV couple"?
What was the premiere reception like at Cannes?
People clapped along to an orgasm-enhanced remake of Donna Summer's "Love to Love You Baby" that played during the credits. The standing ovation afterward was classic Cannes length; Randolph, Depp, and the Weeknd got the biggest responses from the crowd. Levinson started crying as he spoke about the honor of premiering at Cannes, and then Depp and the Weeknd started crying, too. "I'm proud of this show and I'm proud of the way we made this show," said Levinson. "We have so many incredible artists, actors, musicians. I feel like I gained a family. I know that's a little cult-y, but that's the way it feels." He turned to his overwhelmed star. "Lily, Abel and I count our lucky stars every day that you are Jocelyn. You are fearless. Thank you." He also thanked his wife, producer Ashley Levinson, for having a baby on a Sunday, the Monday after which "Abel called. I know this wasn't easy. But thank you for being by my side and being my partner in crime."