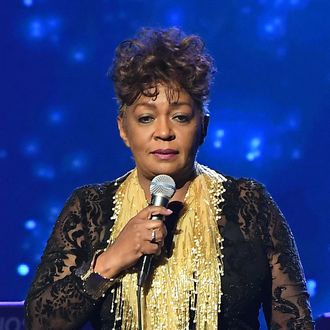 Photo: Paras Griffin/Getty Images
Update, Tuesday June 13 at 6:40 PM: After dealing with the harassment from Babyface fans, Anita Baker decided to continue the rest of the tour solo. "After Silently, Enduring Cyber Bulling/Verbal Abuse & Threats of Violence from the Fan Base of Our Special Guest/Support Act. In the Interest of Personal Safety. I will continue, The Songstress Tour, alone," she tweeted on June 13. Baker was repeatedly attacked by her opener Babyface's fans on Twitter, leading to the decision not to have an opener for the remainder of the tour. Babyface also released a statement on his exit, calling it "unfortunate and disheartening to see how things have played out via social media."
Original Story Follows.
Twitter is running unchecked, and we don't just mean because most celebs aren't verified anymore. Anita Baker said that she is being harassed and threatened on the bird app by fans of Kenneth "Babyface" Edmonds, who is the opening act for her ongoing Songstress Tour. "Kenny's Crazies are online Bullies. @Babyface Please call off, your fans," she tweeted on Monday. "I have been Only Kind and Supportive, of You, as the Special Guest/Support, on My Tour." This digital feud appears to date back to a performance in New Jersey last month. TMZ reported that the May 10 stop of Baker's tour was delayed two hours due to technical difficulties, with Babyface's entire set ultimately getting cut.
Babyface explained in an Instagram statement that he was "asked not to perform in order to give Ms. Baker her space and time to perform her show in its entirety." Some fans interpreted this as Baker being disrespectful, but Babyface later told TMZ that he meant no "shade" and was simply repeating what a stagehand said. Meanwhile, Baker recently tweeted that the decision was not her call because she has no contract with her "Support Act." She also clarified that Babyface is not co-headlining the tour and had actually been contacted by her manager "to HELP Expose, him 2 My Arena Size Fan Base," and criticized fan aggression toward her due to "Unrealistic Expectations" about Babyface's role on the tour. But that didn't seem to get the fans in her mentions to calm down. One user apparently irritated Baker enough that she went through his tweets to suggest that he doesn't like Beyoncé (which we're sure some would definitely accept as proof of craziness). Find more of Baker's interactions with — in her words — "Kenny's Creepy Crazies" below.