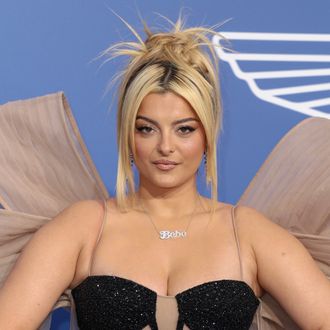 Photo: Mike Marsland/WireImage
Last night certainly didn't live up to the name of Bebe Rexha's ongoing Best F'n Night of My Life Tour. The singer was hit in the face with a cell phone while performing at The Rooftop at Pier 17 in Manhattan on June 18. New York police confirmed in a statement that Nicolas Malvagna, a 27-year-old concertgoer from New Jersey, was arrested on assault charges for "intentionally" throwing the phone. The Manhattan District Attorney's office stated that Malvagna confessed to intentionally throwing the phone at the end of the show "because it would be funny." Fan-taken footage shows Rexha collapsing to her knees and ultimately being escorted offstage with a hand covering the side of her face that was struck. According to police, she was taken to a local hospital "in stable condition" after the incident. Several accounts later tweeted that Rexha's mother said the singer ended up needing three stitches. Rexha posted on Instagram Monday a photo with a black eye and medical tape, presumably where the stitches are. She also posted a video on TikTok playfully quoting her song "I'm Good (Blue)." Vulture has reached out to Rexha's representatives for comment.
This post has been updated throughout.