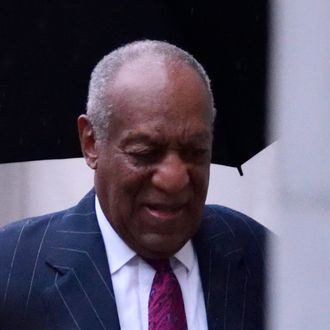 Photo: Bastiaan Slabbers/NurPhoto via Getty Images
Bill Cosby is now facing a new sexual-assault lawsuit. The Washington Post reports that former Playboy model Victoria Valentino sued the 85-year-old on Thursday for allegedly drugging and raping her in 1969. "It's not about money. It's about accountability," she said. "Rape steals something from you that cannot be repaired or restored." Valentino, now 80, first came forward with her allegations against Cosby in 2014. She was able to file today's lawsuit thanks to a California law that temporarily lifts the statute of limitations on civil sexual-assault cases. Valentino noted that she was inspired to take legal action because of journalist E. Jean Carroll's recent victory in a civil rape trial against former president Donald Trump. Her complaint also comes after five women sued Cosby in December 2022 for sexual assault, utilizing a similar New York law that granted a temporary "lookback" window.
In her lawsuit, Valentino describes being distressed by the recent death of her six-year-old son. She claims that Cosby saw her crying at a restaurant and offered her a pill later that day, saying it would make her feel better. According to Valentino, a friend she was with also took a pill from Cosby. Valentino claims that she later woke up to see Cosby approaching her friend. Allegedly, Valentino's attempt to protect her friend made Cosby angry, and he raped her. Valentino is suing both Cosby and employees that she claims enabled his assault, whom she plans to identify during the lawsuit's discovery process.
Andrew Wyatt, a spokesperson for Cosby, claimed in a statement to People that Valentino has no proof or facts to support her allegations. "America is continuing to see that this is a formula to make sure that no more Black Men in America accumulate the American Dream that was secured by Mr. Cosby," Wyatt said. To date, Cosby has been accused of sexual assault, sexual harassment, and sexual abuse by more than 60 women. He has denied the allegations. Cosby was previously criminally convicted for sexual assault, and served more than two years in a Pennsylvania prison. He was ultimately released in June 2021 because of a previous agreement that he would not be prosecuted, and his felony charges were overturned. In civil court, however, Cosby has been found liable for sexually assaulting a 16-year-old girl at the Playboy Mansion in 1975.