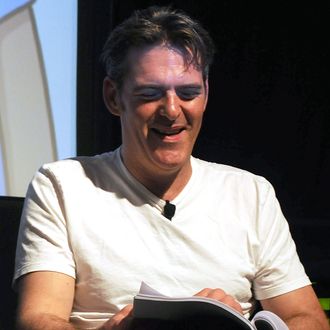 Jay Johnston celebrates 100 episodes of Fox's
Bob's Burgers
in 2015. There is now a "ban" against him on the show.
Photo: Albert L. Ortega/Getty Images
It turns out that obstructing police officers and breaking into the Capitol building tunnels is a much worse offense than spilling some thimbles. On Wednesday, June 7, police arrested comedian Jay Johnston in California on charges related to his involvement in the January 6 riots of 2021. The Department of Justice charges the Mr. Show alum with felony obstruction of officers during civil disorder and several misdemeanors including "unlawful entry on restricted buildings or grounds" and "impeding passage through Capitol grounds." Court documents show FBI-reviewed body-cam and CCTV images of Johnston wielding a stolen U.S. Capitol Police riot shield and distributing more riot shields to other protesters. They also show him entering the building's Lower West Terrace tunnel and communicating to the crowd behind him with hand gestures, "including clapping his hands, banging his closed fists together, and pointing to the crowd."
In March of 2021, the FBI tweeted out two images of a then-unidentified Johnston, requesting the public to send them tips regarding his identity. Immediately, Twitter users recognized him as the comedian bit player from Arrested Development and Anchorman. According to the FBI affidavit, Johnston's lawyer contacted the FBI days after the tweet, saying that she represented the man in the photos. Later that year, the Daily Beast reported that Johnston was banned from Bob's Burgers, where he had voiced the hack restaurateur antagonist Jimmy Pesto for over 40 episodes.