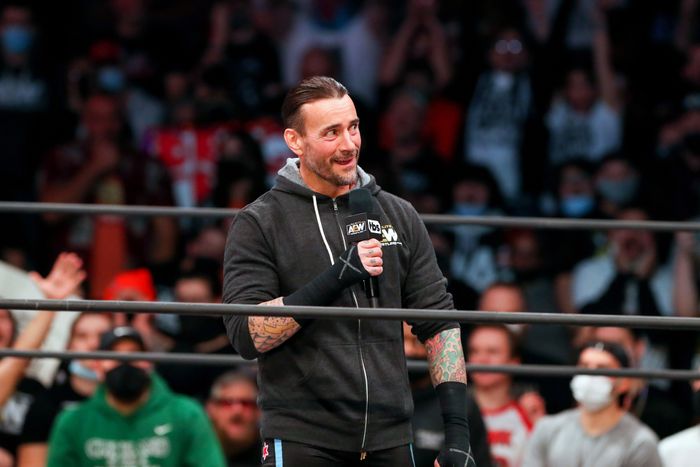 Photo: Frank Jansky/Icon Sportswire via Getty Images
If you've ever been a wrestling fan, you're likely familiar with the work of CM Punk. You might be particularly familiar with his infamous 2011 Pipe Bomb promo, where he seemingly went off-script on live television to break every rule of WWE promos: He said the names of other wrestling companies, announced that the only thing John Cena was best at was "kissing Vince McMahon's ass," repeatedly referred to the Rock as "Dwayne," and went on to call out WWE management until they actually cut off his mic. While Punk would make appearances for the WWE on and off until 2019 — calling into question just how off-script the Pipe Bomb actually was — he continued to develop a reputation as one of the very few professional wrestlers unafraid to criticize the WWE in interviews.
When Punk came out of a seven-year retirement to debut on AEW in 2021, it was considered a massive coup for the then-two-year-old company, and Punk returned as a hero, his brand aligned perfectly with AEW's rebellious spirit as a self-described "challenger" to WWE. Here was a great wrestler who had been held back by the dastardly McMahon and his corporate machine, finally being given the respect and celebration fans always thought he deserved.
Over the following year, Punk would win the AEW World Championship from "Hangman" Adam Page, but his reign was soon marred by both injury and backstage rumors that he'd had another wrestler named Colt Cabana removed from the company over a longstanding personal dispute. This would all come to a head at a media scrum following AEW's All Out pay-per-view in September, where Punk angrily confronted a wrestling journalist he accused of being friends (or at least improv teammates) with Cabana, insulted Page, and accused three of AEW's executive vice presidents — fellow wrestlers Kenny Omega and the Young Bucks — of spreading the rumors themselves.
After the scrum, a physical fight broke out between Punk, his friend Ace Steel, and the similarly beloved Kenny Omega and the Young Bucks. All were suspended from the company, and their titles were vacated. News of the altercation traveled swiftly, with fans who had seen Punk's display at the scrum wondering whether their heroic truth-teller had actually become the exact kind of self-important narcissist he'd once accused his WWE colleagues of being. An internal investigation concluded that while Omega and the Young Bucks could return that November, Punk would likely be exiting the company entirely.
While his fall served as a springboard for the rise of an (extremely temporary) good-guy version of MJF, Punk himself simply disappeared from AEW's in-ring universe. He popped up doing color commentary for an MMA promotion that fall. In February, he was spotted in the crowd at New Japan's Battle in the Valley. In April, he visited the backstage area of WWE's RAW (and was reportedly asked to leave.) As he haunted the world of professional wrestling like some kind of ghost, rumors that he actually would return to AEW began to swirl. Finally, after months of speculation, it was confirmed that Punk would be welcomed back to AEW. That return is happening tomorrow as part of AEW's newest show, Collision, airing live from Chicago's United Center on Saturday at 8 p.m. ET on TNT.
Collision will be AEW's third weekly branded show, and the fourth weekly wrestling show run by AEW CEO Tony Khan, who also books Ring of Honor's Thursday night show. There have been reports that ticket sales to the live event are not selling particularly well, an awkward reality given that the show is being hailed as Punk's big return and Chicago is his hometown. But it's hard to overstate just how much professional wrestling there is to see right now, and how overstretched some fans might feel. For instance, if you are a Chicago fan who cannot make it to Collision on Saturday, AEW Dynamite will be in your town Wednesday, and GCW — a large and respected indie promotion — will be in town the following Friday. If you're a TV viewer, the debut of Collision means you can watch high-quality professional wrestling six nights a week, every week.
Collision's debut in the midst of this crowded landscape has led some to theorize that creating an entirely new show that would separate Punk from the main roster — allowing those who have issues with him to avoid him entirely — was the only way to bring him back. But Khan helped to dispel those rumors when he revealed the show was actually the brainchild of Warner Bros. Discovery CEO David Zaslav: "[Zaslav] asked about more AEW, specifically Saturday nights, on TNT," Khan told Sports Illustrated. "When it was pitched to us by TNT, I was so excited. It's so exciting the timing [of Punk's return from injury] coincides with the launch of Collision."
It's an interesting revelation, given that wrestling is still, quite famously, a non-union enterprise, making Collision a strike-proof addition to Zaslav's library of content. Beyond that, though, the strangeness of Khan's framing cannot be overstated. There is no storyline explaining Punk's sudden and prolonged absence, only a reference to a torn tricep he apparently suffered during his last match nine months ago. There is no acknowledgement of any wrongdoing on Punk's part. He's slated to participate in a trios match alongside the tag team FTR, who are beloved good guys, suggesting he will be brought back into the story as a hero. That doesn't quite track with someone who was ostensibly suspended for attacking their co-workers, and whose hype video promoting his return elicited boos from the crowd. The goodwill fans feel towards Punk could very well be gone, but it doesn't seem like AEW knows that.
Today, ESPN released the first interview with Punk since September, where he says he apologized to Khan for his behavior at the media scrum. "I just didn't approach it in the right manner, but tension was high," he said. "I was very, very pissed. I pretty much knew that I had just injured myself again. I was hurt, and I was disappointed." He initially refused to comment on the physical altercation that followed, other than to say he didn't think it was that big of a deal. "This has happened in the last ten months in hockey, in basketball, in baseball, in just about every sport," he told the outlet. "I think because I have injured my tricep and I've been out for so long, I think it has been exacerbated."
However, Punk used the interview as another opportunity to criticize other wrestlers, even blaming his performance in a match with Page on his belief that Page was going to start actually beating him up. And the ESPN story reports that Kenny Omega and the Young Bucks — who, again, are EVPs of this company — do believe he had Cabana removed from AEW. It's not a great look for a man whose place in many fans' hearts was that of a hyper-honest bad ass.
But this gets to the core of what's at stake Saturday night: It's not so much about whether wrestlers are willing to work with Punk, it's whether his own fans can forgive the damage he's done to his persona. Punk is not a hockey or basketball player getting in a scuffle in the locker room, he is a performer who connected with fans through promises he made about the kind of man he was. His entrance song is literally "Cult of Personality," signaling he understands on some level that his connection with people is about more than his technical wrestling skills. To ignore the damage he's done to that connection is exactly the kind of insult to fans' intelligence the WWE was guilty of at the time of his Pipe Bomb promo.
While I can't imagine anyone in the AEW back office has slept this week, it's worth noting that this is the kind of moment that makes professional wrestling such a compelling world. Though Punk confirmed in the ESPN interview that the backstage drama would not be used in any onscreen storylines, it's still the context surrounding what's about to happen. Will he double down? Will he flip out? Or will he find a way to win fans back? The only way to find out is to tune in.