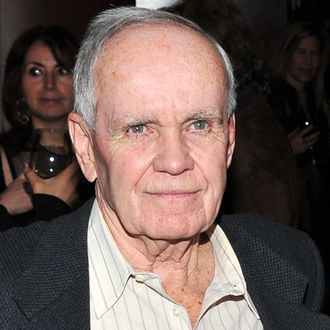 Photo: Stephen Lovekin/Getty Images
Cormac McCarthy, a novelist known for his portrayals of the American West and searing portraits of post-apocalyptic odysseys, died on June 13 at his home in Santa Fe, New Mexico. He was 89. Knopf confirmed the news, per Publisher's Weekly. Born Charles McCarthy in Providence, Rhode Island, the author studied liberal arts at the University of Tennessee before leaving the institution without a degree for a military post. The Air Force nabbed him in the 1950s for a stint in Alaska, and he passed his days hosting a radio show. For much of his life, McCarthy lived in relative obscurity. His first three novels — The Orchard Keeper (1965), Outer Dark (1968), and Suttree (1979) — earned positive reviews, but were not hits with the general public, per the Washington Post. Though McCarthy reportedly spurned reporters and lived outside the public eye, he earned a MacArthur "genius" grant that gave him the funds to research and write Blood Meridian (1985), a work that garnered mixed reviews upon release but is now regarded by some as his magnum opus. He wrote other media sparingly, including the scripts for the plays The Stonemason (1995) and The Sunset Limited (2006), the latter of which was adapted into a TV show in 2011, along with the screenplay for The Counselor (2013), among others.
Mainstream success came when he won the National Book Award and National Book Critics Circle Award for All the Pretty Horses (1992), followed by a Pulitzer Prize for The Road (2006). The Coen Brothers released the film adaptation of his 2005 novel No Country for Old Men in 2008. To cap off the runaway success of his past two decades, he followed Philip Roth in becoming the second author to earn the famed PEN/Saul Bellow Award for lifetime achievement in American fiction in 2009. In the next few years, Hollywood churned out adaptations of his books, including The Road, Child of God, and the oft-delayed Blood Meridian.