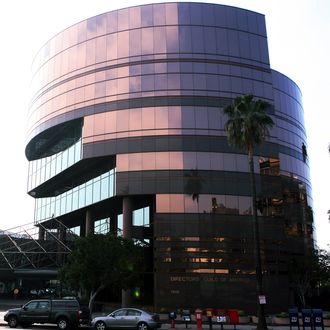 The Directors Guild of America building in Los Angeles.
Photo: Ian West - PA Images/PA Images via Getty Images)
Update, Friday, June 23 at 11:26 p.m.: After reaching a tentative deal earlier this month, the Directors Guild of America has officially ratified a contract with Hollywood studios and streamers. According to The Hollywood Reporter, 87 percent of the union's voting members supported the new deal with the Alliance of Motion Picture and Television Producers in a referendum that ended on June 23. "Our new contract secures gains on wages, global streaming residuals, safety, diversity and creative rights that build for the future and impact every category of member in our Guild," DGA president Lesli Linka Glatter said in a statement. Reportedly, 41 percent of the union's eligible voters cast ballots, which the DGA has described as a record turnout. The agreement will go into effect on July 1 and last for three years. This prevents the possibility of three key entertainment unions striking this summer, given that the Writers Guild of America is on strike and that SAG-AFTRA's contract expires next week.
Still, don't expect the DGA's deal to stop the ongoing picketing. WGA's negotiating committee previously claimed in a June 1 letter to its members that AMPTP is hoping to repeat its strategy from the last strike by pressuring writers to accept the terms first offered to directors. "Our position is clear: to resolve the strike, the companies will have to negotiate with the WGA on our full agenda," the letter said. Per the New York Times, Glatter added in her statement that the DGA "didn't bargain in a vacuum" and stands "united with writers, actors and all crew members in our shared fight to move our industry forward."
Original story published June 4, 2023 follows.
Amid the ongoing writers strike, the Directors Guild of America has reached a tentative deal with Hollywood studios and streamers. According to a press release shared late Saturday night, the new agreement with the Alliance of Motion Picture and Television Producers will be submitted for approval at a June 6 board meeting. The terms touch on some of the issues that are popular in Writers Guild of America picket signs — for example, the DGA negotiated for an increase in international streaming residuals (though it does not note if this would be tied to a show's viewership), as well as an assurance that generative AI cannot replace the duties of a DGA member.
However, the WGA has already stated that its strike — which has now stretched on for more than a month — will not end in the event of a DGA deal. In a June 1 letter to members obtained by IndieWire, the WGA negotiating committee claimed that the AMPTP wants to repeat the events of the 2007–08 writers strike, during which the DGA reached a deal first. "The essence of the strategy is to make deals with some unions and tell the rest that's all there is. It's gaslighting, and it only works if unions are divided," the WGA's letter said. This year, the WGA joined fellow entertainment unions SAG-AFTRA, IATSE, and Teamsters 399 in signing a statement supporting DGA's talks with AMPTP, which formally began on May 10. But solidarity with directors doesn't mean that writers will abandon the bargaining demands that are unique to their profession. "Our position is clear: to resolve the strike," the WGA's letter said, "the companies will have to negotiate with the WGA on our full agenda."