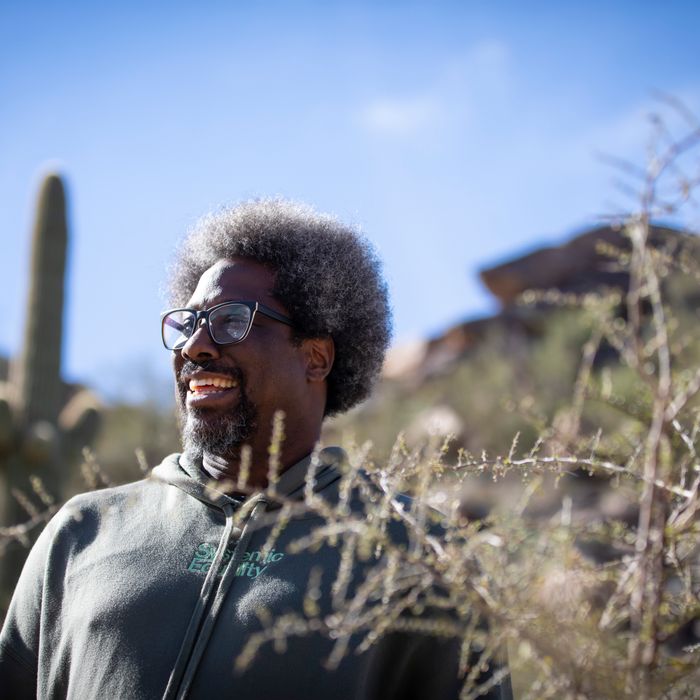 W. Kamau Bell in
United Shades of America.
Photo: Aundre Larrow/B) 2022 Cable News Network. A WarnerMedia Company. All Rights Reserved.
Looking to get your edutainment fix? The new(ish) streaming service Max is home to numerous documentary series that dive deep into social issues, cultural customs, and more. Tune in to see star hosts like Christiane Amanpour, W. Kamau Bell, and Lisa Ling journey through the country and the world, in pursuit of adventure, connection, and understanding. Whether you want to learn where exotic tigers are illegally traded, what life is like in countries where U.S. citizens are barred from visiting, or how to start a cannabis empire from scratch, no niche is too niche. Read on for seven enlightening shows that will surely broaden your horizons.
Anthony Bourdain: Parts Unknown
In Parts Unknown, the great Anthony Bourdain accomplished the delicate balancing act of showcasing the cuisine and attractions of the places he visited while also highlighting the social issues and inequalities residents face. Bourdain found beauty in every corner of the world and brought an inimitable sense of cool to every episode of Parts Unknown. From the Lower East Side all the way to the Democratic Republic of Congo, he used food and travel as a gateway for connection, cultural exchange, and understanding the world around us.
United Shades of America
Hosted by comedian W. Kamau Bell, United Shades of America is a journey through the rich subcultures and groups that make up the stunningly diverse tapestry of this country. Bell visits a prison that focuses on rehabilitation over punishment, hangs out with spring breakers and retirees in Florida, and travels to the Last Frontier of Alaska — and that's only the tip of the iceberg. This series also amplifies underrepresented communities and issues, dedicating full episodes or even seasons to topics like the Landback Movement, the racial wealth gap, homelessness, and gig worker protections. Bell approaches challenging conversations with frankness and levity, proving that surrounding ourselves with people from different backgrounds can help us become better citizens.
Christiane Amanpour: Sex & Love Around the World
In this series, Amanpour, CNN's chief international anchor, turns her gaze toward the shifting landscape of intimacy, love, and pleasure. With her trademark empathy and incisive interviewing style, Amanpour travels to Asia, Africa, Europe, and the Middle East to explore the sexual and romantic lives of locals, shedding light on these taboo topics. Whether it's online dating, sexless marriages, ancient erotica, or blurring gender roles, this series probes into the expanding boundaries of sexual satisfaction and connection. Who needs Tinder Passport anyway?
This is Life with Lisa Ling
In this show, journalist extraordinaire Ling reports on interesting and unconventional lifestyles and communities around the U.S. with empathy and acceptance. In her honest, long-form conversations with people from diverse backgrounds, Ling gets to the bottom of social phenomena like sperm donation, the illicit tiger trade, sex work, psychedelic healing, and street crime. "I have always believed that the more we know about each other, the more evolved we become," Ling said about the intent of the series.
Belle Collective
In Belle Collective, five Black women entrepreneurs join forces to redevelop a struggling historic district in Mississippi. Interpersonal drama abounds, but these women try to work together to bring their shared vision to life. From event planning and fashion design to real estate and beauty ventures, this series highlights the women's entrepreneurial efforts, showcasing their powerful and resilient spirit. Belle Collective is a refreshing portrayal of the pursuit of success in the Deep South, and the journey to redefine what it means to be a Southern belle.
Chasing Life with Dr. Sanjay Gupta
In this Chasing Life, Gupta, CNN's chief medical correspondent and a practicing neurosurgeon, turns his focus toward living a longer, happier life. He investigates lifestyle changes and alternative healing practices in countries all around the world. Ever wondered why cold, desolate Norway is consistently ranked the happiest country in the world? Or how the Japanese island Okinawa has the highest concentration of centenarians? In addition to Norway and Japan, Gupta also explores India, Bolivia, Italy, and Turkey, sharing intricate portraits of each country's traditions and techniques for improving life.
Growing Belushi
Growing Belushi follows actor and comedian Jim Belushi as he builds a cannabis business from scratch on a farm in southern Oregon. Part business series and part adventure comedy, Growing Belushi gets in the weeds of the trials and tribulations of building a (legal) drug empire. From pursuing rare strains to surviving weed arson to feeding cannabis-infused ice cream to Guy Fieri, the pot thickens as Belushi faces obstacle after obstacle. Live vicariously through Farmer Jim in this charming tale of his American dream.
Watch all of the docuseries mentioned above on Max.
This advertising content was produced in collaboration between Vox Creative and our sponsor, without involvement from Vox Media editorial staff.