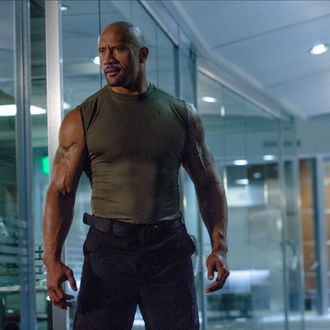 The foundation of the franchise.
Photo: Alamy Stock Photo/Alamy Stock Photo
Dwayne "The Rock" Johnson just couldn't stay away from Fast and Furious. "Hope you've got your funderwear on … HOBBS IS BACK," he confirmed the news in a tweet. "And he just got lei'd 🌺😈." Corny uncle to us all, the Rock will return to the franchise for the first time since 2017, the year after he had a public falling-out with co-star Vin Diesel. In the intervening years, Diesel implored the former wrestler to take a part in the recently released Fast X, despite the Rock saying on many occasions that he would not be returning. Well, Johnson did end up making a cameo in the mid-credits sequence of the franchise's latest film and is set to get behind the wheel of the next one, as both actor and producer. "Last summer Vin and I put all the past behind us," Johnson tweeted. "We'll lead with brotherhood and resolve — and always take care of the franchise, characters & FANS that we love." Sources say we shouldn't expect an onscreen reunion — Diesel will likely not appear, per The Hollywood Reporter. The project is yet untitled, but sources say the film is not necessarily a spinoff, nor is it a sequel to Fast X. Instead, it's described as bridging a chapter between movies with familiar Fast faces. In the video accompanying the tweet, Johnson teased that the installment will delve into Dante (Jason Momoa) and Hobbs's "unfinished business" from the last movie's mid-credits sequence. "Business is about to pick up," he says. Guess it's time to start a count of all the dad jokes Johnson makes while promoting.