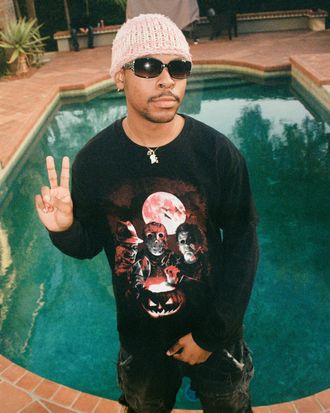 The producer Evilgiane descends from the relatively new tradition of sample drill, New York's first "organic" (by way of the U.K. via Chicago) sonic contribution to rap in at least a generation. Giane began as the RZA of the vaunted LES multi-hyphenate collective Surf Gang, who made their bones with Punk Goes Drill, a project from the rapper Polo Perks. The album was self-conscious and gimmicky, designed to grab critics who were late to drill and in need of a big, obvious concept they could wrap their heads around. But Giane had grander designs, too. His shit was more complicated, indie-rock straddling, and Xanned out than other producers — beats you could hear Pasto Flacco spitting over but also imagine James Blake moaning on. More than any other drill producer I've encountered, Evilgiane seemed to understand right away that the genre isn't about any one borough or an Eric Adams talking point but simply a drum pattern, open to infinite interpretations and possibilities.
More than a year later, Giane has blown up like a SpaceX rocket. He's gone from making loosie regional hits for RealYungPhil to working with A$AP Rocky, Earl Sweatshirt, PinkPantheress, and, most recently, Baby Keem and Kendrick Lamar (on their Jersey club–indebted "The Hillbillies"). These collaborations paint the picture of an inquisitive and restless soul eager to expand his purview beyond the rigid parameters of the scene he started in.
I spoke to Evilgiane about going from his original scene to collaborating with some of the biggest artists in the world. The 20-something producer (he prefers not to reveal his age) may be a man of few words, but he knows the significance of the moment.
You and I last spoke a year and a half ago. How has your life and career changed since then?
Shit, just been moving faster, but I wouldn't say it changed too much. Besides, just, like, more shit going on.
Would you say that your music has evolved, or your approach to making it?
I just learned to be more active about it. I feel like my music, it's always been evolving and it's always going to change, but never going to change, if that makes any sense.
Have you picked up any new techniques or influences? The Jersey club sound on the Keem song was interesting.
It's crazy. Jersey club is starting to catch on and become super-popular. But me and the other Surf Gang producers, we've been kind of doing the Jersey club thing for two years now.
Can you walk me through the Keem and Kendrick production from beginning to end?
Me and my friends were listening to Bon Iver's "PDLIF," and then we were just like, Yeah, this would be sick to flip. And Keem just hit me up randomly, I guess, because of the Carti and Rocky song. He was like, "Yo, send me whatever you want." So I sent him a bunch of different styles and shit. And then I guess that was the one that he fucked with the most.
Were you surprised that that's the one they decided to go over?
Yeah, I really was. Honestly, I wasn't expecting that. But that shit was sick.
Did you have any sort of inkling that that was going to be the song or what it was going to sound like until it dropped? 
It just came out with the video. I'd only heard a small, tiny snippet of it. I never got to actually hear the full song, and then last minute they told us that Kendrick got on it.
What is that like? You send out a bunch of beats to a major artist who I'm sure you've dreamed about working with. What are you going through as you're waiting to find out if anything's going to come from it?
I don't know. It kind of just happened. It wasn't too crazy.
You've used Bon Iver as a sample source in the past. What is it that draws you to his music?
I just like his music, honestly. I love "PDLIF." Honestly, that's the favorite.
Is there any quality in the music that you think complements your production?
Just how abstract the music is and how creative they get. I fuck with that shit.
How does it feel to get a placement with Kendrick and Keem? You have one of the greatest rappers of all time now on a beat you made.
I'm still processing everything, honestly.
How are you feeling about the state of drill in New York at the moment?
I've been fucking with it since the start. Honestly, I love the drill scene.
Who in particular are you fucking with?
I mean, I'm willing to work with not just drill rappers. There's more rappers that are trying to get on creative shit right now. We've been working with 454. Just people that are down to experiment with their music.
It seems like you're bringing more mainstream rappers and artists into the drill space rather than vice versa. Not that all the production that you're doing for artists outside of New York is traditional drill. But would you say that's more of your focus? Would you still be down to work with a Cash Cobain or a DD Osama?
I mean, really, a mixture of both. I want to just keep everyone guessing, like, what am I going to do next? Right now, we've been working with this French rapper, Serane. We just dropped a whole tape with him. And I want to keep doing more shit like that while also doing other shit like this with fucking Kendrick and Keem.
What is it about your sound that has drawn in all these incredible talents?
I don't know. I think just my individuality. I don't make shit that ]just sounds like everyone else's shit. And I think that's what draws people toward me.
What's up next for you?
I mean, everything that's dropping with Surf Gang; 454 project is coming out this summer. We got a bunch of shows with Snowstrippers coming up too. We got a show in L.A. We got a 454 show coming up in New York at SOB's.
Any other one-off tracks in the works?
People are just going to have to see.
This interview has been edited and condensed